'I hope we don't just consider the future as grim darkness,' says the group
With images and slogans from fans describing their "world today" in tow, South Korean pop group BTS on Monday, September 20, spoke before the United Nations General Assembly (UNGA) to make a case for COVID's "welcome generation" – people in their teens and 20's who've still managed to "forge ahead."
All seven members – Jin, Suga, J-Hope, RM, Jimin, V, and Jungkook – took turns speaking at the SDG Moment 2021 in New York, where world leaders and top diplomats gathered to discuss and review the 17 Sustainable Development Goals in the context of the COVID-19 pandemic.
"People in their teens and 20's today are being referred to as 'COVID's lost generation,' that they've lost their way at a time when they need the most diverse opportunities and must try new things… but I think it's a stretch to say they're lost just because the paths they tread can't be seen by grown-up eyes," said group leader Kim Nam-joon, most popularly known as RM.
It was member Kim Seok-jin who made a case against the term "lost generation." "Instead of the 'lost generation,' a more appropriate name would be the 'welcome generation' because instead of fearing change, this generation says 'welcome' and keeps forging ahead," said the group's oldest member, more popularly known as Jin.
Early in their speech, BTS recalled their experiences during the start of the global pandemic – of heartbreak over cancelled tours and "mourning the things that COVID took away from us." The group had shared as much when they spoke before the UN in a taped message in 2020.
Reflecting both of their own experiences and the messages from their fans, BTS said many young people are growing more concerned about the environment and are "searching for answers to the questions of where we must live in the future."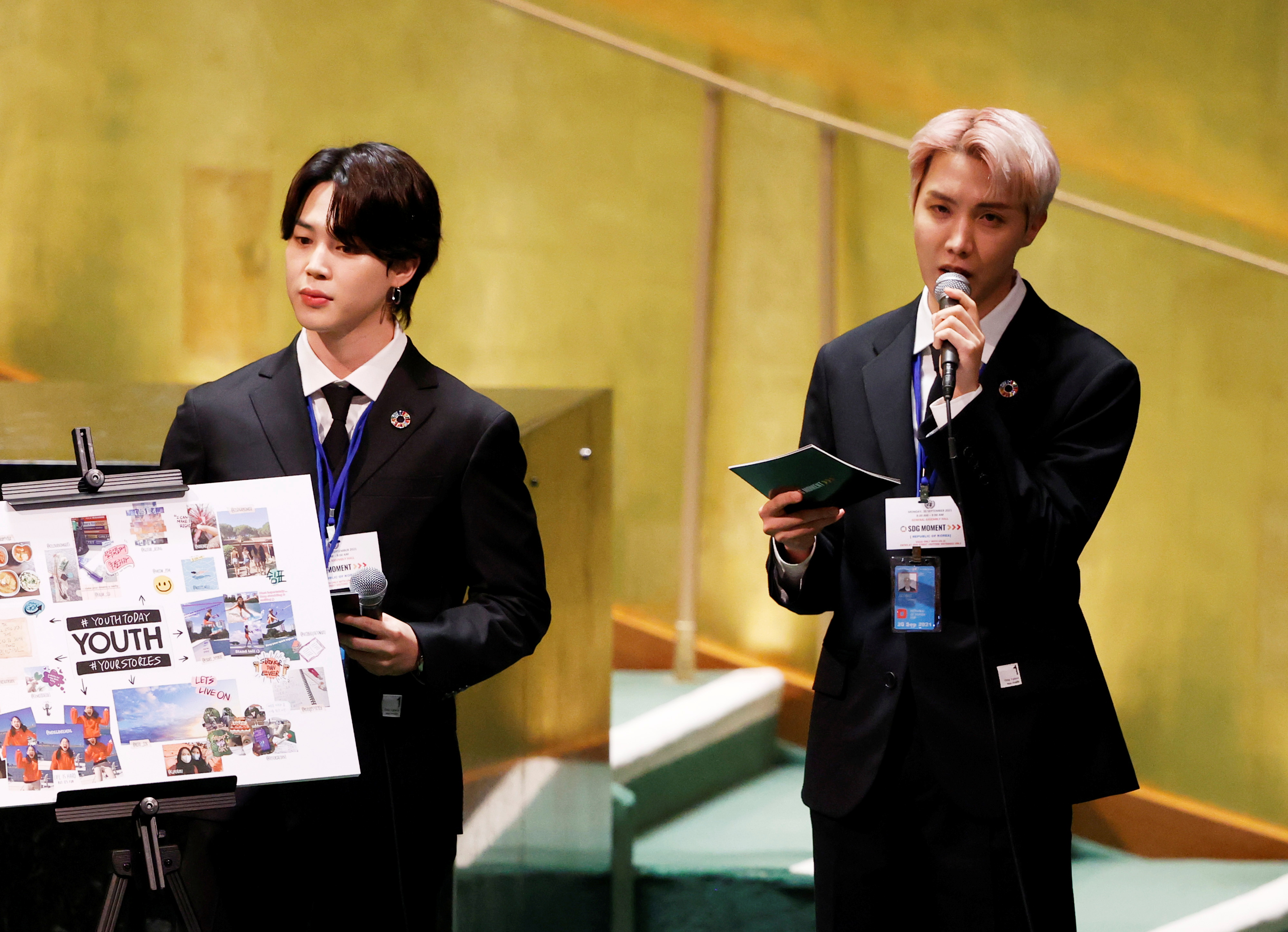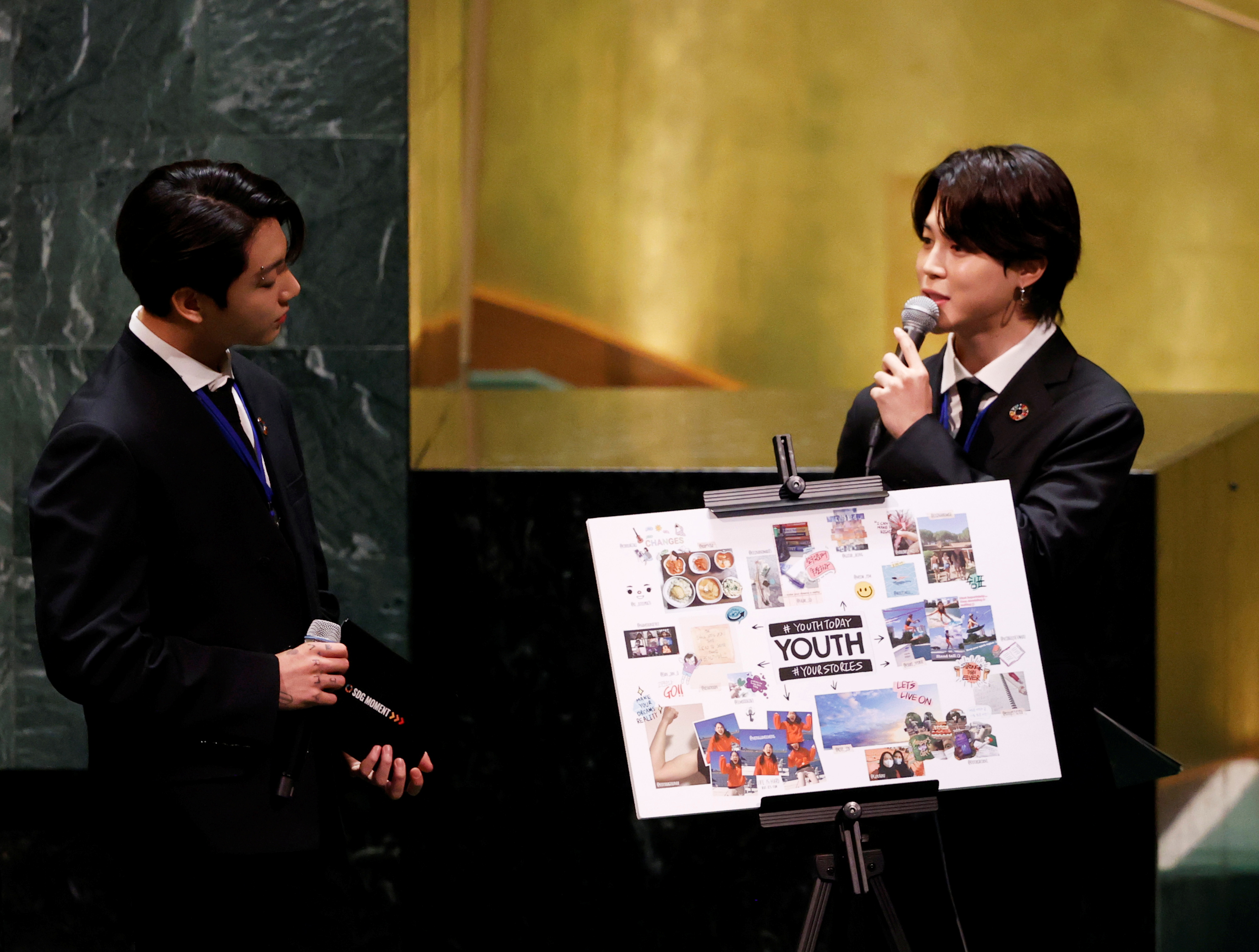 "I hope we don't just consider the future as grim darkness. We have people who are concerned for the world and searching for answers. There are still many pages left in the story about us and I think that we shouldn't talk like the ending's already been written," said Kim Tae-hyung, who goes by the name V.
The group also encouraged the youth not to lose hope and to find power in "choosing new [paths]… when the impossible happens."
"What is important is the choices we make when we're faced with change," said member Jung Ho-seok, more popularly known as J-Hope, before announcing that all seven members had already been vaccinated against COVID-19.
"Like vaccinations, efforts are continuously underway to keep this new reality going forward. The day we can meet again is not far away, but until then, I hope we can fill each of our days to a brim with positive energy," added V.
The septet – South Korea's Special Envoy for Future Generations and Culture – ended their SDG 2021 remarks with a taped performance of their latest hit, "Permission to Dance," at the United Nations Headquarters in New York.
The 2021 speech is BTS's third appearance in four years before the UN. They first spoke during the UNGA in 2018 and again via taped address in 2020. BTS first started working with the UN in 2017 when the group partnered with UNICEF for the "LOVE MYSELF" campaign.
BTS is the biggest pop group in the world today. Prior to the COVID-19 pandemic, the group had been performing in sold-out concerts all over the world. – Rappler.com