The Philippines' 75% emissions reduction target is mostly conditioned on aid from the international community
UN Secretary-General Antonio Guterres said there were "encouraging declarations" from rich countries to fulfill their yearly $100-billion pledge to help developing nations like the Philippines combat climate change.
Guterres made the statement on the sidelines of the United Nations General Assembly past midnight (Manila time) on Tuesday, September 21, after meeting world leaders in an informal roundtable on climate change.
The UN chief co-hosted the roundtable meeting with British Prime Minister Boris Johnson.
Others present were US, China, India, and EU nations, as well as Costa Rica, the Maldives, and a mix of developing and middle income countries and industrialized nations.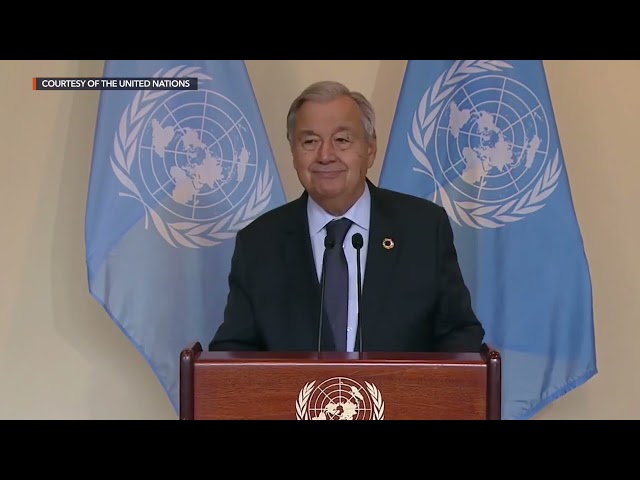 "Will the developed world finally materialize the $100 billion of annual support to developing countries, and if possible, more? We are not yet there. But today, there were encouraging declarations in this regard," Guterres told reporters.
Developed nations in the UN have an overdue pledge to raise $100 billion each year by 2020 to provide climate finance to poor countries, many of whom are grappling with rising seas, storms, and droughts made worse by climate change.
Guterres said he is hopeful the roundtable would eventually lead countries to "make serious progress" in the COP26 climate summit in Glasgow, Scotland in November.
"Everybody must do their job. Developed countries and the emerging economies must be able to contribute – all of them – for the possibility of reaching net zero in 2050 and very strong reduction of emissions in 2030, and we are not yet there," said the UN Secretary-General
Why does this matter for the Philippines?
Philippine President Rodrigo Duterte's climate commitment before the UN is for the country to reduce greenhouse gas emissions by 75% in 2030.
But this is mostly conditioned on aid from the international community, which would include the promised annual $100-billion climate fund that developed nations have yet to pool together.
This fund could help mitigate the devastating natural calamities that Filipinos may end up facing in the future if the planet becomes 1.5 degrees warmer.
A recent report by the UN's Intergovernmental Panel on Climate Change said floods, rains, heatwaves, and drought will keep worsening in the Philippines for the next 30 years – no matter what steps Filipinos take to slash emissions.
Duterte is expected to raise the issue of climate change and its impacts on Filipinos when he addresses the 76th UNGA early Wednesday morning (Manila time) on September 22. – with reports from Reuters/Rappler.com
Rappler multimedia journalist Mara Cepeda is a 2021 fellow of the Reham Al-Farra Memorial Journalism Fellowship. She will be virtually covering the 76th United Nations General Assembly, foreign policy, and diplomacy during the program.