Snyder calls on citizens to support journalism, saying that when 'reporters go quiet, then a democratic system is going to fail'
MANILA, Philippines – Timothy Snyder, a Levin Professor of History at Yale and author of numerous books including On Tyranny: Twenty Lessons from the Twentieth Century, warned of a looming hunger problem as a result of Russia's invasion of Ukraine, but also asserted the positives of a functioning democracy defended by journalists and civil society organizations.
Rappler CEO and Nobel Peace Prize laureate Maria Ressa spoke with Snyder on the sidelines of the DW (Deutsche Welle) Global Media Forum in Bonn, Germany, held from June 20 to 21.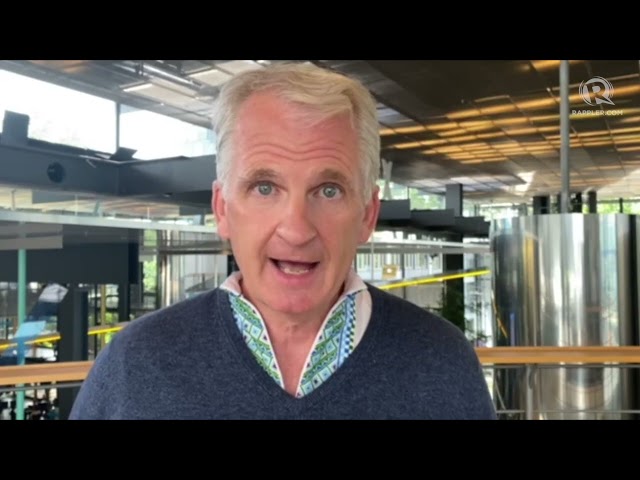 Snyder gave some basic advice to those living in democracies like the Philippines.
He urged citizens to support reporters trying to truthfully report on what's going on in their part of the world, saying, "There's no way we can have democracy in the Philippines or anywhere else without the reporters. When the reporters go quiet, then a democratic system is going to fall because it will immediately become corrupted from inside."
Snyder pointed out that being active in non-governmental organizations helps as well, as these organizations create the civil society that's between the government and the people, and it's what makes change possible.
During the event, the forum also honored Evgeniy Maloletka and Mstyslav Chernov, who documented Russia's siege of the Ukrainian port city of Mariupol, by awarding them DW's Freedom of Speech Award for 2022.
Ressa and Snyder bookended the forum as speakers. Ressa gave the opening keynote address during the forum, tackling the role of media and journalism in the age of fake news and a post-truth world. Snyder concluded the two day event by exploring the narrative surrounding the 1922 and 1923 Ukraine famine and drawing lessons for the present day.
In the interview, Snyder spoke about the historical context of Ukraine as one of the largest exporters of food around the world as a jumping-off point.
Snyder pointed out the blockade of the Black Sea, part of Russia's moves in the war, also prevents Ukraine's maritime exports, which he said would "mean hunger and… literally starvation for tens of millions of people in Asia and Africa before this year is over."
It depends on us
Snyder pointed out that the state of the world today, especially as it relates to democracies in the forms they take, isn't a fixed point quite yet.
Snyder said, "I think the state of the world today is one in which those of us who care about things like freedom and equality and democracy have to articulate these values and take a stand. If there's anything positive to take from the war in Ukraine, it's the reminder to the rest of us that there are values worth taking risks for."
He added, "I don't think democracy is doomed. I don't think freedom and equality are doomed. I just think there are larger forces which we have to see and recognize. We have to realize that history is not on our side. History is on nobody's side, and it depends on us to see these problems, and get out ahead of them."
Snyder expounds on this when asked about what people can do to protect their democracies.
"What history teaches us is there are structures, and we have to know what the structures are. The structures constrain you, but they also give you opportunities to act, so if we want to save our democracies, we have to look at our democracies and say, 'What are the flaws? Where are the structural problems? How are the people who want to bring democracy down taking advantage of those structural problems?' You have to see things from their point of view first and then try to solve the structural problems and then try to set an example," he said.
"Above all," adds Snyder, "one thing I think which is missing is that those of us who like democracy have to be willing to say, 'Hey, this is actually a better system.' It's not just something which is under threat, it's not just something which we can take for granted. It's actually much better than the alternatives, better in pretty much every possible way." – Rappler.com