The US President also zeroes in on China's Xinjiang region as he calls out oppression of ethnic minorities
President Joe Biden gave assurances to world leaders the United States (US) is not seeking a "new Cold War," in what appears to be a reference to its strategic rival China. 
While the US President did not directly mention China in his first address before the United Nations (UN) late Tuesday night (Manila time) on September 21, Biden acknowledged the growing tensions between Washington and Beijing. 
Biden also alluded to China's incursions in the South China Sea, which has become one of the many flashpoints in the testy relationship between the two countries. The US rejects what it calls unlawful territorial claims by Beijing in the resource-rich waters.
In 2016, an arbitral tribunal in the Hague struck down Beijing's expansive claim over the South China Sea after the Philippines challenged China's 9-dash line claim over the contested waters. The US is the Philippines' oldest treaty ally. 
"The United States will compete and will compete vigorously, and lead with our values and our strength. We'll stand up for our allies and our friends and oppose attempts by stronger countries to dominate weaker ones, whether through changes to territory by force, economic coercion, technical exploitation, or disinformation," Biden said on Thursday.
"But we're not seeking – I'll say it again – we are not seeking a new Cold War or a world divided into rigid blocs," the US President added.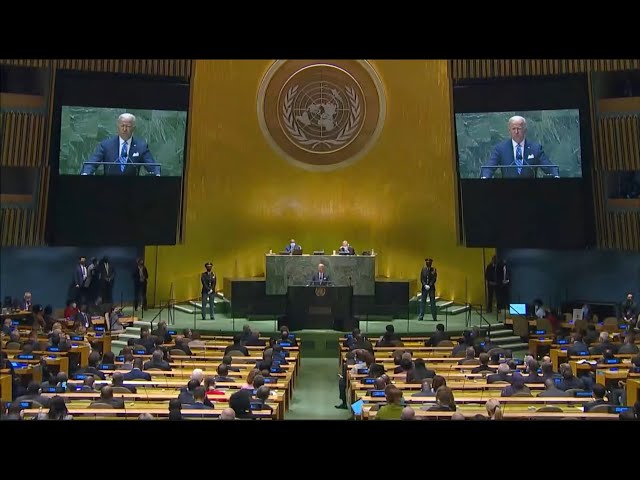 Biden, however, later zeroed in on China's Xinjiang region as he urged nations to end the discrimination of racial, ethnic, and religious minorities. 
"We all must call on and condemn the targeting and oppression of racial, ethnic, and religious minorities, whether it occurs in Xinjiang or Northern Ethiopia or anywhere in the world," he said. 
Activists and some Western politicians accuse China of using torture, forced labor, and sterilizations of Uighur Muslims in Xinjiang. China denies the accusations, saying it is providing vocational training and that its measures are needed to fight extremism.
UN Secretary-General Antonio Guterres earlier warned of a potential new Cold War between the US and China, the world's largest economies. 
"I fear our world is creeping towards two different sets of economic, trade, financial, and technology rules, two divergent approaches in the development of artificial intelligence – and ultimately, two different military and geopolitical strategies," Guterres said.
"This is a recipe for trouble. It would be far less predictable than the Cold War," the UN chief added.
In his UN address on Tuesday, Biden also promised a new era of "relentless diplomacy," moving to reassure allies across the world as he called for a united action against the pandemic and climate change. – with reports from Reuters/Rappler.com
Rappler multimedia journalist Mara Cepeda is a 2021 fellow of the Reham Al-Farra Memorial Journalism Fellowship. She will be virtually covering the 76th United Nations General Assembly, foreign policy, and diplomacy during the program.