This is AI generated summarization, which may have errors. For context, always refer to the full article.
Istri Edhie Baskoro Yudhoyono, Aliya Rajasa melahirkan anak keduanya hari ini, 1 Oktober pukul 00:50 WIB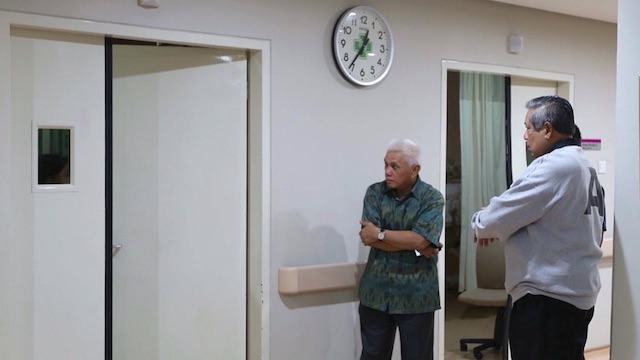 JAKARTA, Indonesia — Edhie Baskoro Yudhoyono menyambut kelahiran anak keduanya di Jakarta, 1 Oktober pukul 00:50 dini hari. "Syukur alhamdulillah proses persalinan Aliya Baskoro Yudhoyono berjalan dengan sukses, lancar dan tanpa kurang satu apapun, baik Ibu dan bayinya," ujar Ibas melalui keterangan persnya.
Aliya Rajasa melahirkan anak laki-laki keduanya di Rumah Sakit Pondok Indah Jakarta dengan berat 2,98 kg dan panjang 48 cm. Bayi laki-laki ini menjadi cucu ketiga SBY.
Keluarga besar Yudhoyono-Rajasa turut berbahagia atas kehadiran anggota baru di keluarga mereka.
 Di akun instagramnya, Ibu Ani Yudhoyono mengunggah foto bersama anak dan menantunya beberapa saat sebelum melahirkan.
Selain itu Ani Yudhoyono juga mengunggah foto Hatta Rajasa dan SBY yang menunggu dengan cemas di depan ruang bersalin Rumah Sakit Pondok Indah.

Ani Yudhoyono juga mengunggah fotonya bersama besan dan cucu barunya di akun instagramnya.
 – Rappler.com 
BACA JUGA: