This is AI generated summarization, which may have errors. For context, always refer to the full article.
David Beckham akan menjadi kapten tim gabungan Inggris dan Irlandia, sedangkan Sir Alex Ferguson akan melatih tim tersebut untuk pertandingan amal di Old Trafford pada Sabtu, 14 November mendatang.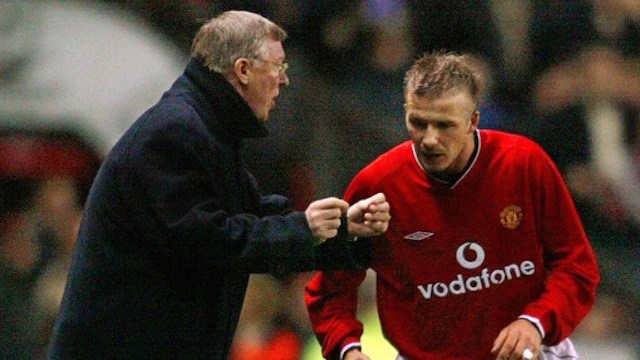 JAKARTA, Indonesia—Tahun 2003 silam David Beckham hengkang dari Manchester United. Menurut rumor yang beredar, penyebabnya adalah perseteruannya dengan pelatihnya, Sir Alex Ferguson. Namun pada November mendatang, kedua legenda ini akan bekerja sama dalam pertandingan amal.
Seperti yang dilaporkan oleh situs resmi Manchester United, Ferguson akan bertindak sebagai pelatih tim gabungan Inggris dan Irlandia sedangkan Beckham akan memimpin tim tersebut sebagai kapten.
Hubungan Beckham dan Ferguson sempat mengalami masalah. Dalam autobiografinya, Ferguson menceritakan konfliknya dengan Beckham yang berujung kepindahan Beckham ke Real Madrid pada 2003.
Menurutnya, hubungan Beckham dengan Victoria "Posh" Beckham pada saat itu sangat mempengaruhi Beckham dan merupakan salah satu faktor terbesar dalam renggangnya hubungan pemain-pelatih ini.
Dia jatuh cinta pada Victoria, dan itu mengubah segalanya," tulis Ferguson dalam autobiografinya.
Ferguson juga mengatakan bahwa ia terganggu dengan popularitas Beckham di luar lapangan.
"David adalah satu-satunya pemain yang saya latih, yang memilih untuk menjadi terkenal, yang akhirnya mencapai misinya untuk terkenal di luar pertandingan. Saya tidak merasa nyaman dengan aspek selebritas dalam hidupnya," tulisnya. 
Puncaknya terjadi pada saat United dikalahkan Arsenal di kandang pada pertandingan Piala FA di tahun 2003. Dalam insiden yang terkenal dengan sebutan "sepatu terbang" ini Fergie, panggilan Sir Alex Ferguson, menendang sepatu sepak bola di ruang ganti yang tidak sengaja mengenai pelipis Beckham hingga terluka.
Ferguson memang terkenal sebagai pelatih yang temperamen baik di dalam ruang ganti maupun saat di pinggir lapangan. Akhirnya musim tersebut menjadi musim terakhir Beckham di Old Trafford.
Akan tetapi setelah itu hubungan Beckham dan Ferguson berangsur-angsur membaik. Beckham juga meminta secara pribadi kepada Fergie untuk membantunya dalam pertandingan amal ini.
scrolling="no">
"Saya tidak pernah menyangka saya akan kembali mengenakan sepatu bola lagi, namun ini untuk gerakan besar, pekerjaan luar biasa yang dilakukan @unicef bagi anak-anak," tulis Beckham di keterangan foto di atas.  
"Saya tersanjung bisa bermain di Old Trafford lagi, memimpin tim Inggris Raya dan Irlandia yang dibimbing oleh Sir Alex Ferguson melawan tim gabungan yang dipimpin oleh teman saya @zidane dan dilatih oleh sang legenda @mrancelotti. Saya berharap bisa melihatmu di sana @manchesterunited pada 15 November. Tiket sudah dijual mulai hari ini di www.manutd.com/tickets #MatchForChildren @unicef."
Tak kalah menarik, kubu lawan akan dipimpin oleh legenda Juventus dan Real Madrid Zinedine Zidane dan dilatih oleh mantan pemain sepak bola dan pelatih sukses Carlo Ancelotti. Ancelotti merupakan orang pertama yang pernah memenangkan UEFA Champions League (UCL)/Piala Eropa sebanyak dua kali sebagai pemain, dan sebanyak tiga kali sebagai manajer.
Selain itu, wasit pertandingan ini adalah Pierluigi Collina, yang pernah dianugerahi penghargaan wasit terbaik oleh FIFA selama enam tahun berturut-turut.—Rappler.com
BACA JUGA: