This is AI generated summarization, which may have errors. For context, always refer to the full article.
Kementerian akan memutuskan nasib Tom Iljas setelah berkoordinasi dengan Badan Intelijen Negara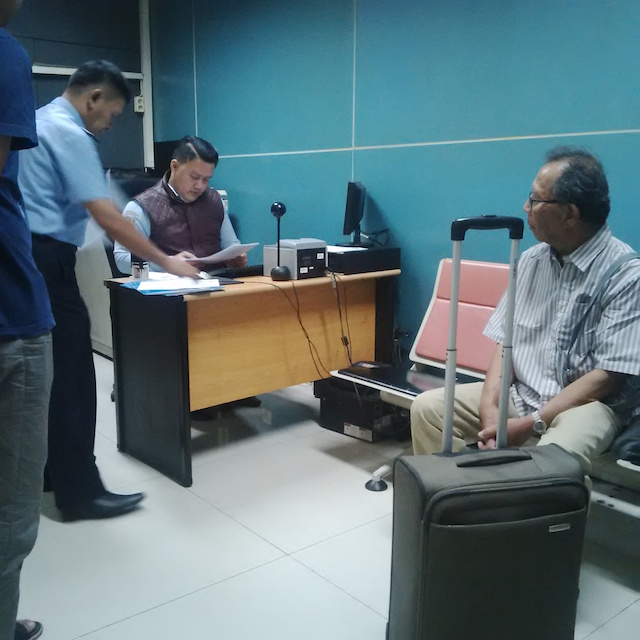 JAKARTA, Indonesia — Koalisi untuk Tom Iljas mendesak agar Kementerian Hukum dan Hak Asasi Manusia (HAM) tidak mengabulkan usulan Kantor Imigrasi Kelas I Padang untuk memasukkan nama korban tragedi 1965 tersebut ke daftar tangkal.  
"Kami mendesak Kementerian hukum dan HAM untuk menolak usulan Kepala Kantor Imigrasi Padang Isman Jayadi untuk menangkal Tom Iljas," kata Kepala Divisi Pemantauan Impunitas Komisi Untuk Orang Hilang dan Korban Kekerasan (Kontras) Feri Kusuma, Senin, 19 Oktober.  
Tom, 77 tahun, adalah warga negara Indonesia di tinggal Swedia, berniat untuk berdoa di makam ayahnya yang merupakan korban pembunuhan massal saat tragedi 1965 di Pesisir Selatan, Sumatera Barat.
Namun, ia diamankan oleh polisi dan pihak imigrasi dengan tudingan membuat dokumentasi yang dianggap membahayakan keamanan negara. 
Dalam surat yang diperoleh Rappler nomor W3.IMI.IMI.1-GR.02.01-1790/TAK tahun 2015 tentang tindakan administratif keimigrasian atas nama Tom Iljas, disebut bahwa Kepala Imigrasi Kelas I Padang Isman Jayadi memerintahkan Tom untuk dideportasi ke negara asalnya, Swedia, dan namanya dimasukkan dalam daftar penangkalan.
Surat tersebut tertanggal 15 Oktober dan ditandatangani oleh Isman.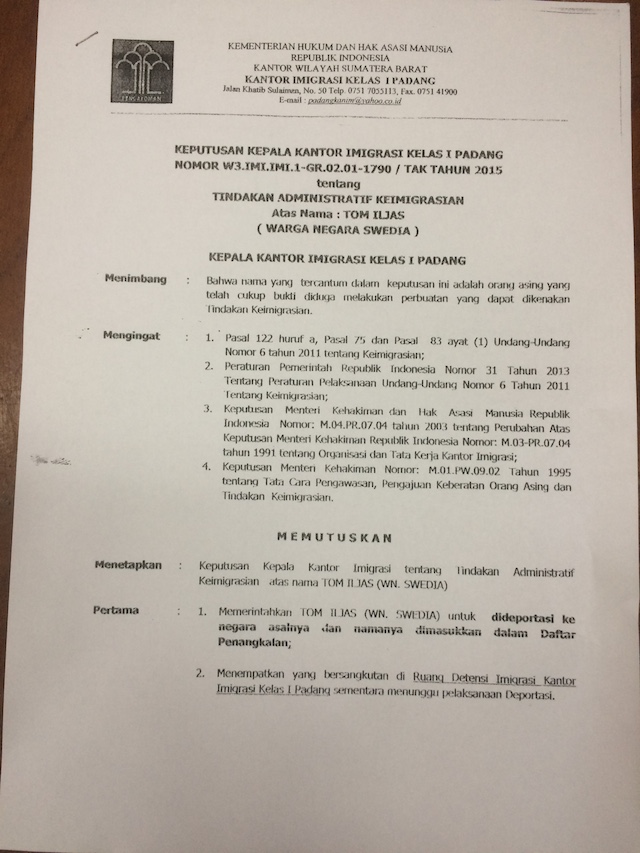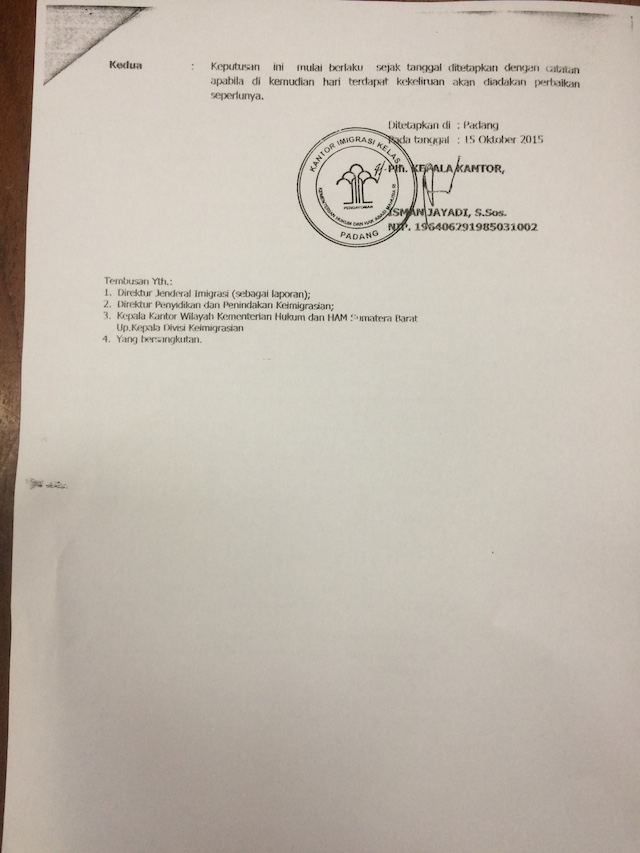 Kementerian pertimbangkan usulan penangkalan
Kepala Biro Hukum Kementerian Hukum dan HAM Ansarudin mengatakan bahwa pihaknya telah menerima surat dari Kepala Imigrasi I Padang. 
Ansarudin mencatat Tom mendapat visa kunjungan dari Bandara Seokarno Hatta pada 2 Oktober. Kemudian dalam catatan imigrasi, Tom menyalahi izin tinggal, dia dikenakan sanksi administratif berupa pendeportasian. 
Tapi kata Ansarudin, penangkalan Tom masih belum resmi. "Kami belum menanggapi usulan itu dam belum melakukan penangkalan, sampai sekarang masih bebas," katanya pada Rappler. 
Penangkalan biasanya berlaku selama 6 bulan, dan permintaan masih diproses. "Kami masih proses koordinasi dengan instansi lain, dengan Badan Intelijen Nasional, dan instansi lain," katanya. 
Ansarudin meminta semua pihak untuk menunggu keputusan rapat koordinasi bersama BIN nanti.—Rappler.com
BACA JUGA: