This is AI generated summarization, which may have errors. For context, always refer to the full article.
Jagat twitter sedang riuh membicarakan tokoh FPI, Rizieq Shihab yang baru-baru ini mempelesetkan 'Sampurasun' menjadi 'campur racun'. Semua ingin persoalan ini diselesaikan secara baik.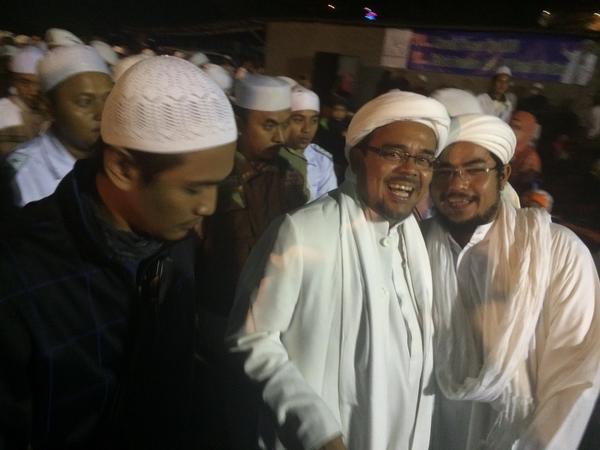 JAKARTA, Indonesia – Pelesetan 'Sampurasun' menjadi 'campur racun' oleh Rizieq Shibab FPI menuai reaksi keras di media sosial. Kebanyakan netizen, khususnya di jagat twitter mendorong Rizieq meminta maaf atas kelakuannya tersebut.
Permintaan maaf dari netizen salah satunya datang dari akun @Bilalwira. Dia menilai Rizieq sebagai tokoh FPI perlu meminta maaf agar masalah ini dapat segera selesai.
@syihabrizieq apa salahnya minta maaf, meminta maaf ga akan menurunkan wibawa anda, hargai perbedaan ini NKRI bukan negara FPI #sampurasun

— Bilal Wiradisastra (@Bilalwira) November 26, 2015
Selain itu, ada pula yang mengaku sakit hati lantaran salam kehormatan etnis Sunda ini dimain-mainkan. Hal ini bisa dilihat dari @yanto_nuka2.
@ujangpalestine "@AllAboutSUNDA: Fatwa @syihabrizieq : "SAMPURASUN" "CAMPUR RACUN" ini omngan nya nodai dan sakiti hti org SUNDA #SaveSUNDA

— Avatar¹9³³ (@yanto_nuka2) November 25, 2015
Bahkan akun @AllAboutSUNDA melakukan jajak pendapat kecil-kecilan. Sebagian besar responden menyatakan Rizieq harus meminta maaf secara terbuka dan luas kepada etnis Sunda.
mamang kemarin buat tweet polling tentang "Sampurasun" -> "Campur Racun" dan ini hasilnya, #SaveSUNDA pic.twitter.com/daUAweLwHi

— #SaveSUNDA (@AllAboutSUNDA) November 26, 2015
Namun dari serentetan tuntutan permintaan maaf, tak sedikit juga netizen yang mendukung langkah Rizieq. Salah satunya datang dari @Sundajbr12.
Ceramah Habib Riziek di purwakarta beberapa hari lalu sebagai pesan akan #DaruratAkidah hanya Habib kepleset saja @DPP_FPI

— Harupat Sapat12 (@Sundajbr12) November 25, 2015
Dari sederet pendapat netizen mengenai Rizieq dan Sampurasun yang dipelesetkan, bagaimana pendapat Anda? —Rappler.com.
Baca Juga: