This is AI generated summarization, which may have errors. For context, always refer to the full article.
Sementara Atletico Madrid masih bertengger di puncak klasemen sementara Liga Spanyol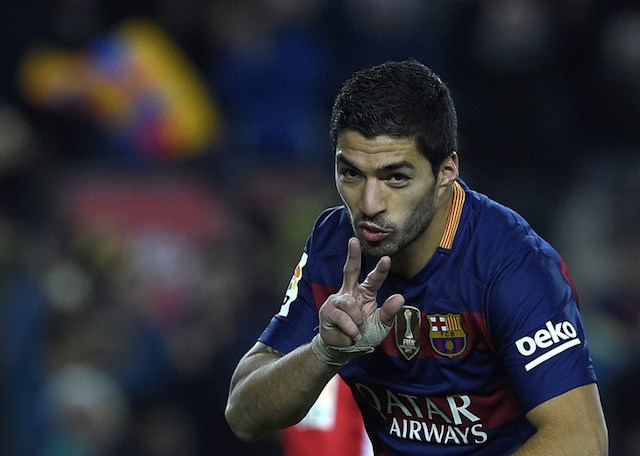 JAKARTA, Indonesia — Dalam lanjutan liga Spanyol, hattrick Luis Suarez membawa Barcelona unggul dari tamunya Athletic Bilbao dengan skor 6-0. Hasil tersebut membuat Barcelona masih bertengger di posisi dua klasemen sementara, selesih dua poin dan satu pertandingan dari Atletico Madrid di puncak.
Sementara Real Madrid berhasil mengalahkan Sporting Gijon dengan skor 5-1 dan membuat mereka masih terus menempel Atletico dan Barcelona di posisi tiga klasemen sementara Liga Spanyol.
Berikut hasil pertandingan Liga Spanyol pada Minggu malam, 17 Januari.
Ronaldo, Bale, dan Benzema ikut serta dalam pesta gol Real Madrid
FT: Real Madrid 5-1 Sporting (@GarethBale11 7′; @Cristiano 9′ 18′; @Benzema 12′ 41′; Isma López 62′). #RMLiga pic.twitter.com/r5Lr7rP4pm

— Real Madrid C.F. (@realmadriden) January 17, 2016
Dalam pertandingan melawan Sporting Gijon di Santiago Bernabeu, Real Madrid berhasil mengalahkan tamunya tersebut dengan skor 5-1.
Gol pembuka Madrid dicetak oleh Gareth Bale pada menit 7, disusul oleh gol Cristiano Ronaldo pada menit 9, dan gol Karim Benzema pada menit 12.
Enam menit kemudian, Ronaldo menambah keunggulan Real Madrid menjadi 4-0, dan Benzema menutup pesta gol di menit 41 yang membuat skor sementara berubah menjadi 5-0.
Satu-satunya gol untuk Sporting Gijon dicetak oleh Isma Lopez di babak kedua pada menit 26 yang mengubah skor akhir menjadi 5-1.
Atletico Madrid menang lagi
93′ | 0-3 | Final whistle. A win to start the second round. Come on, team! #UDLPAtleti #GoAtleti pic.twitter.com/CJrBI00QBZ

— Atleti English (@atletienglish) January 17, 2016
Pemuncak klasemen sementara Atletico Madrid kembali menang atas lawannya Las Palmas dengan skor 3-0.
Gol perdana dicetak oleh Filipe Luis pada menit 17. Sedangkan dua gol lainnya dicetak oleh Griezmann pada menit 68 dan 89.
Hasil tersebut membuat Atletico Madrid berhasil mempertahankan posisinya di puncak klasemen, terpaut dua poin dari Barcelona di posisi dua dan empat poin dari Real Madrid di posisi tiga.
Luis Suarez bawa Barcelona unggul enam gol tanpa balas
[STATS] All the figures from Barça's 6-0 win over Athletic #FCBAthletic #FCBlive https://t.co/TE0ct2bXMX pic.twitter.com/jeedwSPDvE

— FC Barcelona (@FCBarcelona) January 17, 2016
Penyerang asal Uruguay, Luis Suarez, mencetak hattrick dan membawa Barcelona unggul atas Athletic Bilbao enam gol tanpa balas.
Gol perdana dicetak oleh pemenang Balloon d'Or Lionel Messi yang berhasil mengeksekusi hadiah penalti dengan baik saat pertandingan baru berlangsung tujuh menit.
Finalis Balloon d'Or lainnya, Neymar, juga ikut menyumbangkan gol pada menit 31 yang membuat skor sementara di babak pertama menjadi 2-0.
Di babak kedua, Suarez menunjukkan giginya dengan mencetak tiga gol, pada menit 47, 68, dan 82. Satu gol lainnya dicetak oleh Rakitic pada menit 62, sehingga pertandingan berakhir dengan skor 6-0.
Valencia seri lagi, Getafe unggul dari Espanyol
FULL-TIME | It's been a hard game, ended in a draw! Check out all plays and stats-> https://t.co/ktMLVQ8LLW #VCFrayo pic.twitter.com/FGz6ftrhAp

— Valencia CF English (@valenciacf_en) January 17, 2016
Tim asuhan legenda Manchester United Gary Neville kembali harus mengalami hasil imbang saat menjamu Rayo Vallecano. 
Tim tamu sempat unggul terlebih dahulu pada menit 15 lewat gol Jozabed. Di babak kedua, Valencia membalas dengan gol yang dicetak oleh Negredo pada menit 55.
Rayo Vallecano hampir saja membawa pulang poin penuh setelah Liorente berhasil mencetak gol dan membuat skor menjadi 2-1 di menit 69.
Namun gol Alcace dimenit 88 berhasil menyelamatkan muka Valencia di hadapan suporternya.
Dalam pertandingan lainnya, tuan rumah Getafe berhasil mengatasi tamunya Espanyol dengan skor 3-1. 
Espanyol unggul terlebih dahulu lewa gol Hernan Perez di menit 26, namun langsung dibalas oleh Pedro Leon pada menit 29 dan memuat skor sementara menjadi 1-1.
Getafe mengubah skor menjadi 2-1 lewat gol Sarabia di menit 36.
Gol penutup dicetak oleh Gomez pada menit 90+3 dan membuat skor akhir berubah menjadi 3-1 untuk keunggulan tuan rumah. —Rappler.com
BACA JUGA: