This is AI generated summarization, which may have errors. For context, always refer to the full article.
Salah satu penyebab dari vonis ringan adalah tuntutan jaksa yang juga ringan.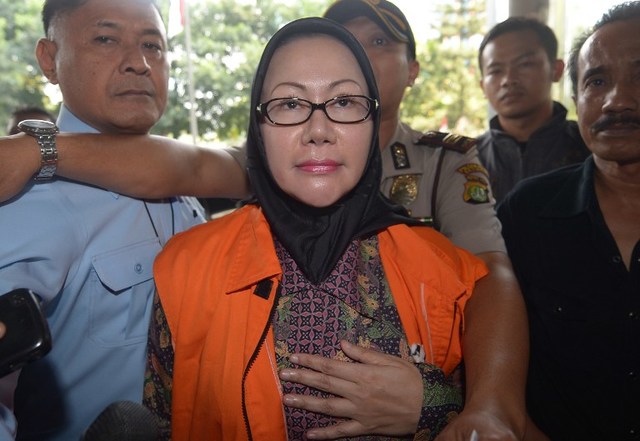 JAKARTA, Indonesia—Revisi undang-undang Komisi Pemberantasan Korupsi (KPK) belum mulai dibahas tetapi usaha untuk melemahkan lembaga antirasuah tersebut sudah mulai membuahkan hasil.
Itu kira-kira salah satu kesimpulan yang bisa dipetik dari keputusan pengadilan Tindak Pidana Korupsi (Tipikor) dari 2013 sampai 2015.
Menurut penelusuran Indonesia Corruption Watch (ICW), sebagian besar terdakwa korupsi di Pengadilan Tipikor sepanjang tahun 2015 mendapat hukuman penjara antara satu sampai 4 tahun.
"Pada tahun 2015,  dominan hukuman untuk koruptor masuk kategori ringan (antara satu sampai 4 tahun penjara, sebanyak  401 terdakwa dari total 461 atau sekitar 71,1 persen)," kata ICW dalam laporan yang diterima Rappler.com pada hari Senin, Februari 8.
ICW mengatakan hanya 3 orang divonis berat (di atas 10 tahun) sepanjang tahun 2015, sementara sisanya di antara 4 sampai 10 tahun.  
Kategori ringan, sedang, dan berat ditetapkan oleh ICW dengan mempertimbangkan hukuman minimal penjara dalam Pasal 3 Undang-undang Tindak Pidana Korupsi yakni 4 tahun penjara. 
ICW tidak menjelaskan apakah vonis ringan ini berkaitan dengan usaha kriminalisasi penyidik dan anggota KPK.
Pada bulan Januari 2015, misalnya, anggota KPK  Bambang Widjojanto ditangkap polisi dalam kasus sengketa pilkada, sementara Abraham Samad dijadikan tersangka dalam kasus dugaan pemalsuan dokumen. dan penyidik Novel Baswedan dijadikan tersangka dalam kasus dugaan pemukulan seorang penjual burung.  
Sejak 2010, politisi di Dewan Perwakilan Rakyat (DPR) telah berusaha merevisi undang-undang KPK. Dalam draft yang sudah beredar luas di masyarakat, DPR, antara lain, ingin menghilangkan wewenang KPK untuk menyadap tanpa izin pengadilan. 
Dalam beberapa kesempatan, Presiden Joko "Jokowi" Widodo  menegaskan pemerintah mendukung usaha revisi undang-undang KPK hanya kalau bertujuan menguatkan posisi lembaga antirasuah tersebut.
ICW melakukan pemantauan dan pengumpulan data vonis tindak pidana korupsi mulai tingkat Pengadilan Tipikor, Pengadilan Tinggi, hingga Mahkamah Agung, baik kasasi maupun Peninjauan Kembali (PK). 
ICW  mengatakan sejak tahun 2013, corak sebaran putusan selalu sama dengan jumlah terbanyak selalu berada pada kategori ringan.
"Kemungkinan ini terjadi karena UU Tipikor menggunakan pidana minimum dan maksimum sehingga hakim cenderung menjatuhkan hukuman minimum yang tertera di pasal 2 dan 3, yakni 1 tahun penjara.  
Menurut ICW, vonis ringan itu tak lepas dari tren 'tuntutan ringan' yang terjadi di tahun yang sama. Tren tuntutan penjara sepanjang 2015 adalah 42 bulan atau 3 tahun penjara. Yang paling banyak adalah tuntutan 18 bulan penjara atau 1 tahun 6 bulan (70 terdakwa). Dari data ini, ICW melihat ada kesenjangan tuntutan. 
Sepanjang tahun 2015 persoalan disparitas pemidanaan masih terus terjadi dan berulang. Menurut ICW, persoalan disparitas pemidanaan pada" akhirnya akan menciptakan ketidakadilan bagi korban dari korupsi.
ICW merekomendasikan agar di masa mendatang, seluruh jajaran pengadilan harus memiliki kesamaan pandangan bahwa korupsi adalah kejahatan yang luar biasa, maka tuntutan dan vonis bagi koruptor juga harus luar biasa, bukan minimum.  
Hal ini, kata ICW, harus diwujudkan secara kongkrit dalam bentuk terbitnya Surat Edaran Mahkamah Agung atau Instruksi Ketua Mahkamah Agung agar hakim menjatuhkan vonis maksimal pada pelaku korupsi.
Baca laporan lengkap ICW di bawah ini:
—Rappler.com
BACA JUGA: