This is AI generated summarization, which may have errors. For context, always refer to the full article.
Rio Haryanto di posisi 16. Sesi sempat terhenti dua kali karena insiden yang menimpa Massa dan Magnussen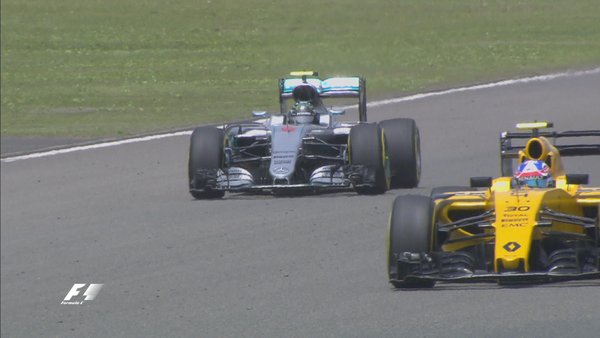 JAKARTA, Indonesia — Sesi latihan pertama (Free Practice 1) gelaran Grand Prix China memperlihatkan pembalap Formula 1 tim Mercedes, Nico Rosberg, menjadi yang tercepat dengan catatan waktu 1 menit 38.037 detik. 
Fastest in #FP1, but Rosberg limps back home with a suspected engine issue #ChineseGPpic.twitter.com/cPV6n1Ie0V

— Formula 1 (@F1) April 15, 2016
Di belakangnya menyusul rekan satu timnya, Lewis Hamilton, dengan catatan waktu yang terpaut 0.146 detik. Pembalap tim kuda jingkrak, Sebastian Vettel, melengkapi jajaran tiga teratas dengan waktu putaran 1 menit 38.665 detik, atau lebih lamban 0.628 detik dari Rosberg. 
PROVISIONAL CLASSIFICATION (END OF #FP1)#ChineseGP pic.twitter.com/OVbsBRddGS

— Formula 1 (@F1) April 15, 2016
Yang menarik, sesi FP1 selama 90 menit ini juga memperlihatkan tiga insiden yang terkait dengan kegagalan ban kiri belakang. Insiden-insiden ini memaksa sesi latihan harus dihentikan (red flagged) sebanyak dua kali dikarenakan banyaknya puing dan pecahan ban yang berhamburan di lintasan trek. 
WATCH: Massa sent into a spin after a left rear blow-out >> https://t.co/9CJENT4x0q #ChineseGP pic.twitter.com/rWSCnDSNwC

— Formula 1 (@F1) April 15, 2016
Pembalap tim Williams, Felipe Massa, mengalami masalah yang sama sebanyak dua kali, di mana yang pertama terjadi pada menit ke-25 sesi latihan dan membuatnya melintir di tengah lintasan. 
Momen yang kedua terjadi di pertengahan jalannya latihan, hanya beberapa menit sebelum pembalap tim Renault, Kevin Magnussen, mengalami pecah ban kiri belakang yang sama.
RED FLAG: Session is halted as Massa and Magnussen encounter tyre trouble with 30 mins to go #ChineseGP #FP1 pic.twitter.com/MeCO4vWdYh

— Formula 1 (@F1) April 15, 2016
Pirelli mengatakan kedua problem yang menimpa Massa tersebut tidak terkait dengan struktur ban yang digunakan. Tim Williams, setelah dua masalah yang sama mengatakan bahwa kemungkinan besar ada masalah dengan velg kiri belakang pada mobil Massa (wheel rim problems). 
Sementara untuk Magnussen, meski dikarenakan problem debris yang sama, namun kerusakannya sedikit lebih parah karena mengakibatkan rusaknya sistem suspensi belakang dan floor mobil balapnya.
Here we go. pic.twitter.com/zqWzXMtNwU

— Manor Racing (@ManorRacing) April 15, 2016
Sementara itu, pembalap asal Indonesia, Rio Haryanto, berhasil menempati mobil Manor-nya di posisi ke-16 dengan catatan waktu 1 menit 41.614 detik. —Rappler.com
BACA JUGA: