This is AI generated summarization, which may have errors. For context, always refer to the full article.
Grab mengatakan aturan Kementerian Perhubungan tentang angkutan online menimbulkan kekhawatiran. Bahkan, ada potensi mengubah model bisnis.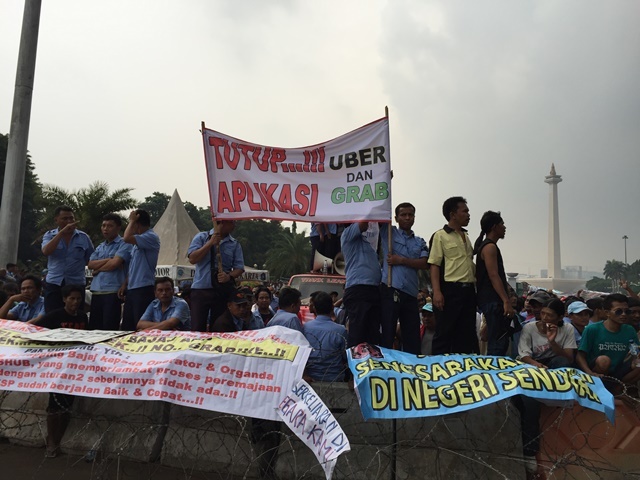 JAKARTA, Indonesia – Pemerintah akhirnya merampungkan payung hukum untuk penyedia jasa angkutan berbasis dalam jaringan (daring). Aturan tersebut tertuang dalam Peraturan Menteri Perhubungan Nomor 32 tahun 2016.
Salah satu perusahaan angkutan online, Grab, mengatakan masih mengkaji peraturan baru ini. "Saat ini kami masih merujuk kepada peraturan sebelumnya dalam memastikan mitra koperasi kami memenuhi semua arahan dari pemerintah," kata Managing Director Grab Indonesia, Ridzki Karmadibrata melalui siaran pers yang diterima Rappler pada Jumat, 22 April 2016.
Terkait aturan baru ini, Ridzki mengatakan ada sebagian isi peraturan yang bisa menimbulkan kekhawatiran. Salah satunya pada model bisnis dan kerja sama dengan pihak pengemudi.
Permenhub 32 tahun 2016 yang ini akan mulai berlaku enam bulan sejak tanggal diundangkan, yakni 1 April 2016.
Berikut isi Permenhub nomor 32 tahun 2016:
Direktur Jenderal Perhubungan Darat Kemenhub Pudji Hartanto menjelaskan beberapa perubahan yang tercantum. Pertama, untuk menyelenggarakan angkutan umum tidak dalam trayek, seperti mobil rental, perusahaannya wajib mempunyai izin yang dikenakan penerimaan negara bukan pajak (PNBP).
Perusahaan yang dimaksud juga harus berbentuk badan hukum Indonesia, yaitu BUMN, BUMD, perseroan terbatas atau koperasi. "Persyaratan untuk memperoleh izin adalah memiliki lima kendaraan yang dibuktikan dengan STNK atas nama perusahaan," kata dia.
Alasannya, kendaraan angkutan berbasis aplikasi daring sebagian besar merupakan kendaraan pribadi. Karena itu, STNK-nya juga atas nama pribadi.  Mobil semacam ini harus diubah kepemilikannya menjadi STNK atas nama badan usaha.
Aturan tersebut ditetapkan untuk mengantisipasi apabila pemilik tak lagi bergabung dengan perusahaan. "Saat itu ia bisa mengambil kembali kendaraannya, dan mengambil STNK pribadi lagi," kata dia.
Perusahaan juga harus memiliki pool, fasilitas perawatan kendaraan yang dibuktikan dengan dokumen kepemilikan atau perjanjian kerja sama dengan pihak lain. Untuk pengemudi yang dipekerjakan sesuai dengan golongan kendaraan. Syarat-syarat tersebut adalah akta pendirian, bukti pengesahaan sebagai badan hukum, tanda daftar perusahaan (TDP), surat izin tempat usaha (SITU), surat pernyataan kesanggupan sebagai pemegang izin dan pernyataan kesanggupan menyediakan fasilitas pemeliharaan kendaraan. 
Dia menambahkan dalam rangka pengawasan, perusahaan penyedia aplikasi harus melaporkan profil perusahaan, memberikan akses pengawasan operasional pelayanan, data perusahaan yang bekerja sama, data kendaraan dan pengemudi, serta layanan pelanggan berupa nomor telepon, email dan alamat perusahaan kepada Direktur Jenderal. 
"Jika terjadi pelanggaran akan diberi sanksi berupa pembekuan sampai dengan pencabutan kartu pengawasan kendaraan bermotor," katanya.-dengan laporan dari Antara/Rappler.com
BACA JUGA: