This is AI generated summarization, which may have errors. For context, always refer to the full article.
Menteri Siti Nurbaya ikut kampanye #WILDFORLIFE yang diluncurkan di sidang tahunan Lembaga PBB untuk lingkungan hidup.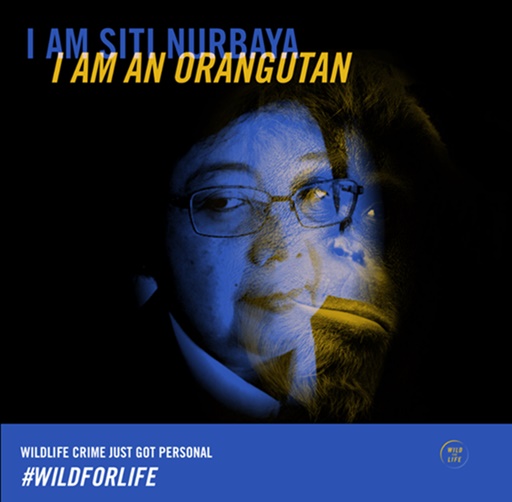 NAIROBI, Kenya – Poster dengan nuansa biru itu menampilkan siluet wajah Menteri Lingkungan Hidup dan Kehutanan Indonesia, Siti Nurbaya Bakar. "I am Siti Nurbaya, I am an Orang Utan", tertulis di sana. 
Poster itu diproduksi di tengah acara Sidang Tahunan United Nations for Environmental Assembly (UNEA), yang berlangsung di Nairobi, Kenya, tanggal 25-27 Mei. Poster itu juga menampilkan tulisan, "wildlife crime just got personal." Di media sosial kita bisa menemukan poster tersebut dengan mengetik hashtag #WILDFORLIFE. Sementara, informasi itu dapat kita temukan di situs Wildfor.Life
Kampanye #WILDFORLIFE dimaksudkan untuk memobilisasi publik untuk berpartisipasi dalam proses menunjukkan komitmen dan melakukan aksi untuk mengakhiri perdagangan ilegal hewan yang dilindungi dan nyaris punah. Simbolnya mulai dari orang utan, kura-kura laut, badak, gajah sampai harimau. Setiap spesies diwakili oleh UN Goodwill Ambassadors dan bintang dunia hiburan: Nadya Hutagalung, Gisele Bundchen, sampai Yaya Toure.  Kampanye ini diluncurkan pada 23 Mei, saat rangkaian acara UNEA 2016 dimulai.
Di forum UNEA, Siti Nurbaya menekankan peran penting masyarakat dan penggiat sipil dalam pemberantasan perdagangan tumbuhan dan satwa liar (TSL). Menteri Siti bercerita dia mendapatkan masukan, termasuk langsung melalui media sosial. 
"Ini membantu penanganan masalah di lapangan," kata Siti.
Di akun @SitiNurbayaLHK, Siti memang berbagi informasi kegiatan, termasuk mengajak masyarakat peduli terhadap satwa.  Pada tanggal 14 April 2016, dia membagikan informasi mengenai kegiatannya bersama Presiden Joko "Jokowi" Widodo", melepas 500 anak penyu atau "tukik", dan 4 penyu dewasa jenis sisik di Pulau Karya, Kepulauan Seribu.
Saya dan Presiden Jokowi td melepas 500 anak penyu (tukik) dan 4 penyu dewasa jenis sisik di Pulau Karya, Kep Seribu pic.twitter.com/JfoIQReWH3

— Siti Nurbaya Bakar (@SitiNurbayaLHK) April 14, 2016
Di forum dunia seperti di konferensi perubahan iklim, delegasi Indonesia mempresentasikan upaya penyelamatan harimau sumatera yang dilakukan di Tambling Wildlife Nature Conservation. Konservasi ini dikelola Artha Graha Peduli bekerjasama dengan Kementerian LHK.
Dukungan masyarakat sipil tersebut sejalan dengan komitmen pemerintah, yang tercermin dengan pencanangan Gerakan Nasional Penyelamatan TSL oleh Presiden Jokowi pada 14 April 2016.  Kegiatan ini mempertimbangkan fakta Indonesia merupakan negara mega-biodiversity. Tumbuhan dan satwa  perlu diselamatkan agar dapat diwariskan kepada generasi yang akan datang.

Di forum UNEA, Siti Nurbaya menjelaskan langkah-langkah yang dilakukan Indonesia, termasuk melakukan perbaikan peraturan terkait; peraturan perundangan dengan meningkatkan hukuman pelanggaran dan penerapan pendekatan multi instansi; pembentukan Ditjen Penegakan Hukum KLHK; dan peningkatan kapasitas aparat penegak hukum.
"Upaya dalam negeri tersebut perlu diimbangi dengan pengendalian sisi permintaan atas produk satwa liar, dan untuk itu negara-negara pengguna harus diminta menekan pembelian produk illegal," kata Siti Nurbaya. Menteri juga  mendorong pula pemanfaatan peran masyarakat di negara-negara lain, termasuk melalui penggunaan multi media.
Sementara, berdasarkan data yang dimiliki lembaga konservasi satwa dan hutan, perburuan satwa liar mengalami peningkatan pada tahun 2015. Pada bulan Januari hingga pertengahan Desember 2015, terdapat 370 kasus perburuan. Perburuan banyak berlangsung di kawasan hutan lindung dan kawasan konservasi alam.
– Rappler.com
BACA JUGA: