Hundreds of anti-government activists marked Easter Sunday in Chacao by holding a peaceful march calling for the 'resurrection of democracy'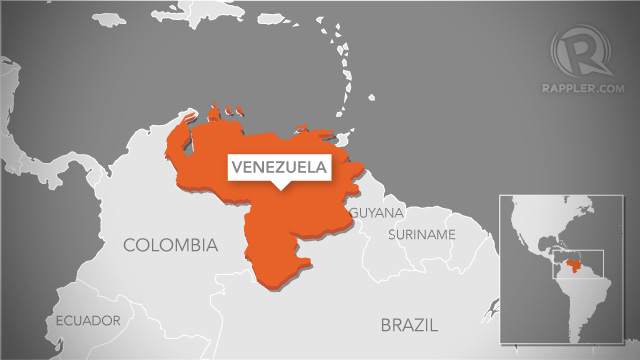 CARACAS, Venezuela (UPDATED) – Fresh clashes erupted in Venezuela's capital on Sunday, April 20, with hooded anti-government protesters hurling rocks and Molotov cocktails at riot police who returned fire with rubber bullets, tear gas and water cannon.
Four people were reported injured in the unrest that erupted in Caracas's upscale Chacao neighborhood, a hotbed of anti-government opposition.
Oil-rich Venezuela has been rocked by two months of deadly protests, with at least 41 people killed since a wave of demonstrations against the leftist government of Nicolas Maduro broke out in early February.
Some 600 people have also been injured in the protests, and around 100 have been detained.
Maduro, the hand-picked successor to the late leftist icon Hugo Chavez, was narrowly elected to office in a controversial election one year ago.
A former bus driver and union leader and the self-proclaimed "son" of Chavez, Maduro was elected after Chavez died from cancer and was sworn in April 19, 2013, pledging to carry on his mentor's socialist legacy.
Easter 'resurrection of democracy'
Hundreds of anti-government activists marked Easter Sunday in Chacao by holding a peaceful march calling for the "resurrection of democracy."
With Venezuelan flags fluttering in the wind, the crowd marched to the offices of the United Nations in Venezuela, where more than a month ago students set up some 120 tents and began to camp out seeking support against the Maduro administration.
The Sunday demo was organized by Voluntad Popular (Popular Will), an anti-government group whose outspoken leader, Leopoldo Lopez, has been jailed since February 18. (READ: Venezuela's government facing more street protests)
Also attending the protest were opposition legislator Maria Corina Machado and former mayor Antonio Ledezma, both of whom, along with Lopez, support a strategy known as "The Exit," which aims to push Maduro from office through continuous protests.
At the end of the peaceful march hooded activists blocked a main Chacao thoroughfare and nearby streets with debris that included an uprooted bus stop shelter and sewer grates.
Some were protected by gas masks and construction helmets. Others hid their identity with scarves and Guy Fawkes masks.
After police and rioters clashed, Chacao Mayor Ramon Muchacho said in a Twitter message that there were no bullet injuries.
Burning of Judas
In a separate Easter tradition, effigies of Maduro and top government officials were set ablaze, a Venezuelan tradition known as the burning of Judas, the disciple who betrayed Jesus Christ.
"I'm tired of the abuses of the government," said Genesis Reveron, a 20 year-old student who was dragging along a Maduro effigy to burn. (READ: Split in Maduro's ranks amid Venezuela turmoil)
She blamed Maduro for the country's high inflation and soaring crime rate.
Inflation now flirts with 60%, there is an acute shortage of foreign currency reserves, and basic goods ranging from meat to toilet paper are seeing recurrent shortages.
Most economic analysts blame the country's problems on a decade of rigid currency and price controls, as well rising dependence on imports and debt costs – a lackluster record for a country that hosts the world's largest oil reserves.
Maduro, however, says the problems are the result of an "economic war" waged by the right-wing "bourgeoisie" and the private sector, supported by US-based interest groups. He says the protests are part of a coup plot supported by Washington. – Rappler.com