This is AI generated summarization, which may have errors. For context, always refer to the full article.
OPCW inspectors have until June 30, 2014 to complete the destruction of Syria's chemical arsenal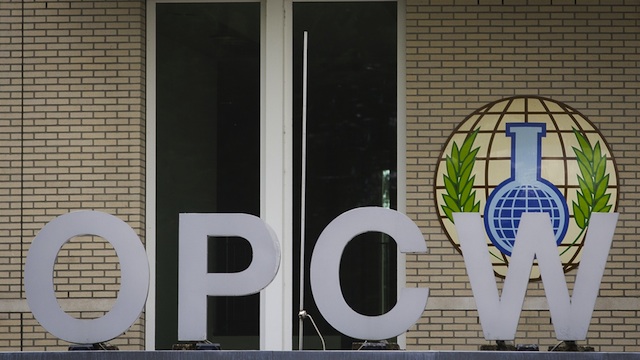 THE HAGUE, The Netherlands – The world's chemical weapons watchdog said Wednesday, October 16, its inspectors have checked 11 out of 20 sites identified by Damascus as it works to eliminate Syria's banned weapons.
"The OPCW mission has now conducted verification activities at a total of 11 sites that are identified by Syria's disclosure," the Hague-based Organization for the Prohibition of Chemical Weapons said.
The OPCW has said that there are a total of 20 sites to be visited in Syria.
Since inspectors arrived in the country 2 weeks ago, activities have also included "critical equipment destruction at 6 sites as well as some Category 3 weapons destruction", the organization added in a statement.
The chemical watchdog, which last week was awarded the Nobel Peace Prize, classifies Category 3 as "unfilled munitions and devices and other equipment specifically designed to aid the deployment of chemical weapons".
The OPCW and the United Nations now have about 60 experts working in Syria to eradicate chemical weapons, around a month after the OPCW accepted President Bashar al-Assad's application to join the Chemical Weapons Convention, in a bid to stave off a possible Western military strike.
The key convention came into force on Monday.
So far, Syria has won rare praise for its cooperation with the inspectors, but the UN has stressed that key deadlines in the destruction of the war-ravaged country's chemical weapons should be met.
This included verifying Syria's disclosed chemical weapons, identifying key equipment, destroying production facilities and starting the destruction of Category 3 chemical weapons by November 1.
Inspectors have until June 30, 2014 to complete the destruction of Syria's chemical arsenal. – Rappler.com