This is AI generated summarization, which may have errors. For context, always refer to the full article.
So far, just 11% of Syria's 1,200 tonnes of dangerous chemicals have been taken out of the country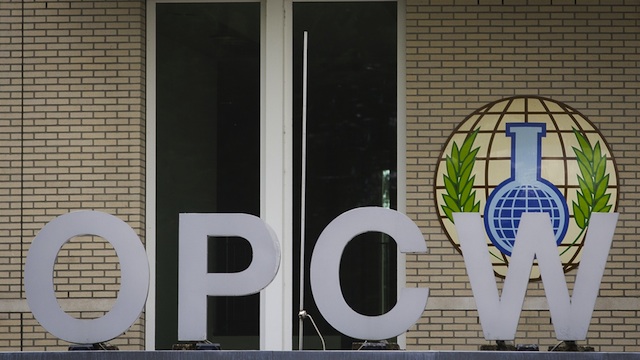 THE HAGUE, The Netherlands – The executive council of the Hague-based watchdog tasked with destroying Syria's chemical weapons arsenal failed Friday, February 21, to reach agreement on what to do about Damascus's delays, because of divisions between Syria's allies and the West.
Different sources close to the talks at the Organisation for the Prohibition of Chemical Weapons (OPCW) said China, Iran and Russia wanted flexibility over the timetable, but the United States and the European Union insisted on being strict.
So far, just 11% of Syria's 1,200 tonnes of dangerous chemicals have been taken out of the country. (READ: Syria chemical disarmament team begins mission)
The US rejected a Damascus request for a 100-day extension to an end-May deadline for it to ship out the totality of its chemical arms, according to one source.
"The Syrian government continues to put its energy into excuses, instead of actions," said the US representative in the OPCW, Robert Mikulak.
The anti-proliferation chief in Britain's foreign office, Philip Hall, said: "Two weeks on, there has been no substantial progress in removing chemicals from Syria.
"Our concern is growing that the 30 June deadline for the destruction of Syrian chemical weapons will not be met. Syria's commitment to that date is in question."

Under an agreement brokered by Russia and the US last year, all of Syria's chemical weapons were to be destroyed by June 30 this year. (READ: Syria misses another chemical disarmament deadline)

Damascus signed on to the deal to avert US military strikes in the wake of deadly chemical attacks outside Damascus blamed by the West on President Bashar al-Assad's regime.
The plan calls for the chemicals to be taken from Syria's main port Latakia by Western warships to a US vessel which will break them down using hydrolysis, a process expected to take 90 days.
But Western diplomats in the OPCW last month expressed frustration at repeated delays to the process, and the UN Security Council on February 6 called on Syria to move faster.
Syria has said it does not have the right material to transport the chemicals and that it has been hampered by the security situation in the war-torn country.
The OPCW's executive council will meet again on Tuesday, February 25, and a formal meeting will be held early March to continue discussion. – Rappler.com