3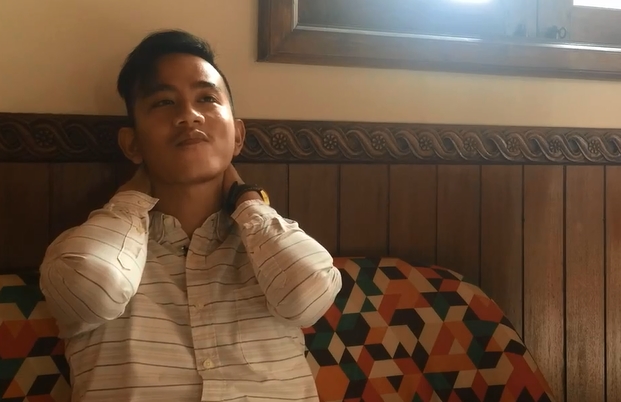 The private life of Jokowi's son Gibran
desktop
The 28-year-old shies away from the spotlight, and prefers to live quietly – focusing on his growing food businesses.
---
JAKARTA, Indonesia — President Joko Widodo's first son, Gibran Rakabuming Raka, does not like the spotlight.
Gibran, who is based in Solo, married Selvi Ananda in a supremely private ceremony in June 2015, and just this March, became a new father to his son, Jan Ethes Srinarendra. But in Gibran's usual manner, there was little fuss over the two momentous events of his life, as the young entrepreneur continued on with his business and his daily life with little fanfare.
The 28-year-old is soft-spoken, quiet and focused on his own thing: a food business.
Speaking to Rappler in a rare interview in Solo, he talked about sharing Indonesian culture to the region through food – specifically by bringing martabak overseas.
"Martabak is an Indonesian pancake with premium chocolate toppings," he told Rappler.
"It's basically like a pancake [but] more soft... the dough is very soft and a bit sticky. And the toppings, they are premium toppings like green tea, dark chocolate, something like that."

Gibran owns a popular martabak franchise called Markobar, which he said is often filled with "long queues" – a common complaint on social media from his customers.
Currently, the young businessman has 6 shops – 2 in Solo, and others in Yogyakarta, Semarang and Jakarta, plus a food truck. This year, he eyes opening a small kitchen in Singapore to bring martabak to Indonesia's neighbor, to add to his growing business.
But he doesn't want to stop there. Asked where else he would like to expand, Gibran named other Southeast Asian nations.
"I think Malaysia, Brunei, Thailand and Philippines," he said.
This month in fact, Gibran is taking his martabak to the Philippines, at a food fair in Manila to introduce the Indonesian delicacy to Filipinos.
"I hope the Filipinos like martabak," he said.

Close relationship
Gibran, who enjoys trying new food when he travels and visits various restaurants, said it wasn't just the food he was proud of from Indonesia.
"I'm very proud of the people, the culture and the food. Everything," he said.
But when asked about politics, the Singapore and Australia-educated businessman was mum.
Gibran said he kept abreast with current events using Twitter, but emphasized he was not interested in politics.
"No politics, just business," he said.
Even his relationship with his father, whom he said he was "very close" to – was devoid of politics or business conversations.
He said they speak "once a week on the phone," adding he never asks for business advice, but "mostly family matters."
Growing the business
Aside from his martabak business, Gibran has taken over his family's wedding hall, Graha Saba Buana.
Before President Jokowi joined government, he ran a furniture business – having worked in his father's furniture workshop as a child – and it was his hope that Gibran too would take over. Instead, Gibran was interested in food. And in 2010, when he was just 22, he decided to add a catering service to the wedding hall.

"So my family had this wedding hall, but this wedding hall didn't have its own catering. So we just rented the hall without the catering support, decoration. We just rented the hall, and it wasn't profitable," he said.
The transition wasn't easy, admitted Gibran.
"I have no background in culinary so it was very hard for me. It was trial and error for me, for the first two years," said the marketing graduate.
But today, the wedding hall that holds 2,000 people, he said, is mostly packed, adding people usually have to make reservations a year in advance. Weekends are often full, accommodating 2 events on most Fridays, Saturdays and Sundays – both morning and evening – and guests often use his catering business Chilli Pari, along with the hall.
Gibran takes pride in the fact that he grew the business based on his own hard work, having chosen not to use his father's name in gaining customers.
"It doesn't really affect the business because the customers, mostly they came to us because of the service, the food. Not because of my father," he said.
Living a private life, he said, was a choice he made. He said he does not get special treatment here in Solo – just the way he likes it.
Asked why he chose to return to Solo, his hometown, instead of staying overseas where he studied, or moving to Jakarta with his father, Gibran's answer was reflective of his lifestyle.
"It's more simple," he said. – video editing by Zachary Lee/Rappler.com