This is AI generated summarization, which may have errors. For context, always refer to the full article.
'You know, sir, if you wanna switch seats, we could do that,' Fox News anchor Chris Wallace tells US President Donald Trump as he kept interrupting the debate
It was a chaotic first debate between President Donald Trump and former vice president Joe Biden, with moderator and Fox News anchor Chris Wallace failing to rein in the two candidates. (READ: Trump, Biden trade heated barbs in first debate)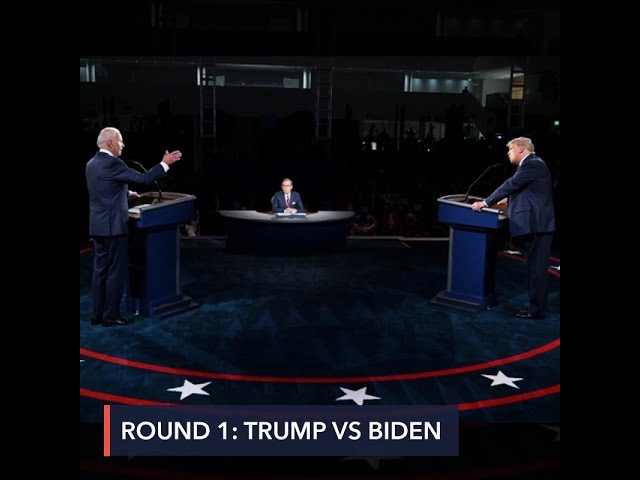 The event on Tuesday, September 29 (Wednesday, September 30, Manila time) was a far cry from the 2016 final debate, which earned Wallace praises for his handling of the debate between Trump and then Democratic presidential candidate Hillary Clinton.
Just minutes in, the debate turned into an all-out brawl as the candidates raced through issues ranging from the Supreme Court, racial tensions, the coronavirus pandemic, to the US healthcare system.
Trump incessantly interrupted Biden. Wallace's comments hardly stopped the President from trolling his opponent at every turn.
An exasperated Biden told Trump, "Will you shut up, man?"
In several instances, the 3 men wasted so much time talking over each other. Wallace repeatedly reminded Trump of the debate rules.
"Mr President, your campaign agreed that both sides would get two-minute answers. Uninterrupted. Well, your side agreed to it. Why don't you observe what your campaign agreed to as a ground rule?" Wallace said.
"Mr President, I am the moderator of this debate and I'd like to be able to finish my question."
At some point, Wallace was already raising his voice just so he could be heard.
The exchange between Trump and Wallace got so bad that the moderator asked the President, "You know, sir, if you wanna switch seats, we could do that."
'Shit show'
Ahead of the debate, Wallace, arguably Trump's least favorite Fox News anchor, warned that viewers should not expect him to fact-check either candidate – a struggle especially with Trump's tendency to hurl false and baseless claims.
"My job is to be as invisible as possible. I'm trying to get them to engage, to focus on the key issues, to give people at home a sense of, 'why I want to vote for one versus the other," Wallace said, as quoted in The New York Times.
After the debate, several experts and journalists couldn't hide their disappointment.
CNN's chief political correspondent Dana Basch said, "That was a shit show!"
CNN's Wolf Blitzer also said it raises questions on the future of the presidential debates between the two candidates.
"Clearly this debate was an embarrassment for the United States of America," Blitzer said.
"I wouldn't be surprised if this is the last presidential debate between the President and the former vice president."
Biden and Trump are set to face off again on October 15 in Florida, and on October 22 in Tennessee.
Wallace, son of legendary 60 Minutes reporter Mike Wallace, has received numerous awards over his career, including an Emmy Award for a tough 2018 interview with Vladimir Putin during which he notably asked the Russian leader about the untimely deaths of his political opponents. – with a report from Agence France Presse/Rappler.com