While Filipino Americans tend to lean Democratic, the second largest Asian group in America is far from monolithic
With millions of people across the nation watching the election night returns, Juslyn Manalo recognized the need to turn off the TV and walk away. Even though she had her own reelection to worry about – she's running for a second term on the city council of Daly City, California – her heart was racing as she watched the national results come in.
"It's been a rollercoaster of emotions from last evening to this morning… It was okay just to take a break off it because it was just this seesaw that we kept seeing," admitted Manalo, vice mayor of the California Bay Area city where Filipinos make up a third of the population, on Wednesday afternoon, November 4.
Even as the fate of the country swung back and forth, Manalo took some comfort in the work that she had put in as California co-chair for Fil-Ams for Biden-Harris, a national effort composed of 85 representatives across the country working to elect Democrat Joe Biden as the 46th president of the United States. Manalo says the group held over 50 virtual events, along with thousands of calls, to get other Filipino Americans to the polls.
Manalo's interest in getting out the vote increased after one of her friends, who was 36, ran into her at a store, and told her he had cast his vote for the first time ever, for her.
"I know there's a lot of anxiety out there but I remain hopeful. The only thing we can do at this point is remain hopeful and hope that the outcome is favorable to a president that will listen and be able to look at our community's concerns, understand the impacts of immigration policies and… ensure that there are resources that trickle down to the local communities around affordable housing, education, health care," said Manalo, a San Francisco native whose mother hails from Linga, Pila, Laguna and father is from Batangas.
"I think now, hopefully with more voter turnout, we see a new president."
On the other side of the country, another Fil-Am elected official Ron Falconi, was watching the same results with a different perspective. The Republican mayor of the Cleveland suburb Brunswick, Ohio – population 34,897 – was on Trump's Asian Pacific American Advisory Committee for 2016 and 2020, and helped with outreach to sway undecided voters the GOP's way. Prior to the election, he dismissed the idea of an electoral blowout, and chalked up wide polls in favor of Biden to silent Trump supporters not wanting to be labeled racist or homophobic.
"If there's any indication, it seems that the president will still be victorious, hopefully today if not tomorrow," said Falconi on Wednesday.
"As late as mid-October, I already heard, 'Well a President Joe Biden is gonna be meeting with people in his cabinet,' and it turns out it's not true. Everything is literally going down to the wire."
Far from monolithic
While Filipino Americans tend to lean Democratic – an Asian American Voter Survey poll in September showed 52% of Filipinos supporting Biden and 34% saying they will support Trump – the second largest Asian group in America is far from monolithic.
In two elected officials whose parents hail from the same archipelago, a giant divide on the issues exists. Manalo cites immigration reform as one of the issues that moved the needle with voters she reached out to, saying, "I know many of us are multigenerational over time but there's still a lot of families that need to be reunited from the Philippines to here."
Falconi, whose parents are from Metro Manila and met at the US embassy while applying for visas, says, "There are Filipinos right now in the Philippines who have been waiting on their visas right now sometimes for 5, 10, 15 years or longer, and our kababayan (countrymen) are waiting in line legally. And then here there is talk about a great amnesty program that may come forward if Joe Biden is elected."
As election night wore on, the scene looked grim for Democrats, and hopeful for Republicans, as Donald Trump took Florida, one of several "swing" states that had been favored to go the way of Democratic challenger Joe Biden, and the map suddenly looked like it did on election night of 2016. But as the sun rose, and large amounts of mail-in and absentee ballots rolled in, the mood shifted. By Wednesday, parts of the "blue wall," rust belt states like Michigan and Wisconsin that Trump had won in 2016, have been called in favor of Biden, while states like Arizona, Georgia and Pennsylvania all remained in play.
As of 9:30 p.m. Eastern time, Biden held a 253 to 214 Electoral College lead, with several potential paths to the 270 vote threshold of victory.
For Lora Nicolas, a theater performer based in New York City, Trump's victory in 2016 made her realize she was living in a bubble. She vowed to do her part, founding the Young Fil-Ams for Biden-Harris, which she is co-director of, to reach out to swing voters and "get them through some hard conversations."
"At first I feel so under qualified but I was like, 'if you care about this country, if you care where it's going, you can use that voice to help encourage others,'" said Nicolas.
Nicolas, who has been mostly homebound since the COVID-19 pandemic brought the city to a halt in March, says she had been "baffled" by the initial vote totals, but her mood began to turn as states started flipping blue. She says social justice and racial inequality, as well as hopes for a "kinder America" are among the main reasons she has been active in the election.
"I think there's a lot of work to be done to get it to be the America we once knew but this is is a good starting point," said Nicolas.
Don Mike Mendoza, who is co-chair of the "Young Fil-Ams" group in Pennsylvania, a state that swung for Trump in 2016 but is still up for grabs in 2020, echoes similar concerns over the racial climate in America during Trump's presidency.
"I was very very excited about a candidate who actually cared about the other minority groups in this country. Especially for Filipino Americans, immigration is very important and non-discrimination is very important and to have a president who does not fan the flames of hate is very, very essential," said Mendoza. "And Joe Biden is that candidate."
In Arizona, a state which could decide the election, small business owner Marie Cunning expressed disbelief at the possibility that her state, which has not gone blue in a presidential election since 1996, could swing Biden's way. Like President Trump, as a self-described "conservative Republican," she expressed concerns about voter fraud, citing "ballots being dumped" and Sharpie markers, which were provided to many voters in Arizona to mark their ballots, bleeding over and invalidating their votes. Responding to numerous claims, the Maricopa County Elections Department dismissed the concerns, saying that the tabulation machines will correctly count votes, even if there is bleed-through.
Cunning, whose family hails from Greenhills in San Juan, cites opposition to abortion as a primary reason for supporting Trump, saying he's "family-oriented." She worries about gun rights being stripped and the defunding of police department under a Biden-Harris administration, though the Democratic platform calls for neither.
"I think a population that's not able to protect itself, that's when communism happens, that's when oppression of the population happens, and I think that's gonna be a revolution before that happens," said Cunning.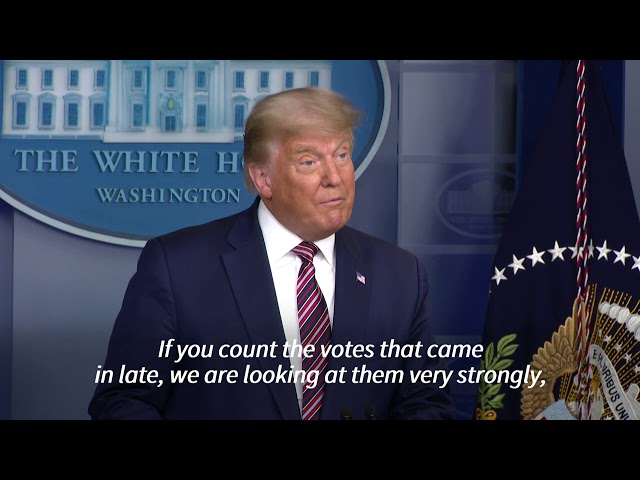 Though the number of uncounted votes continues to dwindle, there remains no timetable to when the race will be officially called. Delays in tally updates, the potential for recounts in close states, as well as the possibility of electoral protests being elevated to the Supreme Court, could drag this election out for an indeterminate time, fostering greater uncertainty.
Unity will take even longer. – Rappler.com