After an 'emotional roller-coaster,' the group Democrats Abroad Philippines hails the incoming Biden presidency
Members of the group Democrats Abroad Philippines on Sunday, November 8, held a victory party in Makati City to celebrate the win of President-elect Joe Biden and Vice President-elect Kamala Harris.
The projections of Biden's win came days after the election that saw the highest voter turnout recorded in the US.
Wearing face masks and face shields in a restaurant, group members could not hide their relief and delight following the democratic duo's victory.
"These past 5 days have been an emotional roller-coaster. Now Biden is our next president, and Harris is our next vice president," says Lisa Kircher Pagkalinawan, chairperson of the group. 
The group's media liaison officer Donald Goertzen said Biden "will do all that he can to unite a very divided nation."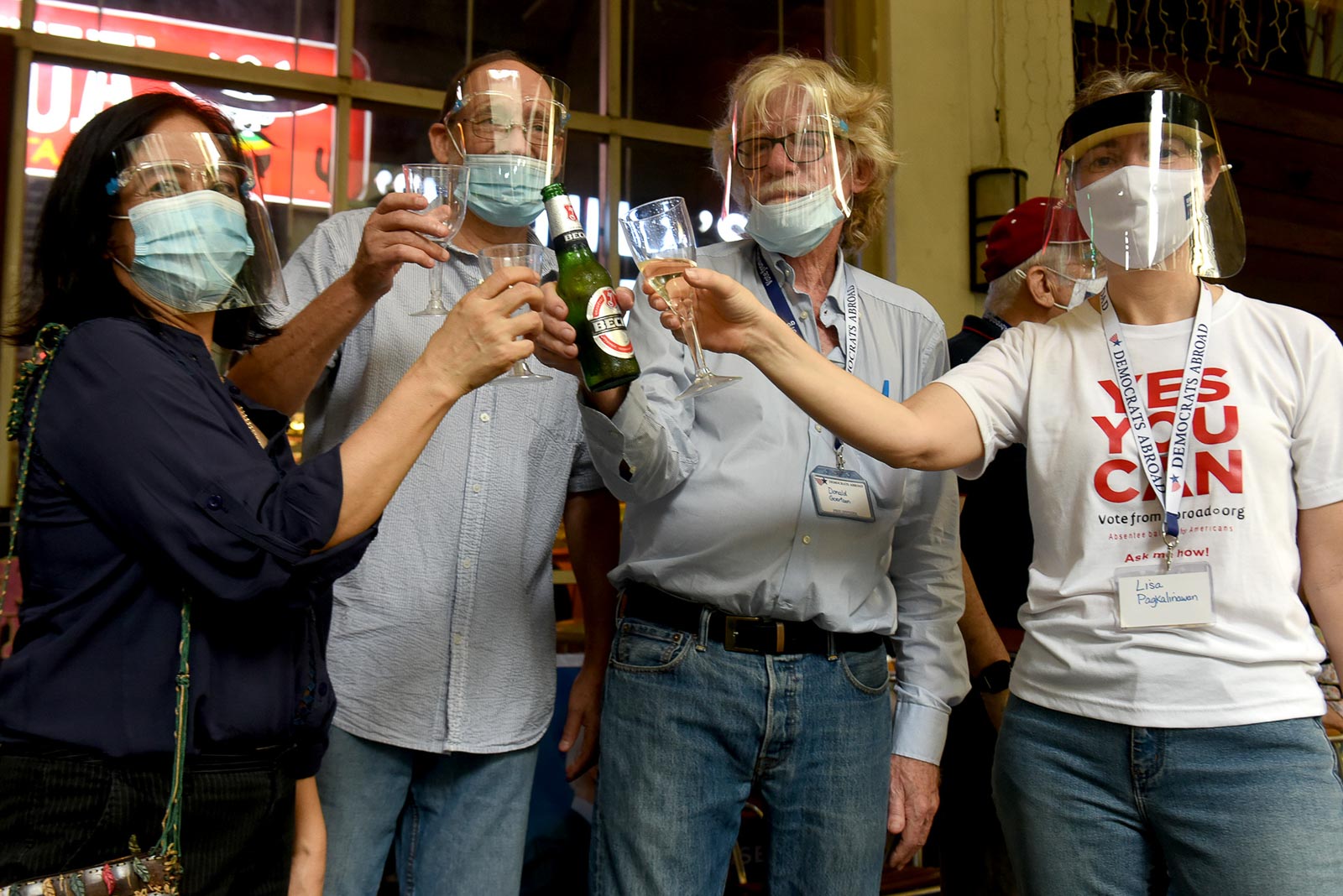 Pagkalinawan thanked volunteers who worked hard to encourage Filipino Americans and Americans in the Philippines to go out and vote.
"These efforts increased membership and use of the VoteFromAbroad.org website to register to vote and request absentee ballots," the group said.
There are nearly 9 million Americans abroad, with more than 350,000 residing in the Philippines.
Democrats Abroad is the state Democratic party for overseas Americans and has an estimated 200,000 members in at least 190 countries. It has over 1,000 members in the Philippines. These include many Filipino-Americans, expat employees of multilateral organizations and companies, retirees, church workers, and nongovernment organization and charity staff. 
Biden defeated US President Donald Trump in a historic election ending the latter's populist rule that worsened divisions in the world's most powerful nation.
Harris made history after being elected as the US' first woman, first Black, and first South Asian vice president.
Trump has so far refused to concede, as he falsely claimed there were poll fraud. His camp has filed lawsuits in several states calling for the stopping of vote count. Trump also said he would go to the Supreme Court to dispute the counting of votes. – Rappler.com