Get to know the Filipino-American candidates who either won or gained a promising lead in America's 2020 electoral race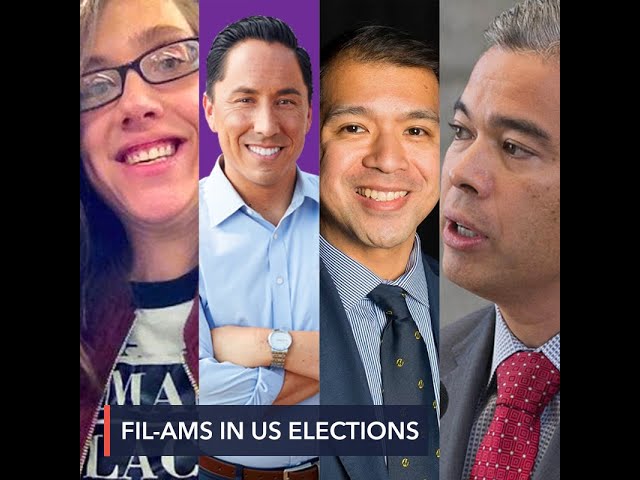 At least 4 Filipino-American candidates – including "the proud son of a maid and a gardener" and a disability rights advocate – vied for public office in the 2020 US elections, promising to boost underrepresented sectors.
Three of these Filipino-Americans won, while one enjoys a substantial lead as counting progresses.
Get to know the Filipino-American candidates who broke barriers in America's 2020 electoral race.
San Diego: 'Proud son of a maid and a gardener'
In San Diego, Democratic candidate Todd Gloria would not only be the first person of color to lead the city if he wins, but also its first openly gay mayor.
Gloria, 42, is a third generation San Diegan who describes himself as a "proud son of a maid and a gardener." He served as city council member for 8 years and was acting mayor for 6 months in 2013.
During the campaign period, he vowed to address hate crimes and racial injustice, as well as aid for unemployed workers and immigrants.
Minnesota: Disability rights advocate
Filipino-American disability rights advocate Nikki Villavicencio in Maplewood, Minnesota, ran a second time for a seat in the city council after losing the position by just 5 votes in a recount in 2018. Villavicencio has been wheelchair-bound for most of her life as she battles arthrogryposis.
"Anybody who's been marginalized or unrepresented, if you don't participate, then your voice can't be heard," Villavicencio said in an interview with The Filipino Channel's Balitang Amerika.
Villavicencio won that seat this year and vowed to push for policies that would support a sustainable environment in Maplewood.
Georgia: Civil rights lawyer
Marvin Lim, a civil rights lawyer in Georgia, ran unopposed in the November polls, automatically winning him the post in the state representative, serving the 99th district.
He is the first Filipino state representative in Georgia and member of the LGBTQ+ community.
"To be entrusted as a representative for people like myself at the state level in a state like Georgia – it's in the South, it's not the most friendly towards immigrants (and minorities) – that means a lot to me," he told Balitang Amerika.
California: Working student
In California, Filipino legislator Rob Bonta was reelected to the state assembly.
He became the first Filipino American state legislator in California after being elected to the position in 2012.
On his official website, Bonta said he worked his way through Yale College by cleaning laundry rooms, earning a spot as a sports scholar on the university's soccer team, and with the help of financial aid. He earned his law degree in Yale as well.
Before becoming an assemblyman, Bonta worked as deputy city attorney for the city and council of San Francisco. As a private lawyer, he fought to protect Californians from exploitation and racial profiling and was undefeated at trial, "never losing a jury verdict for his clients."
With 88% of his district's votes, Bonta said: "Deeply honored & thankful to be reelected…to have the opportunity to continue to serve the most woke, engaged, enlightened, and justice-oriented district in the state." – Rappler.com