Nearly 32% of the registered nurses who have died of COVID-19 and related complications are of Filipino descent, according to a National Nurses United union report
Three months ago, nurse Leane Bulaong walked slowly along corridors of metal frames and white curtains at the Baltimore Convention Center. This large complex had been converted into a field hospital to help manage the overflow of COVID-19 patients. Instead of wearing her usual nursing scrubs, Leane had donned a patient gown; a pair of non-skid socks; a pulse oximeter, measuring her blood oxygen saturation; and a nasal cannula delivering oxygen from a tank she pulled alongside.
Despite the fatigue and shortness of breath, Leane pushed herself to keep moving. As the sole provider of her family, "I had to get better," she recounted. "I have responsibilities to take care of my family, but I was the one who was sick in the hospital. So, I had to get better."
Leane has since transitioned back to working 40-60 hours per week at a Maryland hospital after contracting the virus, which took her down for a month. Although she feels like she will never be back to feeling 100%, she is determined to continue to work to support her intergenerational family.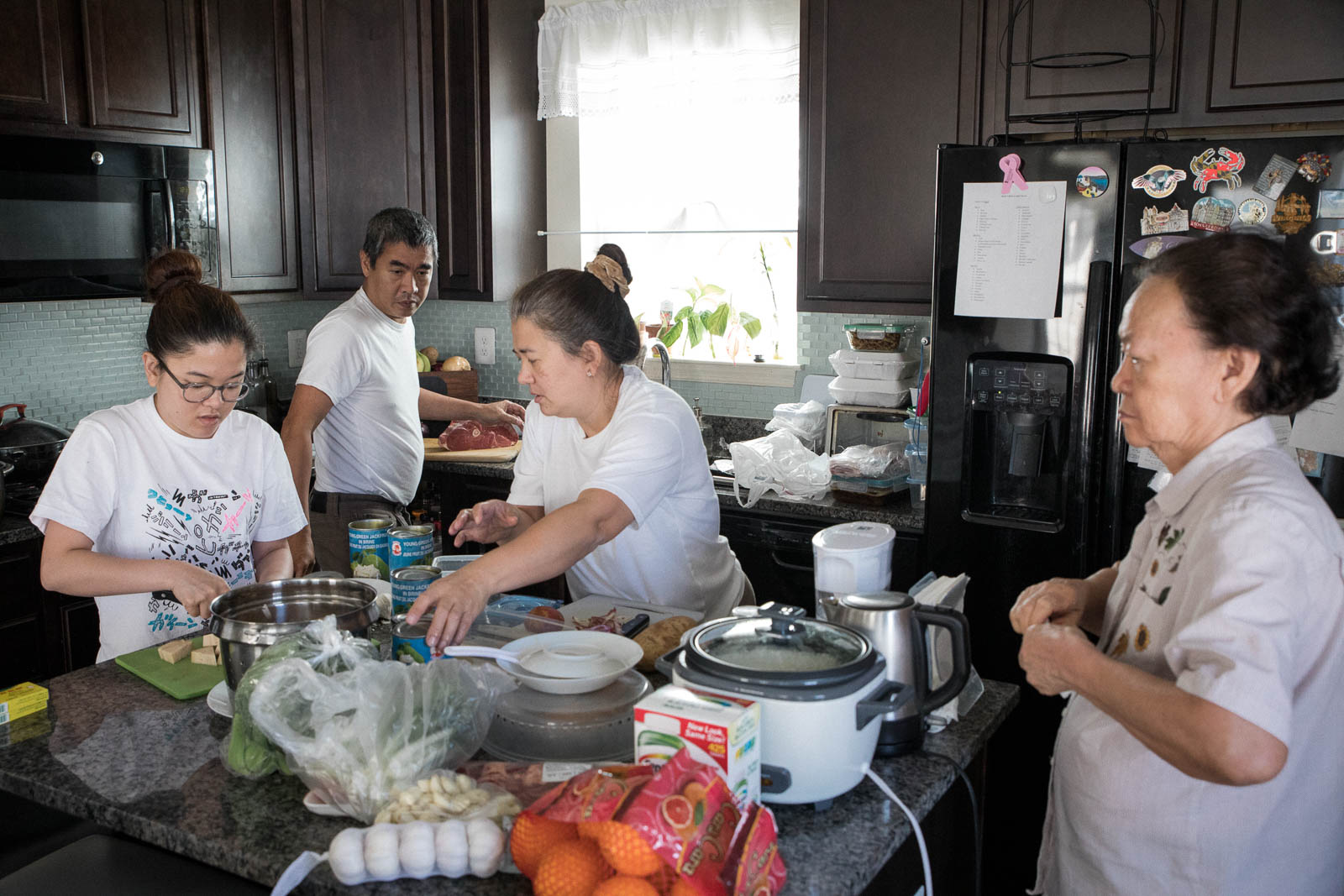 ONE FAMILY. The Bulaong family works together to make Filipino food for Jennifer to take back to Missouri. On the left is Jennifer Bulaong. She was unable to emigrate with the rest of her family due to US visa restrictions. A few years later, she was able to migrate as a nurse through a recruitment agency. She is almost done with her nursing contract commitments and hopes to move closer to her family. Photo by Rosem Morton
For many Filipino nurses like Leane, the call to care and to provide is strong. The 51-year-old is among the more than 150,000 Filipino nurses who have migrated to the United States since the 1960s, making them the largest group of immigrant nurses in the country.
Despite the ongoing vaccinations throughout the US, the coronavirus has hit Filipino nurses particularly hard. Nearly 32% of the registered nurses who have died of COVID and related complications are of Filipino descent, according to a National Nurses United union report.
Undeterred, many Filipinos continue to emigrate to join the healthcare industry.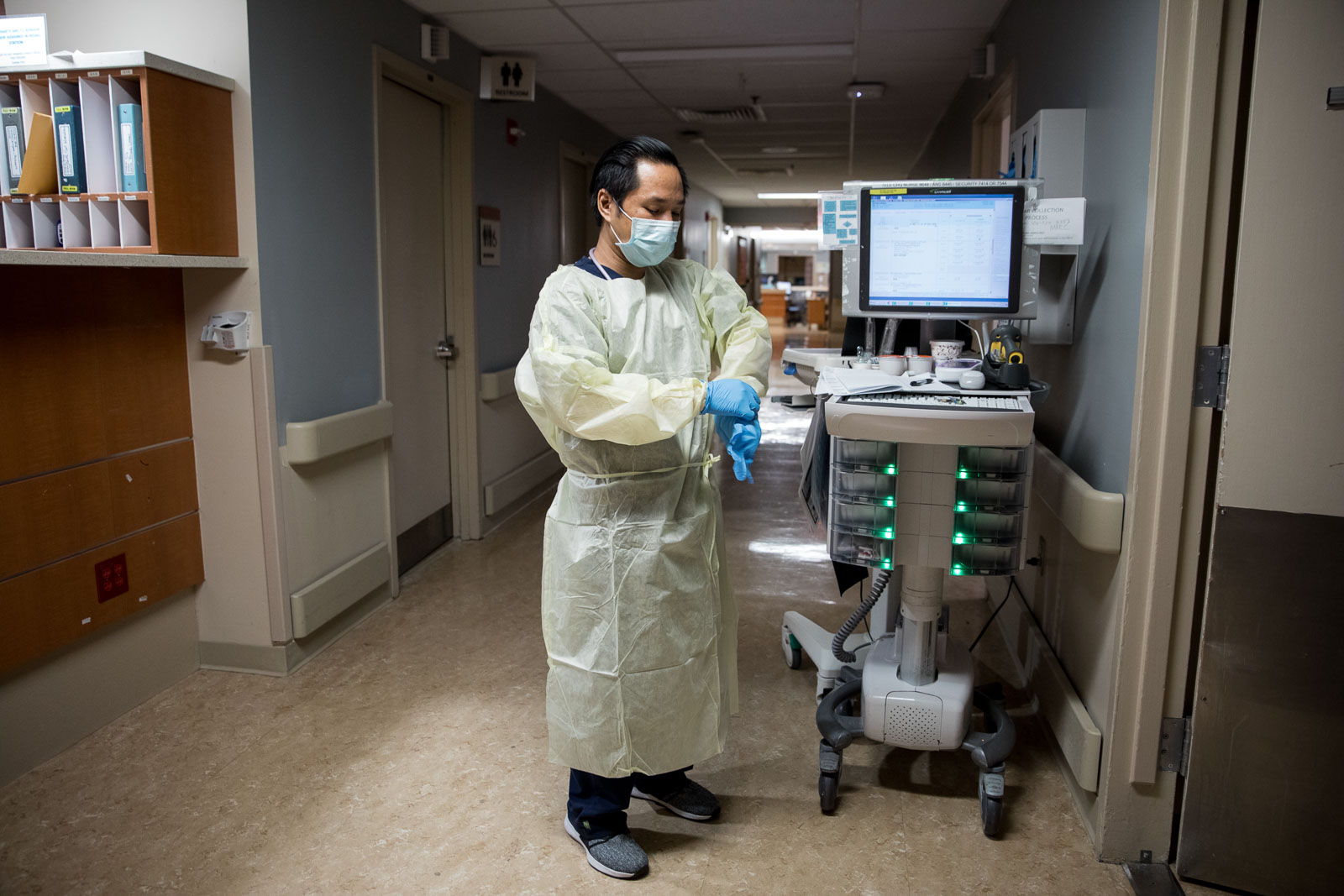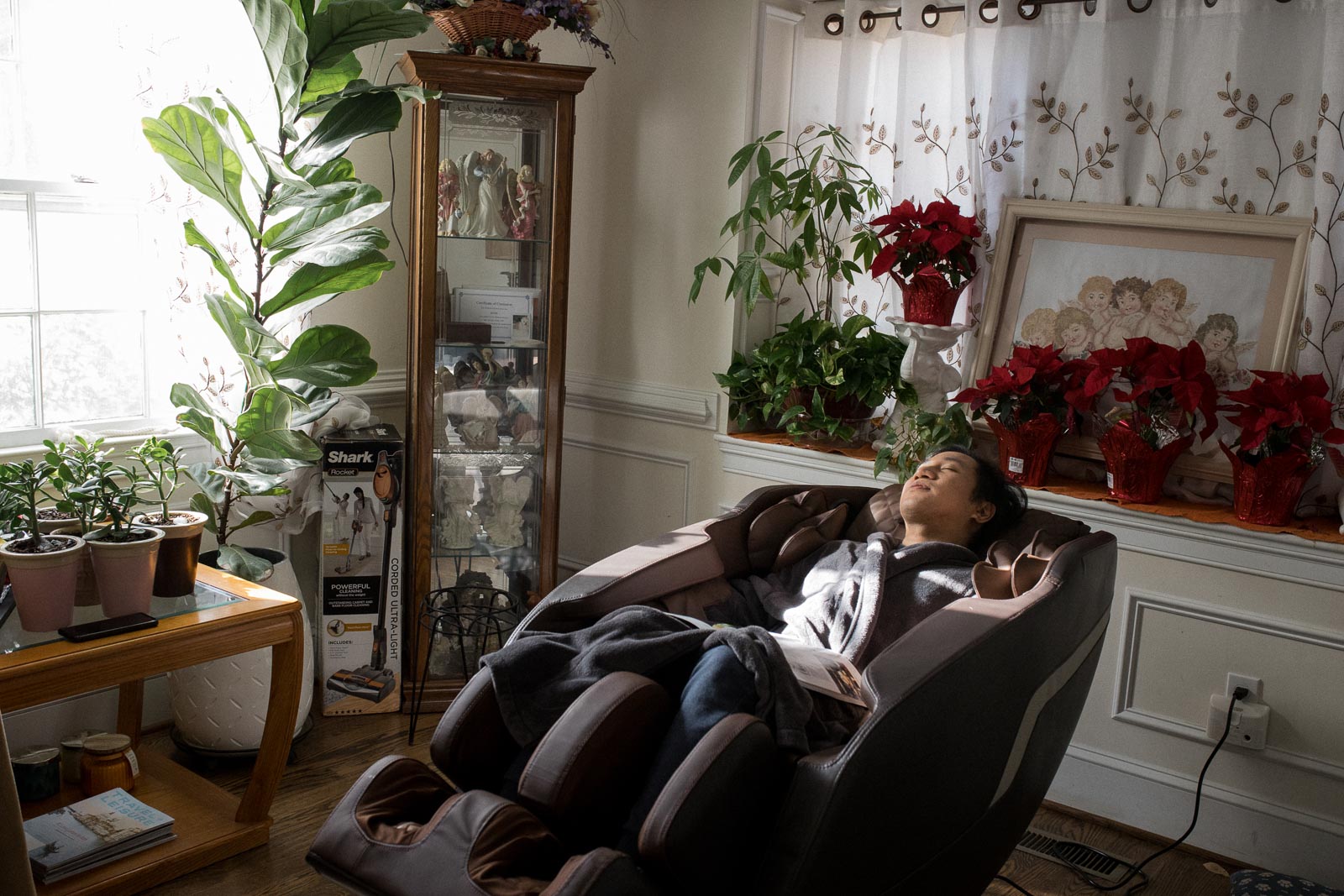 EXHAUSTED. (Left photo) Marc Bontogon wears personal protective equipment before entering a patient's room at Doctors Community Medical Center in Maryland. He works the night shift as a telemetry nurse. (Right photo) He rests on a massage chair after working four 12-hour nursing shifts in a row. He bought the massage chair during the pandemic as a way to help him relax at home. Photos by Rosem Morton
"We moved to the United States because it was a good opportunity for our family," said Marc Bontogon, a 30-year-old telemetry nurse at Doctors Community Medical Center in Maryland.
He emigrated 13 years ago and said that becoming a nurse felt natural. "I knew that nursing would be a stepping stone to fulfilling the American dream."
Land of promise
For many, working in the US feels familiar. During the US occupation of the Philippines, the nursing profession was modeled after the American system, which favored women as nurses and required Filipinos to speak in English.
The new model encouraged a move away from traditional clothing and favored American bodies, language, standards and culture, according to Catherine Ceniza Choy, a professor of ethnic studies at the University of California, Berkeley. These ideals became necessary to embrace as socioeconomic opportunities as a nurse opened up in the US.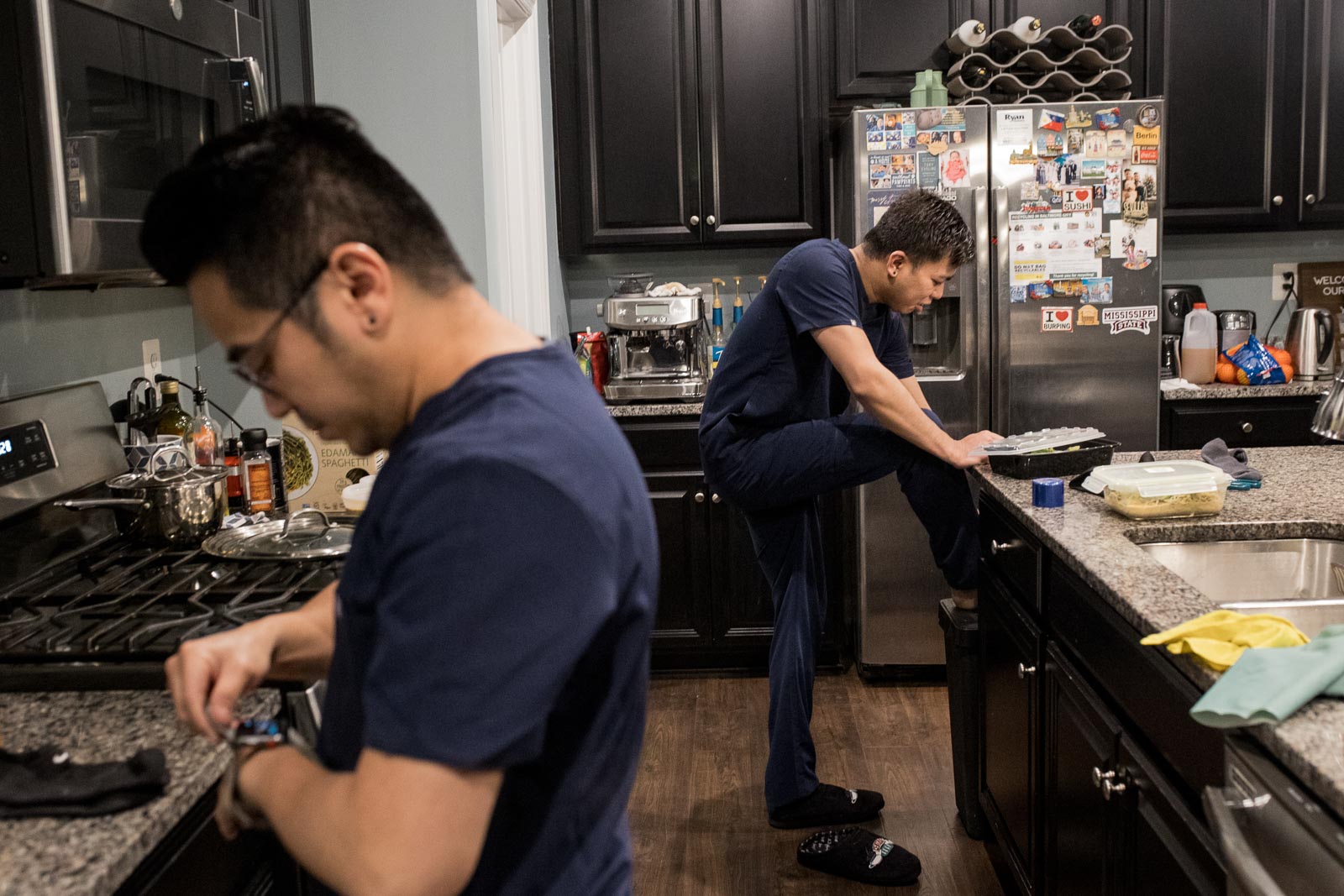 PARTNER NURSES. Brian Chavez and his partner, Mark Abordo, get ready for work. They are both night shift nurses in Baltimore, Maryland. Photo by Rosem Morton
The first large wave of Filipino immigrants began after World War II, when the US created the Exchange Visitor Program (EVP), which facilitated the entry of foreigners to help ease labor shortages.
In 1948, the Philippines and the US entered into an agreement for the financing of bi-national centers to coordinate educational exchange programs in various fields, including healthcare. By the 1960s, the demand for nurses increased dramatically following the passage of Medicare and Medicaid, and the 1980s AIDS epidemic.
An estimated 10 million Filipinos now work overseas in a variety of sectors and they send back more than $30 billion per year in remittances – about 10% of the Philippines' gross domestic product.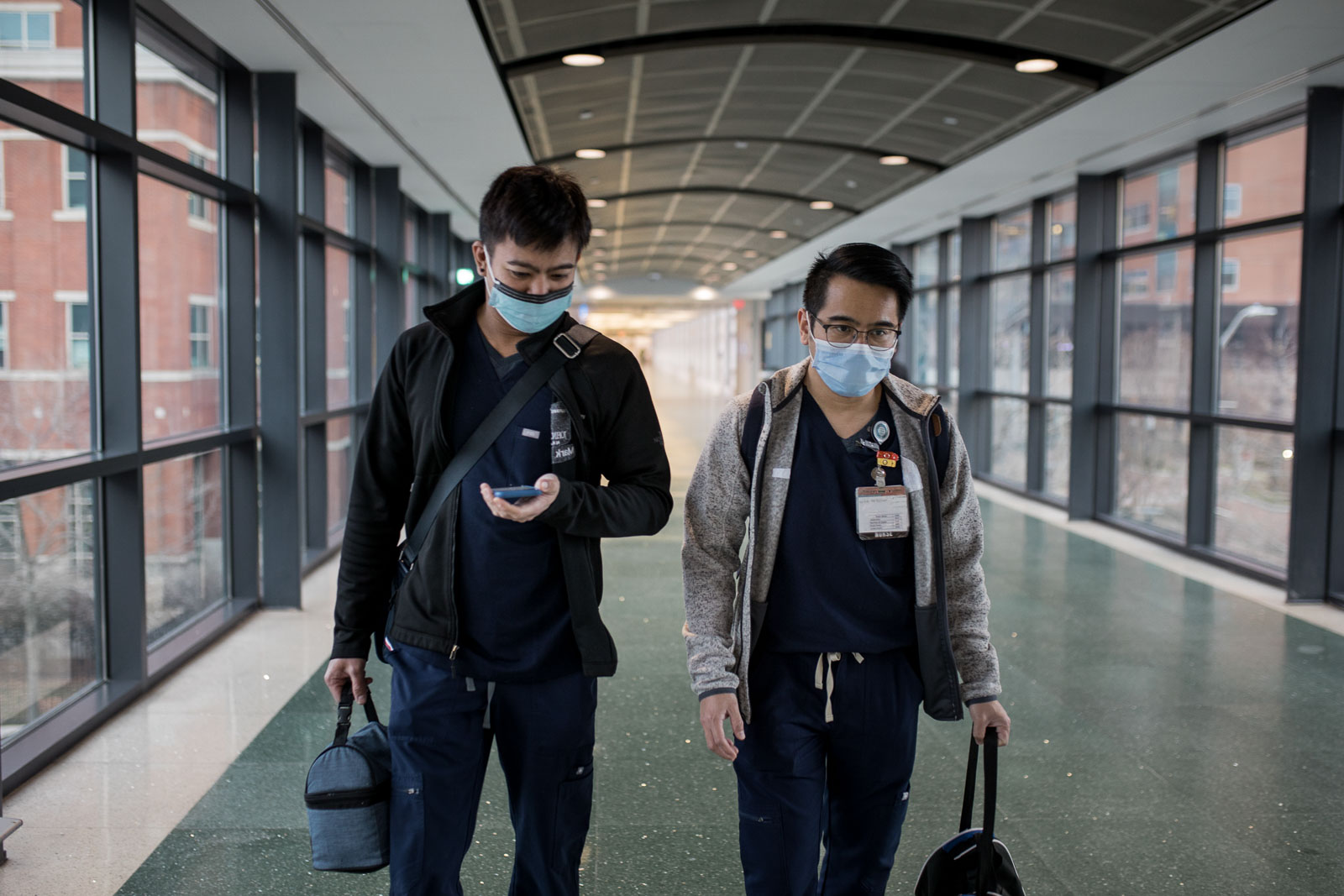 SHIFT SCHEDULES. Brian Chavez and Mark Abordo leave the hospital after their nursing shift. They try to match their nursing schedules as much as possible. Photo by Rosem Morton
As the main provider of his family, Mark Abordo, a registered nurse at a Maryland trauma orthopedic unit, has been sending money to the Philippines every month for the past 11 years.
Before the pandemic, he worked an additional 12-hour shift every week to send extra cash home to help a cousin get through school and pay for his mother's expenses, such as food and utilities. "This kind of responsibility is a normal part of my life," said Mark.
The appeal of America as a land of promise remains strong, despite hardships for some.
Following in the footsteps
Leane left the Philippines 12 years ago. Her mother, husband, and young daughter (her spouse and daughter are now nursing students) were able to follow once she settled in the US, leaving behind Jennifer, her eldest daughter.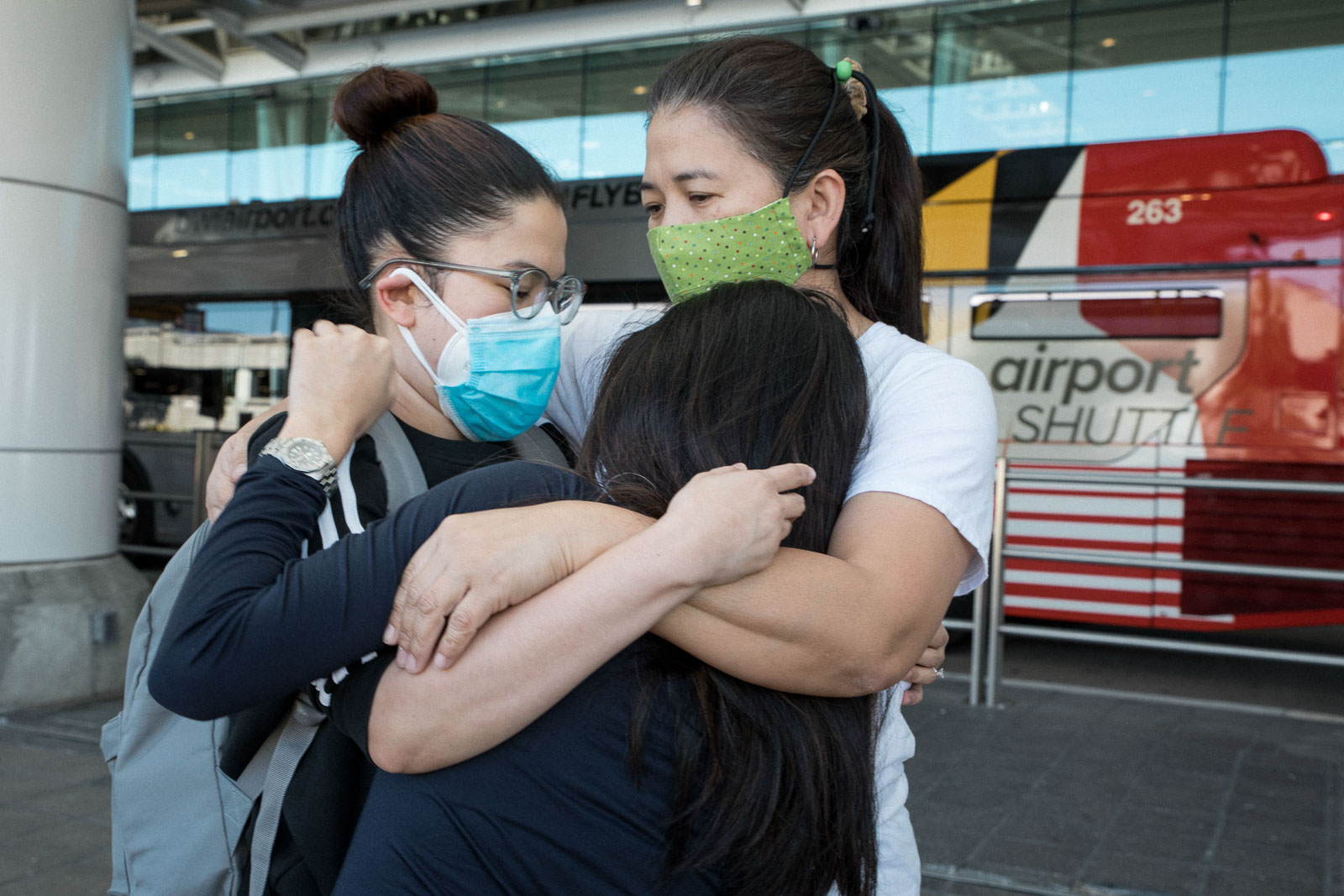 MOTHER AND DAUGHTERS. Leane Bulaong drops off her daughter, Jennifer, on her right, at the airport to go back to Missouri where she works as a nurse. Leane's youngest daughter Jillian, on her left, is studying to be a nurse. Photo by Rosem Morton
Jennifer became a nurse to be able to follow her family. Through a recruitment agency, she was able to move to Missouri in 2017 and is completing her 5,200-hour work commitment. 
During this time, a large part of her salary is collected by the recruitment company. Still, Jennifer carries on. With the monetary exchange rate of about P48.64 to $1, a month's pay is still significant to what she would make as a nurse in the Philippines.
"Being away from my family has been hard," said Jennifer. She hopes to fulfill her work commitment early and join her family in Maryland this April.
Others have found what they were seeking.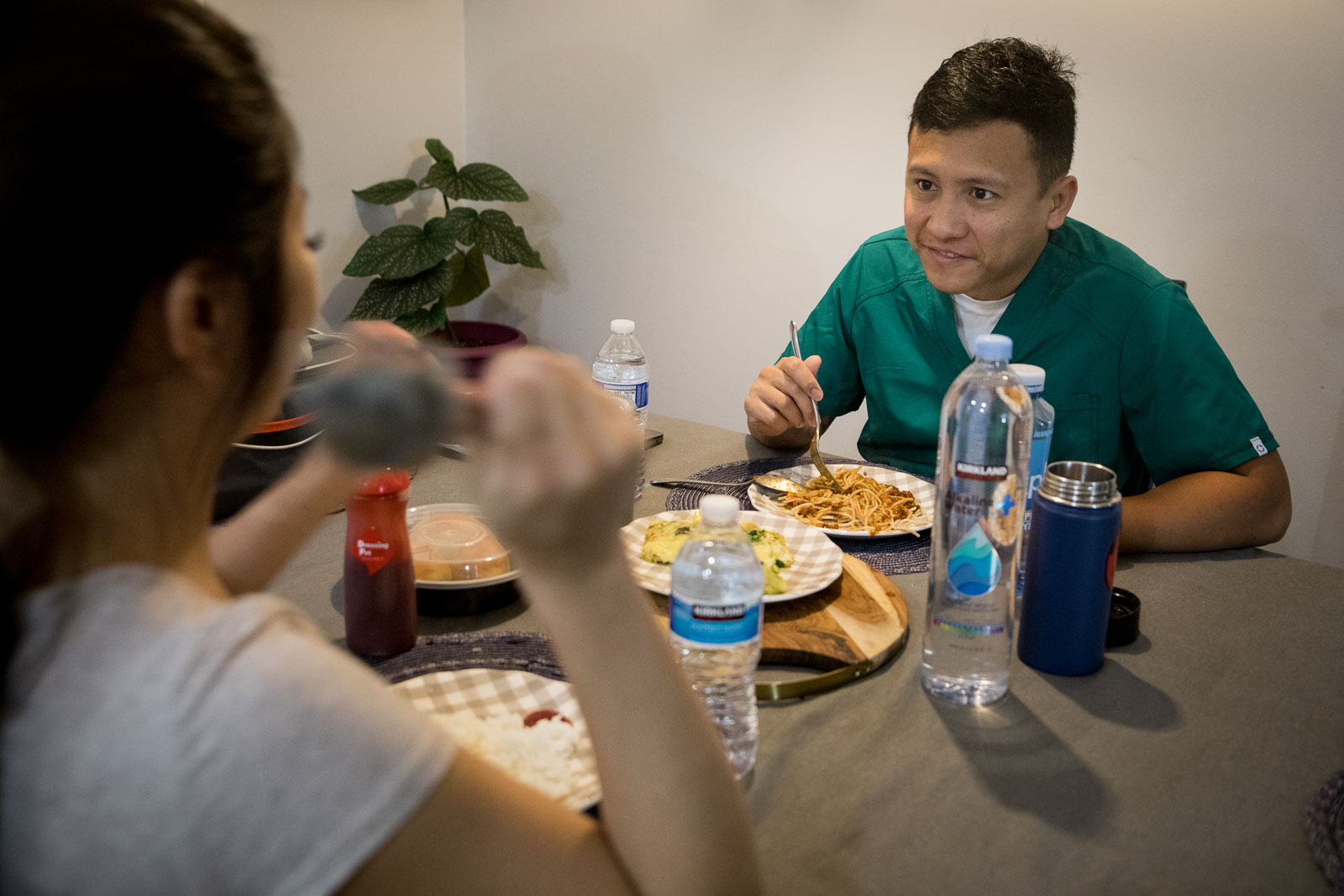 HUSBAND AND WIFE. (Left photo) Despite opposite nursing schedules, Elizabeth Grace Capadngan wakes up early from her night shift schedule to accompany her husband Ernest for breakfast before he goes off to work. (Right photo) She suffers from muscle spasms on her legs which have worsened during her pregnancy. Her husband offers her a massage to ease the pain. Photos by Rosem Morton
Ernest Capadngan, 30, met his wife, Elizabeth Grace, 30, in college shortly after moving to Maryland with his parents in 2009. The couple has since settled in their new home with their newborn, Eliana Grace.
Ernest looked back to his life in the Philippines, saying, "We were very poor." He recalled, "We lived paycheck to paycheck and struggled to put food on the table."
Ernest has been working as an intensive care nurse in the biocontainment unit since the start of the pandemic. He has seen COVID patients die daily, with no family members beside them.
Despite the cost and toll, Ernest, like many Filipino nurses, remains undeterred as the battle against the pandemic remains far from over.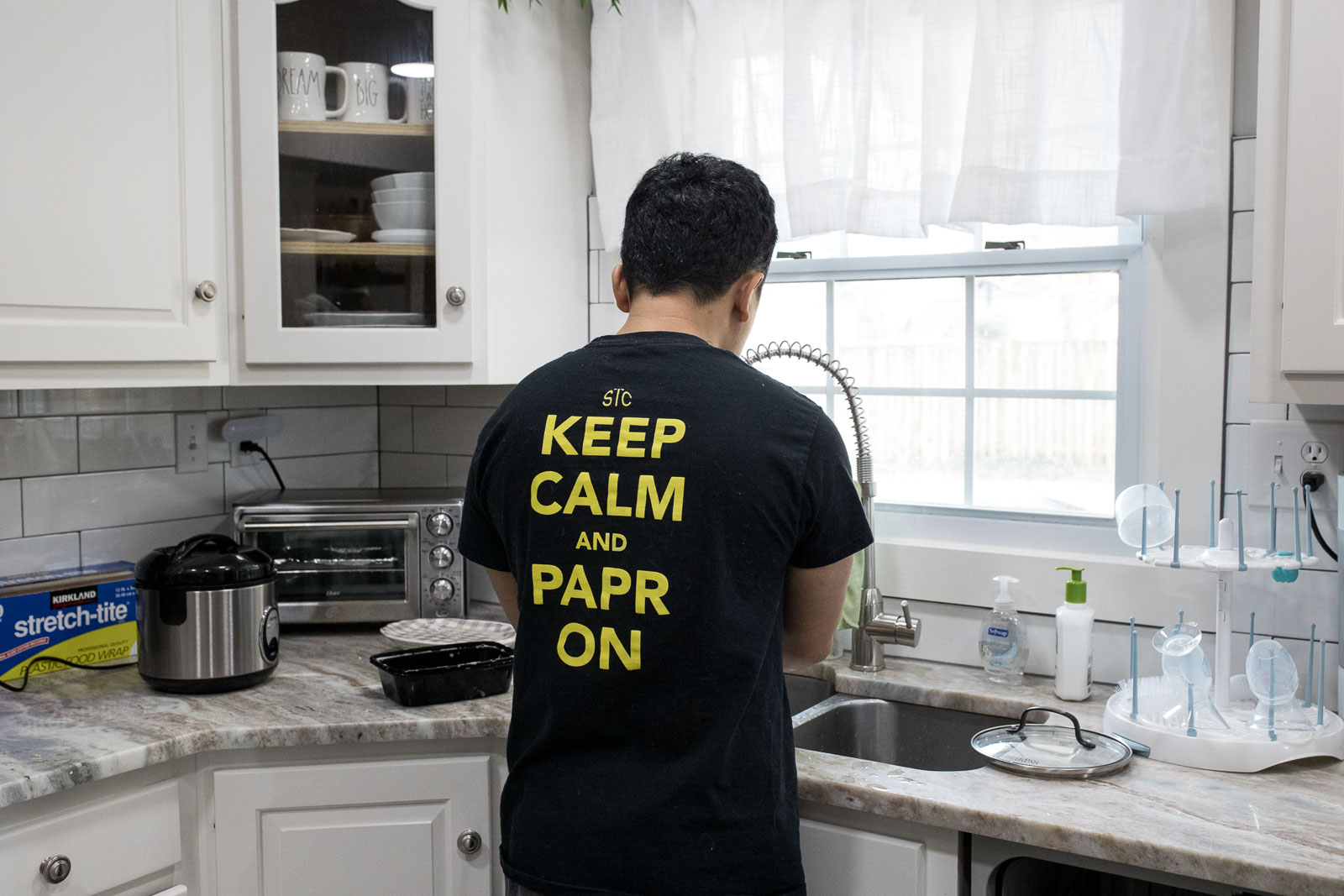 HOME SWEET HOME. Ernest Capadngan washes the dishes at his home. He wears a nursing shirt from the biocontainment unit. Photo by Rosem Morton
– Rappler.com
Rosem Morton is a Filipina freelance documentary photographer and nurse based in Baltimore, Maryland. Her work was supported by the National Geographic Society's COVID-19 Emergency Fund for Journalists.