This is AI generated summarization, which may have errors. For context, always refer to the full article.
The supervisor of The Castro project wants the city to have more power to conserve or compel mentally ill street people into forced care
For the past decade, you could find Victoria Solomon on the streets of San Francisco's The Castro neighborhood, pacing and screaming to no one in particular, or camping on the sidewalk, spurning the offers of would-be helping hands.
Not anymore. After being on the streets since her early 20s, Solomon has become an embodiment of hope for a beleaguered part of town.
A street counselor assigned to The Castro has managed to do what nobody else could: persuade Solomon, 34, to move inside a transitional housing room and accept treatment for her drug and mental illness conditions. Inside now for more than a month, Solomon looks like an entirely changed woman. Her eyes are clear, her manner calm.
As she stood at Castro and Market streets with her dog, Chunx, the other day, back just for a stroll, she marveled at the progress she's made.
"It was all because of Erica," she said, waving a hand at Erica McGary, the homeless-aid health worker who worked this bit of street magic and was making her usual rounds on the sidewalk. "Other people tried to help over the years, but they didn't listen. Erica listened. I have anger issues, and she didn't push. She made all the difference."
The difference in The Castro, and not just for Solomon, has been remarkable in the past five months. McGary helped lead a pilot project that shows what progress can be made in helping people get off the street – and also how terrifically difficult that task is, and how it will be hard to replicate throughout the city.
The project began in August 2022, focusing on 34 long-term unhoused people who had resisted most efforts of help for many years. Last August, Castro merchants threatened to withhold taxes from the city if officials didn't take action to help people they said were regularly experiencing psychotic episodes in public, vandalizing storefronts, and harassing passersby – and that was just the latest in several years of steady complaints. The Castro encampment effort, city officials said, was being planned prior to the merchants' threat to withhold their taxes.
Supervisor Rafael Mandelman, who represents The Castro, helped compile the roster of the people most in need of attention, and a plan was put into place.
The plan, coordinated by the city's Department of Emergency Management, enlists more than a dozen city teams and other agencies, including the homelessness and health departments, to swarm The Castro with whatever it takes to persuade the 34 people to get off the street. Leaders of the effort meet daily to coordinate strategies and check the progress on each person.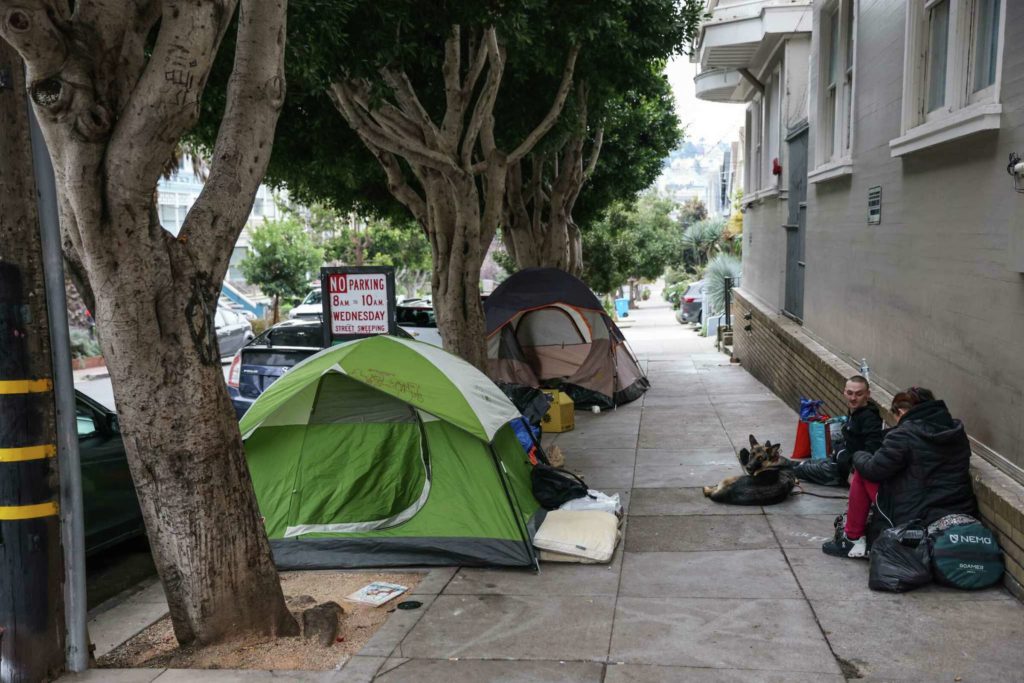 In the past five months, eight other hard-core unhoused people like Solomon have also been moved from The Castro into housing or residential treatment facilities. Seven more went into temporary shelters. And 19 of the 34 total agreed to regular treatment for medical, behavioral, and other needs aimed at getting them off the street. By law, there's no rigid requirement that they stick to the treatment, but just getting them to commit was unusual, and so far they've kept to their agreements, counselors said.
It's remarkable progress for a population that resisted aid for more than a decade in some cases, and merchants are noticing the difference with guarded optimism.
"I have actually noticed a few people are gone lately," said Martha Asten, who's co-owned the cornerstone Cliff's Variety home & garden goods store on Castro Street for 50 years. "These kinds of efforts are cyclical, and I've seen them come and go. So we'll see how this one works. But we can always hope."
Mandelman, who has long been frustrated about The Castro street situation, is also encouraged in a wait-and-see way – not only for what the project means for his neighborhood, but for the rest of the city.
"I'm glad they're doing it rather than not. I would love to see it scaled as much as we can. But that may be hard to do," he said.
Like the rest of the city, the neighborhood has long had outreach teams there anyway, from the Homeless Outreach Team to the more recent Street Crisis Response Team, which are just two of at least 10 city teams now addressing homelessness. But those teams roam the entire city, and can't focus tightly on one area for long.
This pilot project is making headway by instead relentlessly targeting a smaller geography – The Castro – with the everyday presence of a handful of the same counselors on the ground developing close relationships with the unhoused regulars.
At its core, the secret to whatever success this latest effort has comes in the form of Health Department Counselor McGary and her two frequently present supervisors, Health Department Outreach Strategy leader Krista Gaeta and her counterpart at the Emergency Department, Mark Mazza.
McGary, who works for the city's Department of Public Health homelessness crew, walks The Castro's sidewalks five days a week, and has come to know everyone there who has no home, she said. At 49, she radiates credibility to the street population like few can, having been homeless and drug-addicted as a younger woman. She's worked in shelters, jails, the Homeless Outreach Team, and health clinics, and when she chats with someone on the concrete, they can tell she's for real.
"She's somebody who actually gives a damn, and when you've been out here as long as I have, you know the difference," said 38-year-old Desean Dixon, who's lived outside for more than 15 years and resisted efforts to steer him into shelter. "At first, when she came by my tent, I pushed her off. But then I asked a couple of my friends, and they said she was cool. And she was."
McGary has persuaded Dixon to get on a waiting list for permanent housing, and in the meantime is shepherding him to medical appointments, which he's also resisted for years. One recent day, she walked him to The Castro Mission Health Center for a complete checkup, which he had badly needed in recent months as he shivered through pneumonia in his tent. Dixon had persistent skin infections since he couldn't regularly clean up, and he feared a diagnosis of diabetes and other complications from outside life and inadequate diet.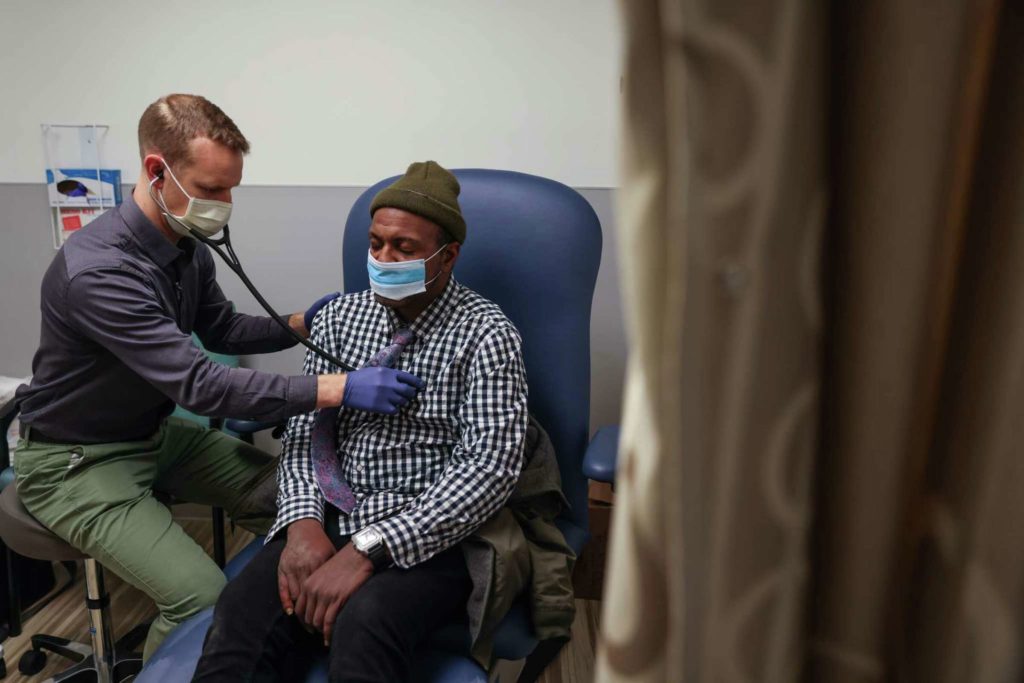 "Some of these questions are easy to settle, and I really don't think you have diabetes," Dr. Stephen Mazat said gently as Dixon sat stiffly in an examination chair. Dixon visibly softened.
"I'm a little bit relieved," he said partway through the exam. "I don't go to doctors because it's like every time I did, it seemed like something was wrong, and I don't want bad news. Now I'm going to try to come in more to this place."
That's the sort of trust that, combined with steady visits, can turn a chronically homeless person like Dixon into a housed and healthier one, said Gaeta, who also went with Dixon to his doctor visit.
"If you treat people with dignity and respect, and you show up every day so they get to really know and trust you, it can make a difference," she said. "A lot of the people out here have no hope, and layers and layers of trauma. Figure out what they need and meet that, and you can get somewhere because [under federal and local law] you can't force treatment and housing on them. They have to want to take it."
The steady one-on-one is particularly important in light of concerns that the ramping up of street teams in the past two years has produced a lot of calls for service on the street, but may not be routing enough people into services to make a big difference. Street teams answered more than 14,000 calls since late 2020, most of those for homelessness crises. According to city data, most of those calls appear to have resulted in the person remaining outside.
In keeping with the city's broader "harm reduction" approach to addiction treatment and state laws around conservatorships, people can be compelled into treatment only in extreme circumstances. To get them to accept it, persistent, targeted persuasion is crucial.
"People on the street can pick up instantly if you're serious about sticking around, serious about really helping," McGary said. "Me? I'm in my element out here. The goal is to chip away at getting to know them, working people toward taking the help they need."
With Solomon, that meant buying cups of coffee, chatting, instilling the idea that being inside could work, week after week.
At first, McGary got her into a cabin shelter, but that was just the start. McGary follows up on each of the people she helps, and after visiting Solomon and finding she was unhappy in the cabin, she moved her to a transitional hotel room.
Now Solomon and McGary are working with homelessness department housing assessors to get permanent supportive housing. "Erica didn't just leave me there," Solomon said. "She followed up. She cares."
Mayor London Breed praised the project's progress in her state of the city speech in February, and said without elaboration she intends to "expand it to other neighborhoods." Mandelman said he's also encouraged by the success so far.
But taking the effort wider will need some heavy lifting.
The advantage of The Castro project is that it's focused tightly on a relatively small number of homeless people in a compact neighborhood – unlike larger areas from San Francisco, like the Tenderloin or the Mission District. Replicating this same swarming success throughout the city would probably require significant increases in staffing, energy, and time, Mandelman said.
The supervisor said he would like to see the city have more power to conserve or compel mentally ill street people into forced care – something that has proven elusive on a large scale in not just San Francisco, but the entire state.
"It feels like they might be making progress, which is great. I'm glad they're doing it. But we have to come up with interventions that are actually scalable," Mandelman said. "The Castro project will be hard to replicate all over the city."
"And we still don't know how this story turns out. It's not like we've 'arrived' in The Castro yet. When I walk around the neighborhood I see there are still a lot of folks in various states of addiction and homelessness."
Jim Walton, who's lived in The Castro for 40 years, shook his head as he walked away from a conversation with a panhandler sitting in front of La Tortilla Mexican restaurant on Castro Street. The panhandler was actually in a shelter room near the Tenderloin, but had come to this side of town because the begging brought in more bucks.
"It's gotten better lately, but, honestly, the best solution to all this? For not just residents but the homeless people themselves?" he said. "Go somewhere else, like Santa Cruz. It's rough out here." – Rappler.com
Reach Kevin Fagan: kfagan@sfchronicle.com; Twitter: @KevinChron
This story was originally published in the San Francisco Chronicle (US) and is republished as part of the Human Journalism Network Program, supported by the International Center for Journalists.