(1st UPDATE) 'The public Carbon Market is for the poor, given by God for the poor to make a livelihood,' says a vendor affected by both the pandemic and the project to modernize the landmark
Half a century since Perla Eraya started work in this city's historic Carbon Market, the food vendor found herself struggling to meet half of her normal daily income.
"Diha na gyud ko natawo sa Carbon since my birth. Namaligya ko tabang sa akong mama [pag] four years old ug nipuli ko nila. Mga almost 50 years na," said the 63-year-old seller of processed meat, eggs, and spices.
(I was born in Carbon. I helped my mom sell when I was four years old and I [eventually] replaced her. It's been almost 50 years.)
In her nearly six decades of vending, Eraya faced what she believed to be the biggest fight of her life: the COVID-19 pandemic that has affected her mobility, and the threat of dislocation due to  the planned modernization of the market .
Fish vendor Anna Marie Sipalay-Ariosa, 33, was only 10 years old when she started helping her mother. At 15, she struck out on her own. Income from her seafood business in the same market paid for her tertiary education.
After years navigating the ins and outs of Cebu province's oldest and largest farmers' market, the two women see the joint Carbon Market modernization venture between Megawide Construction Corporation and the Cebu City Government as a major threat to their livelihood.
Under the P5.5-billion project, a "lifestyle village" and other commercial hubs will be constructed.

The public market will be slightly relocated to the nearby  Freedom Park and Warwick Barracks, which are on the current market's grounds.
COVID-19 impact
Before the pandemic, Eraya used to sell processed meat like hotdog, ham, and tocino. In three hours, she would make P4,000 to P5,000.
Now, over a year into the pandemic, Perla sold only eggs and spices, and would make P2,000 on a good day. "Usahay, di parehas. Mo-1,000 plus na lang (Some days, it's not the same. I get only P1,000-plus)," she said.
Eraya said she has not been allowed to sell at Carbon since the city first imposed enhanced community quarantine (ECQ) in March 2020. The strictest quarantine level prohibits senior citizens from leaving their homes.
Of the financial assistance from the local government unit (LGU), she said: "Ang mga pasalig [nila] nga mo-support…. Una pa nasundan ang pagpanghatag 1 year na kapin. Kon di ka maningkamot makatinda paghuman sa pandemic, perting gutoma."
(Their promises of providing support….. They only started distributing [aid] over a year later. If you don't strive to sell after the pandemic arrived here, you'll starve.)
Ariosa is lucky to make P300 a day from selling fish. She would sometimes earn P500 but with this ever-present risk: "Usahay, alkanse pud kay mabahaw-bahaw ang isda ug mabaligya na'g barato the next day."
(Sometimes, it's a loss because the fish goes stale and will be sold for a cheaper price the next day.)
The pandemic has also slashed the number of buyers in Carbon Market, affecting vendors' income. Orders were once enough to meet the needs of Ariosa's family, but none of her regulars have been placing orders. Some could not pay their debts due to unstable incomes.
The Philippines' unemployment rate rose to 8.7% in April 2021, which translates to 4.14 million jobless Filipinos.
With the Megawide project, the Carbon vendors' livelihoods are doubly affected, said Ariosa, who is also the chairperson and spokesperson of the Carbon-hanong Alyansa alang sa Reporma ug Bahandianong Ogma sa mga Nanginabuhi (CARBON), an alliance of 13 Carbon vendors associations, which is against the project.
"Naa'y P300-P500 ra'y kapital, kanang maninda og lamas tag singko ang tapok. Daghan na pud seniors ug [mga] ubos nga edukasyon ang naabot nga kung mawala ang Carbon, dili maka sustain sa mahal nga abangan sa balay, kuryente ug uban basic nga panginahanglanon," she said.
(There are those who have only P300 to P500 as capital, those who are selling spices for P5 a pack. There are many seniors and those who got a lower education who will not be able to sustain their rent, electricity fees, and other basic needs if we lose Carbon.)
Eraya added: "Nisamot ug pagkaalaot ang mga stakeholders ug vendors ug ang mga residente kay maapektuhan sad sila. Ug ang panahon nga krisis na, ang mga taga-Carbon nga manindahay, nigrabi na hinuon nga naay Megawide."
(Stakeholders, vendors, and residents have become more unfortunate because they will be affected. And the crisis of the vendors in Carbon have worsened now with Megawide.)
"Ang public Carbon Market kay para sa mga kabus nga gihatag sa Diyos nga makapaninda usab ang mga pobre. Dili lang ang mga dato ang gibutang sa Diyos nga mabuhi aning kalibutana," she added.
(The public Carbon Market is for the poor, given by God for the poor to make a livelihood. God did not put the rich in this world to be the only ones to survive.)
Cristina Angan, director of Cebu2World, a special-purpose company formed by Megawide to develop and manage the Carbon Market, said in a statement sent to Rappler that vendors would not be displaced from the market.

Angan also assured vendors that the "arkabala system" – or the system for vendors with small capital who rent on a daily or weekly basis – would not be lost.

"Moreover the collection of ambulant vendor rent and utilities will be the same system being implemented now – usually collected on a per day, multiple days, or per week basis to fit their daily budgets," Angan said.

New permits
Phase 1 of the market modernization project is underway. On July 30, the Cebu City government, Megawide, and the city's market operations division awarded stall certificates to over 700 vendors in Unit 2, the relocation site for vendors affected by construction on Freedom Park and Warwick Barracks.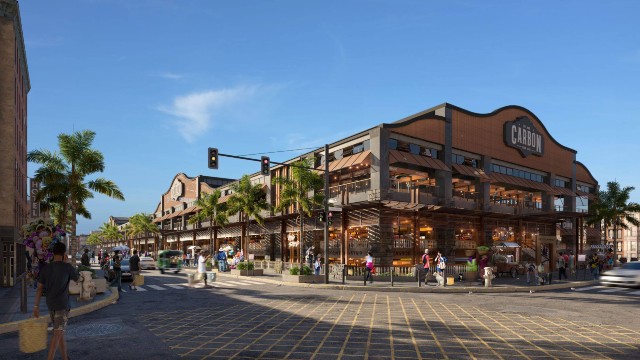 The stall awarding ceremony was immediately met with protests from the Movement Against Carbon Market Privatization (MACMP), an alliance of Carbon vendors, residents, and consumers; and CARBON.
The groups said that there are over 2,000 vendors at Freedom Park and Warwick Barracks, including porters, cart vendors, and other ambulant vendors along Escaño and Calderon Streets. They complained that 1,300 of the vendors have not secured a spot in the relocation areas.
Cebu City Mayor Edgar Labella had earlier pledged to provide 1,500 stalls in the refurbished Unit 2, with 3,000 vendors selling in shifts.
Overall, MACMP estimated that 16,000 vendors across the full market grounds would be affected by the project, including those currently selling in units 1 and 3.
Aside from the affected vendors, around 700 families in Sitio Bato, Barangay Ermita, also feared the demolition of their homes, although Megawide had consistently promised that no vendors or residents would be displaced.

From the developer's end, they would ensure vendors would have "proper space" in the new public market.
They also said they would work with the city to make sure residents from Sitio Bato would not end up homeless.
Vendors' calls
Despite assurances from the project proponents, vendors remain opposed to the Megawide project. They continue to conduct protests and educational discussions around the market, even with authorities attempting to disperse these discussions.
So what do the vendors propose?
Ariosa explained that they want Carbon to remain as it is, with no mall or hotels. She said the government should develop the market for renovation, build new structures, and improve tidiness and cleanliness.
She said Carbon Market should remain affordable for the ordinary vendor and consumer.
"Nag-inusara ra ang Carbon (There is only one Carbon)," she said after comparing it to the malls and hotels already established in the city.
The government should spend for the market, said Ariosa, because the income will be returned to the people in the form of social services. If private entities manage, control, and collect the income from the project, they will be the main beneficiaries of modernization, she said.

Angan clarified that control of fees remains with the LGU, but C2W will collect the fees "to ensure that the fees will be utilized in accordance with the joint venture agreement (JVA), and specifically for proper maintenance of the facility." 
Cebu City has projected that it will earn P50 million annually once the new market is operational.
Eraya pointed out that the Carbon Market is covered by Proclamation No. 241 of then-president Diosdado Macapagal.

Carbon Market is also a historical heritage site, which should be protected and conserved in accordance with the National Cultural Heritage Act of 2009, she added.
On July 16, the Makabayan bloc filed a resolution seeking a congressional inquiry into the JVA agreement between Megawide and the Cebu City government.

They noted that the JVA was signed without adequate consultations with stakeholders, and that Cebu City councilors admitted to not having read the agreement in full prior to approving it.
For its part, Megawide denied that the JVA was done without proper consultation from stakeholders and welcomed the House probe, saying the hearings will "enlighten the public on the Carbon project." – Rappler.com

Claire Michaela Obejas is a Visayas-based journalist and an awardee of the Aries Rufo Journalism Fellowship.