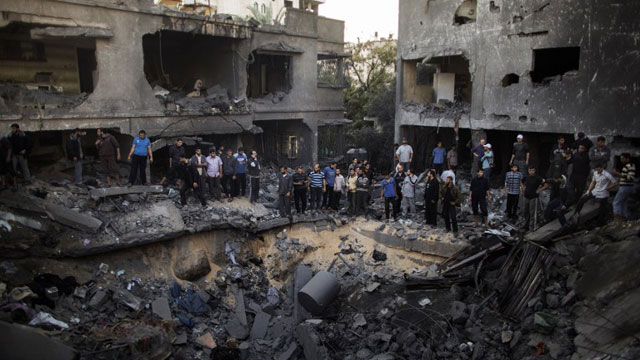 AFTERMATH. Palestinian men gather around a crater caused by an Israeli air strike on the al-Dallu family's home in Gaza City on November 18, 2012. AFP PHOTO/MARCO LONGARI
Nearly 100 Filipinos trying to leave conflict-torn Gaza are being prevented from leaving the area, the Israeli Embassy in Manila said. To extricate the Filipinos, the Philippine government should use a third party negotiator to talk to Hamas since Israel, where Filipinos will be safer, "won't be able to negotiate" with the militant group. Many Filipinos in Gaza who are married to Palestinians and may be reluctant to leave, noted Foreign Affairs officials. The government is still readying "contingency plans" to evacuate them, either via the border with Egypt or through Jordan. The death toll in 6-days of multiple raids in Israel's bombing campaign have risen to 80 Palestinians and over 700 injuries.

Read more on Rappler.