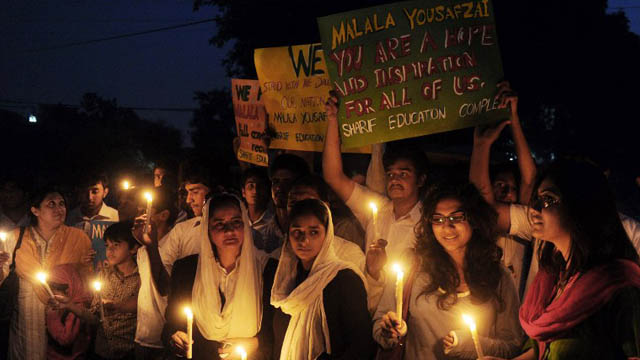 FOR MALALA. Pakistani civil society activists carry candles to pay tribute to gunshot victim Malala Yousafzai and protest against her assassination attempt, in Lahore on October 10, 2012. AFP PHOTO/ Arif Ali
14 year old blogger Malala Yousafzai was outspoken about her views. She wrote under a pen name about what happened to her world when the Taliban entered her town and campaigned for women's rights. The Taliban terrorized residents with "floggings, public executions, closing and sometimes destroying music stores, theaters and girls' schools." On Tuesday, the Taliban followed Yousafzai onto a bus and shot her to retaliate, sparking international anger. Surgeons in Pakistan removed the bullet, but the next 10 days will be critical for her recovery.


Read more about her condition on the Daily Beast and the international reaction on Rappler.