The 1st Coffee Cup of Distinction Awards are handed out to those who have set standards and inspired new players in the coffee industry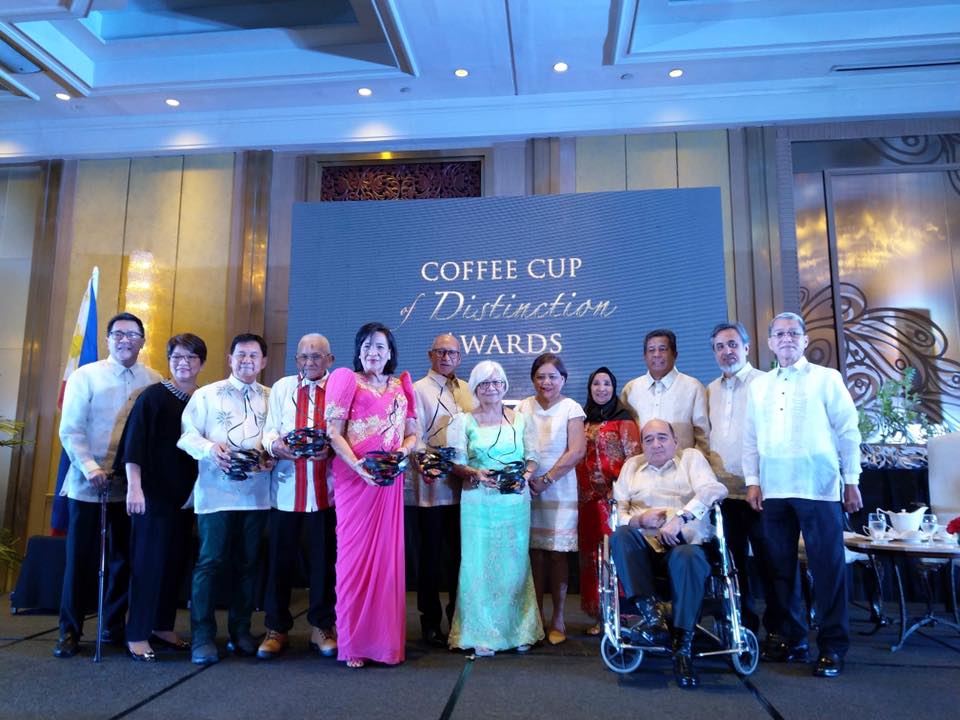 MANILA, Philippines – The Philippine Coffee Board (PCB) on October 26 honored the industry's pioneers through the 1st Coffee Cup of Distinction Awards.
The PCB conferred the distinction on a husband-and-wife tandem and 4 individuals for their achievements and ardent support of the industry, setting standards that reshape the field and inspire new players.
This year's awardees are Enrile and Evelyn Asuncion, Ernest Escaler, Joe Mercado, Amado Silva, and Benjamin Dimas. These are their stories.
The couple committed to coffee
The Asuncion couple started as coffee traders in 1977 with Evrile Enterprises, ventured into exporting in the 1980s, and set up a roasting company in 2010.
Evelyn Asuncion received the award together with her family. Her late husband Enrile believed that coffee should have a lasting impression as it is the first and last beverage to be served.
When they started Silca Coffee Roasting Company, he promised to stay committed to producing only freshly roasted coffee, which he said is a brew you can depend on year after year.
The pioneer coffee roaster
From a two-hectare coffee farm in Batangas, Gourmet Café, owned by businessman Ernest Escaler, has expanded into 11.5 hectares for roasting facilities, a store, restaurant, and accommodations. These additions reflect his goals: "to continue to buy and sell local, good-quality coffee, roast them to perfection, strengthen his organization's involvement in local farming and apply models required of a particular area."
He has been in coffee trading since 1975 and introduced the first Filipino brand of world-class coffee roasts, Gourmet Coffee, to the global market in 1978. Escaler believed that the Philippines could play an important role in the industry by producing top-of-the-line coffee, all while turning Filipinos into sophisticated coffee drinkers. From zero demand in the 1970s, the local consumption of roasted and ground coffee has reached 100,000 metric tons a year as of 2015.
The humble 'coffeepreneur'
Joe Mercado comes from a generation of farmers and has made a name for himself and his coffee products through his companies.
He started his coffee trading company in 1974. His blending and roasting coffee line, the famed Cafe Barako de Lipa, followed in 1984. In 1997, he acquired the Batangas Brew brand from Mercado Trading Corporation.
The Cafe de Lipa coffee shop that he set up in 2006 fulfills his dream of serving coffee from the beans to the cup. Now, he has more time for coffee farming – his first love – because his children help him run the business. His advocacy is to continue helping coffee farmers get the knowledge and skills they need to produce the best coffee beans.
The Siete Baracos successor
When his father asked him to take over Siete Baracos which started in 1977, Amado Silva already had something brewing in his mind. That was working on his own brand, which proudly showcases the Barako beans and their distinctive taste.
Hence, the legendary Siete Baracos was created, named after the Silva siblings. Since then, he has been using the Barako beans rather than trading them with other buyers.
"For me, coffee is one of the best beverages in Batangas," said Silva.
The visionary farmer-professor
Benguet State University professor and agroforestry project director Benjamin Dimas has helped coffee farmers in Benguet and the Cordilleras have a sustainable future in the coffee sector with his pioneering vision and work.
He started planting coffee trees under pine trees and it paid off, even if at first it was scoffed at by experts because it was an unheard-of approach. Today, his farming showcase draws people from all walks of life.
– Rappler.com