5
Nurturing the next generation of Filipino Kid Innovators

MANILA, Philippines – Wyeth Nutrition, with its rich heritage of innovation, aims to spark curiosity and keep the spirit of innovation alive among today's children through the Search for the Wyeth Nutrition Kid Innovators. Launched during the company's 100th year anniversary in 2015, the search celebrates every child's journey to innovation with the guidance of parents and teachers, and support from private and public sectors.
Recognizing the country's most curious and awe-inspiring young innovators
Wyeth Nutrition was overwhelmed by the innovative science projects coming from different parts of the country. With only five teams allowed to qualify for the grand finals, the panel of judges composed of multi-awarded experts in the field of innovation and science and technology had to be meticulous during the selection process.
The science projects were screened based on the following criteria: innovativeness and functionality (40%), resourcefulness and creativity (30%), social relevance (20%), and overall presentation (10%).
After thorough deliberation, the following teams were recognized recently at the Crowne Plaza Manila Galleria in Ortigas, Pasig City as this year's winners of the Search for the Wyeth Nutrition Kid Innovators:
Jericho Villarico of Baguio City High School for his Auto-call Doorknob
Malycka Roz Rentuza and Hannah Nicole Gaudiel of Philippine Science High School – Central Visayas Campus for their Anti-Ripening Paper
Katrina Ysabel Sison, Andrea Samantha Estrella, and Adrianne A. Ong of St. Scholastica's College, Manila for their Banana Stem Water Filtration and Distillation System.



The top three winning teams received a cash prize of P100,000, a trophy, and a science-and-technology showcase also worth P100,000 for their respective schools.
The two remaining finalists were Aghamathika by Maurice John Macatol and Trinity Dawn Santos of the Science Club of the Catholic Filipino Academy, Quezon City, and the Multi-Commodity Heat Pump Drying System by Mharianne Alaisa Balagtas, Cathrina Mae Jose, and Yorecel Calzado of the Philippine Science High School, Ilocos Region Campus.
Aghamathika intends to make teaching and learning of scientific and mathematical concepts more fun and exciting through the use of magic, while the Multi-Commodity Heat Pump Drying System, an innovation made from scrap materials, aspires to help fruit farmers prolong the storage life of their produce through drying.
These students received a plaque and a cash prize of P25,000.

Shaping the Einsteins and Curies of the future
More than giving recognition and prizes to the winning teams, Wyeth Nutrition encourages these kid innovators to embrace innovation with their parents' support. Wyeth Nutrition, with its partners, provides expert guidance to these kid innovators so that they can transform their ideas into reality as they go through their journey to innovation.
"We take great inspiration knowing that these kids, who at their very tender age, already have a vision to help make our world a better place. These kids have so much potential waiting to be unleashed. And if we work together by supporting them, providing opportunities and encouraging them to turn their dreams into reality, the possibilities are endless for our children," shares Wyeth Nutrition President and General Manager Eugene David.
"These kid innovators have the 'make-it-happen' attitude. They never give up. This 'make-it-happen' attitude is something they share with famous scientists and innovators who make remarkable contribution in the field of science," adds David.
Strengthening meaningful partnerships to promote science and innovation
The Search for the Wyeth Nutrition Kid Innovators also celebrated the meaningful collaboration between Wyeth Nutrition, parents, and public and private sectors to spark the curiosity and nurture love for science and passion for innovation among children.
Wyeth Philippines' Communication Head Anne Michelle Pador expressed her utmost gratitude to the Philippine Foundation of Science and Technology (PFST), University of the Philippines National Institute for Science and Mathematics Education Development (UP-NISMED) and DOST's National Academy of Science and Technology (DOST-NAST) who have been instrumental to the success of the Search.
"We are humbled by what we have achieved together in this season of the Search and we are inspired to take another step forward in our shared journey," shared Pador.
Moving forward, Wyeth Nutrition hopes to forge new partnerships with private and public sectors to further promote science and innovation in the country.
Encouraging young Filipinos' love for science
Together with the announcement of this year's set of winners, Wyeth Nutrition also officially launched the next season of the Search for Wyeth Nutrition Kid Innovators with the creation of a new category for children from ages 5 to 8. The "Upcoming Kid Innovators Category" allows "pupil-parent tandems" to submit their science project or activity as entry to the search. For 2017, all submissions should also focus on the theme of nutrition, health, and wellness.
With these new developments, the next search is expected to be more focused and inclusive to encourage more parents and younger kids to explore the wonders of science and the power of innovation. – Rappler.com
---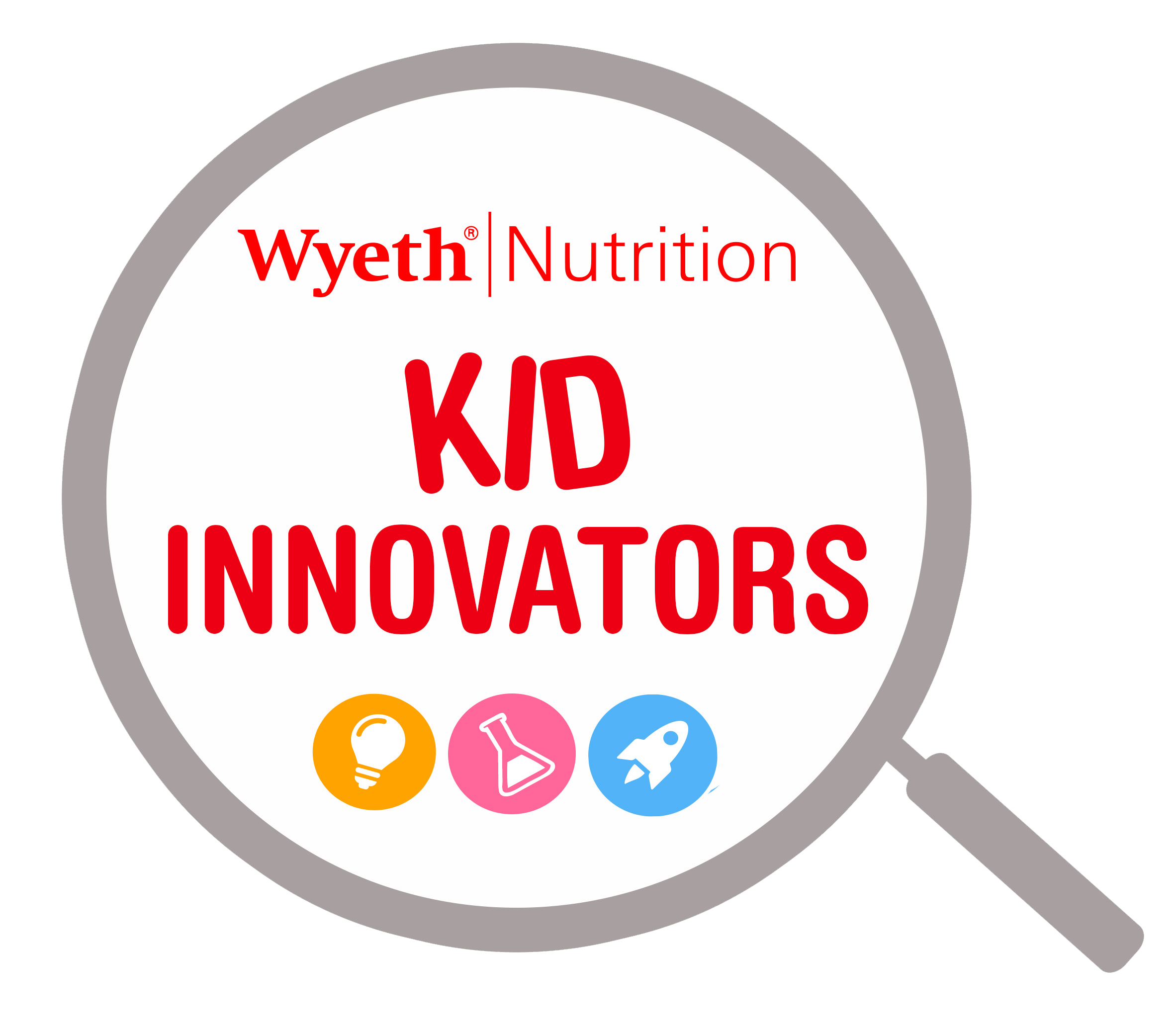 In celebration of Wyeth® Nutrition's 100 years of advancing nutrition science, it launched the nationwide Search for the Wyeth® Nutrition Kid Innovators to help empower kids make a difference through science and innovation. It aims to spark kids' innate curiosity and nurture their love for science. The Search is among the advocacy programs of Wyeth® Nutrition to help nurture every child's potential for greatness.