'Never settle when you can dream bigger' is one lesson in life that Miss Universe 2015 Pia Wurtzbach knows too well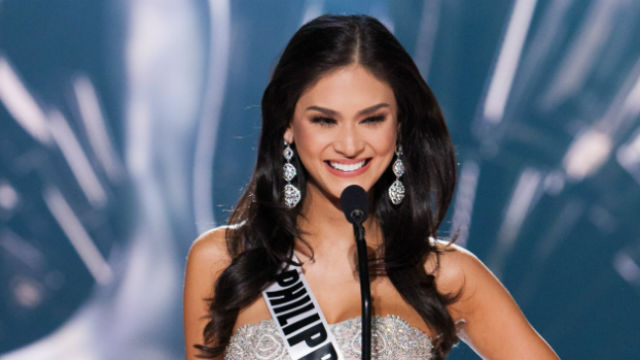 MANILA, Philippines – For the rest of the world, Filipinos are confidently brilliant in 3 areas: boxing, singing, and beauty pageants. After half a decade of being trapped in the Top 10 for the most coveted Miss Universe title, we finally claimed the crown this 2015.
It took 3 attempts at Binibining Pilipinas for Cagayan de Oro native Pia Wurtzbach to bring home the 3rd (and long overdue) Miss Universe crown for the Philippines – a proof that successful people are those who know what they want, and chase it because they want it so bad. (READ: PH's Pia Wurtzbach wins Miss Universe 2015)
In celebration of our new national hero, who gave us an early inspiring gift for Christmas, let's look at 3 key life lessons we can take away from Pia Alonzo Wurtzbach's victory.
1. Never settle when you can dream bigger.
When I was younger, my parents often told me to be contented with what we had in life, and that we should be thankful because others had it worse. "Magpasalamat ka at meron ka, kesa naman sa wala. 'Yung iba nga wala eh (Be thankful for what you have, instead of what you don't have. Others don't even have anything)" is the typical mantra of the Filipino who hides under the veil of being grateful.
While it is fitting to be thankful for blessings in life, I also see this in many situations as empty contentment when we can actually do more and enjoy more.
Pia's victory teaches us to dream bigger than ever when we know we can achieve more, and when we know we deserve it. Pia, an up-and-coming local celebrity could have chosen to strive harder as an actress and stylist, which is a feat in itself. But she wanted her own ding in the universe by making an entire nation proud on an international stage.
She wasn't contented. She wanted to become Miss Universe. "People are saying na trying hard daw ako. Yeah, I try hard talaga. (People are saying that I'm trying hard. Yeah, I really try hard.) I try very hard. I try very hard because this is what I want," she said after winning Binibining Pilipinas on her 3rd attempt. (READ: Miss Universe PH Pia Wurtzbach: I'm not going to waste my victory)
Kalma lang guys. Ako bahala. Babawi tayo sa Miss Universe!!

— Pia Alonzo Wurtzbach (@PiaWurtzbach) May 3, 2015
This is what makes many successful people stand out among the rest: they don't get contented easily when they see more opportunities ahead. They never settle. They are forever in search of opportunities that are grander and bigger than what the past generations had.
Pia knows that contentment is dangerous. This is when we stop dreaming, risking, and innovating out of fear and greed. Contentment breeds complacency, and complacency breeds mediocrity. Mediocrity is the deliberate lack or absence of quality in anything that you do. There is nothing wrong with asking for more when it is for the greater good, and when you can offer more in return. Pia knew that she had a good chance of showcasing the Filipina beauty on a bigger stage, and she took it. As Steve Jobs said, "If you haven't found it yet, keep looking. Don't settle. As with all matters of the heart, you'll know when you find it."
2. Ask for help when you need it.
Knowing that online votes mattered significantly for her victory, Pia proactively called for help from millions of Filipinos who were ready to support her. A Kapamilya (under the network ABS-CBN) herself, she didn't mind the criticism when she asked help from her bestfriend Pauleen Luna, a Kapuso (under the network GMA), to invite AlDub fans to vote real-time considering that the telecast in the Philippines would be delayed (and therefore too late for the votes to come in). The result? Aside from the Miss Universe website crashing, she earned enough votes to advance to the semifinal round, and this is notwithstanding the beliefs of many that she didn't need it anyway. (READ: 5 things to know about Miss Universe PH Pia Wurtzbach)
Pia went beyond what was expected: she asked for more help. She proactively called the Filipino-American community to physically attend the event knowing that loud cheers and hurrahs could psychologically affect her performance, and the judges' impression about her advantage. (Did you see that mosh pit at the Miss Universe stage? Philippine flags were waving most enthusiastically.
Pia strived hard to get emotional support from her friends and family to motivate her in meeting the optimal weight (she frequently posted photos of her gym workouts to publicly commit to her weight targets). She successfully went down to 118 lbs earlier this August, according to her management agency, Mercator.
Successful people know that it is okay to ask for help, and when is the right time to do it. They are humble enough to acknowledge their weaknesses. For them, what matters is the outcome of achieving the good, more than the impression that they're not perfect. Asking for help is not a sign of weakness, but of knowledge of the bigger picture – you are deeply aware of what needs to be worked on. When you need help whether in your personal affairs or the corporate world, the world won't help you unless you say it. The world is too busy to bother no matter how important you are. So say it, and Pia just did.
3. People get what they want, when they want it so badly.
They have grit. Pia is the living proof that what doesn't kill you only makes you stronger, and eventually helps you to win. Remember, this young woman attempted to become Binibining Pilipinas-Universe 3 times. She bagged the Binibining Pilipinas first runner-up title in 2013, then fell short as a finalist in 2014, and finally bounced back as Binibining Pilipinas Universe this 2015. (READ: Miss Universe PH Pia Wurtzbach: Work around your weaknesses)
Can you imagine the number of times she must have doubted herself, been disappointed, and told many times by detractors that she was trying too hard? In those 3 long years, can you imagine the number of times her family, friends, or even supporters must have told her that it's time to finally quit?
Many of us have fallen into these dark moments. Moments like these are the easiest and most convincing times to quit because the very reason for quitting is conveniently in front of you. But Pia didn't, because she wanted the crown so badly. The failures only angered her. She used the same losses to fuel her heart to want to win the crown.
This is what separates successful people from those who aren't. An ordinary person who loses would say, "This wasn't meant for me," "Something else is meant for me," or "I shouldn't have done this in the first place." But successful people say otherwise: "I want this, and I will exhaust everything to get this. The next round of failure is not an option, because I've learned from enough failures to finally get this right. And I will get this right."
Pia knew there was no excuse. Every failure was a new strategy, and she learned to become better in the competition.
Pia had grit. What is grit? It is a non-intellectual trait defined by psychologist Angela Duckworth as "passion and perservance combined, for a long-term goal."
Duckworth adds, "Grit is sticking with your future, day-in, day-out. Not just for the week, not just for the month, but for years. And working really hard to make that future a reality." Pia's victory proved that in those very moments when you want to give up, you just need to remember the very reason why you started on something. Giving it another shot might just change your life.
At the end of the day
To Pia Alonzo Wurtzbach, congratulations! We thank you for the gift of making Filipinos – us, the 100-million strong people scattered across the world – prouder than ever. As we end 2015 and start a new journey to reach our dreams and ambitions in 2016, we thank you for reminding us that achievement can grow with every effort that you put into it. We thank you for reminding us that success judges no one. Rather, it is for everyone who knows what they want and chases it up to the finish line. May the force of Pia's victory be with all of you! – Rappler.com
Jonathan Yabut is the proud Filipino winner of the hit Asian reality TV show The Apprentice Asia and is currently based in Kuala Lumpur as a marketing director for the Tune Group of Companies. Jonathan is Asia's leading motivational speaker on topics involving leadership, Gen Y, and career management for Fortune 500 companies. He is also the author of Southeast Asia's 2015 best-selling motivational book, From Grit to Great. In 2014, he founded his marketing consultancy firm, The JY Ventures Consultancy Group. Visit his official website at jonathanyabut.com 
More Miss Universe on Rappler:
Coronation night:
More stories: