This additional food supply will help decrease the Philippines' importation of rice from other countries and help our country to become more rice-sufficient
MANILA, Philippines – Brown rice is widely known today as a healthy choice, especially for its higher fiber and weight loss benefits.
But while brown rice is unquestionably healthy, white rice remains the staple food for us Filipinos.
If you have yet to try brown rice, below are some interesting facts which might make you reconsider or, at least, add brown rice to your diet: 
1. Brown rice is healthier than you think
Brown rice is technically rice which has undergone milling only once and whose bran and germ — parts of a layer covering the rice grain — are still intact. White rice as we know it goes to the mill twice: first, to remove the husk [the thick brown covering we see in palay], then to remove the bran. White rice is then polished to make it shiny and appetizing.
The intact bran and germ of brown rice make it high in fiber which, in turn, makes it nutritious. Aside from having 6 times more fiber than white rice, brown rice is higher in nutrients like B vitamins, vitamin E, iron, phosphorous, essential fatty acids and more. White rice, on the other hand, has lost 50% or more of these nutrients in the milling and polishing process. 
While brown rice is celebrated for its weight loss benefits, do you know that brown rice is recommended for breastfeeding mothers for a healthier and increased milk supply? Do you also know that eating brown rice reduces the risk for Type 2 diabetes, and for heart disease and cancer?
These are just some of the health benefits of eating brown rice.
Historically, even World War II prisoners — including some in the Philippines — benefited from brown rice. Those suffering from beriberi got well when they ate the rice bran.
See some of the other benefits of brown rice in this video:
2. Eating brown rice is environment-friendly and farmer-friendly
Because brown rice is milled only once as opposed to white rice, brown rice production saves fuel and translates to lesser air pollution and carbon emissions from fossil fuels.
This also means less labor and production cost for our farmers who, aside from milling only once, need not buy whitening and polishing machineries used for white rice.
Farmers will then have the opportunity to diversify their crops and adopt more sustainable farming practices, according to Oxfam International. Oxfam is a confederation working against global poverty and injustice and the proponent of the Brown Rice Campaign.
3. Eating brown rice may increase food supply and decrease rice importation
Less rice is wasted during the milling of brown rice compared with white rice. With brown rice's 10% higher milling recovery than white rice, 1.2 million metric tons of additional rice may be produced, according to a study by the Philippine Research Institute.
This additional food supply will help decrease the Philippines' importation of rice from other countries and help our country become more rice-sufficient. At present, we are the world's biggest rice importer, with the average Filipino eating 110 kilos of rice a year.
4. Eating brown rice is a return to the original Filipino diet 
Did you know that our ancestors actually ate brown rice? This was the case not just in the Philippines but across Asia, too. When Western countries brought milling machines to Asia, though, white rice was introduced and eventually became the "modern and sophisticated" rice, while the brown rice was demoted to the "dirty, poor man's rice."
Today, the situation appears to have reversed. White rice has become the staple food of Filipinos from the wealthy to the masses, while brown rice has become a novelty, and sold at a higher price. 
Brown rice's price can go lower and become accessible to more people if the demand for it increases. Production cost of brown rice is actually lower but demand is also low. This is also why Oxfam, together with social consciousness non-government organization Dakila, is urging Filipinos to switch to brown rice through the Brown Rice Campaign.
Here are some ways you can incorporate brown rice in your diet and also support the campaign:
1. Eat brown rice at least once a week 
If shifting to brown rice sounds like too big a move for you, try eating it at least once a week.
If you want to support the campaign, eat brown rice on a Friday, take a photo of it and share the photo with your social networks using the hashtag #BrownRiceBiyernes.
2. Mix brown rice with your white rice 
If you do not particularly like brown rice, you can mix it with white rice and gradually increase the quantity of brown rice until you grow accustomed to the taste.
3. Experiment with recipes 
Brown rice need not be boring. Experiment with different ways of preparing and cooking brown rice. Keep checking the Brown Rice Campaign Facebook page from time to time for recipes and other updates. You can also search online for recipe ideas.
Here's a creative recipe idea: Brown rice champorado!
Eating brown rice is not only good for your health, but for the environment and fellow Filipinos — especially farmers — too. – Rappler.com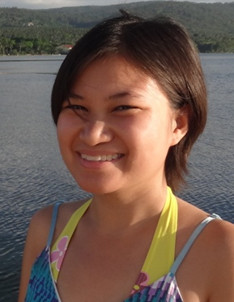 Claire Madarang is a writer, traveler and seeker. Her wanderlust takes her on adventures like backpacking for 7 weeks straight. Her seeking leads her to different wellness practices like meditation and healthy (mostly vegetarian) eating. Follow her adventures, tips and epiphanies at her blog, Traveling Light.