More than just making dishes savory, salt is a flavor enhancer
MANILA, Philippines – "In general, salt gives flavor," said Chef Anne Atanacio at the launch of Aro-En Gourmet Salt last September in Cravings, Shangri-La Mall, where the baking and pastry arts instructor at the Center for Culinary Arts demonstrated the many ways of pairing food with salt.
Atanacio added that, aside from providing the salty flavor in savory dishes, salt also enhances the food it's paired with. "It doesn't necessarily make it saltier. It enhances different flavors."
Common knowledge is that salt is added to food to make it salty and more savory. "That's actually what we're trying to change now with gourmet salt, that salt is not just to make food salty. It gives it a different dimension," Atanacio said. "It brings out different flavors, it gives different textures and complements other flavors."
Finishing touch
Seasoning food with salt is generally done before or during the cooking process, but there's also a practice in food preparation called "finishing."
"Gourmet salt is not just for seasoning. You can finish a dish off with it, meaning you can add it towards the end before you actually eat [the dish]," said Atanacio. And by doing so, "you experience not just the flavor but also the texture of the salt. Sometimes, it reaches your mouth at a certain stage and that gives you a sudden burst of flavor."
Salads, for example, could use a good finishing of gourmet salt. "It's not very common to garnish your salad with salt. But now, you can do that with flaky salt or with fleur de cel," said Atanacio. Fleur de cel refers to the high-quality hand-harvested type of sea salt.
"Sprinkle some of it on top before you actually enjoy your salad, and it gives a nice and interesting crunch to it. Then you also get bits of salt every once in a while as you chew."
Salt is also very good with sweets as it is with savory items. "If something is very sweet, you can sprinkle a little fleur de cel on top," said Atanacio. "And when you bite into it, there will be this tinge of salty flavor that goes with the sweet taste and that's also very nice."
Hot chocolate sprinkled with a little bit of salt makes it even better, according to the pastry chef. A very popular combination now is salted caramel often found in ice cream or doughnuts. "It's a nice contrast of sweetness and the sudden burst of salt."
The issue with industrial salt
Not everyone had easy access to gourmet salt before now. In the Philippines, most households use common rock salt which they buy by the kilo from the supermarket.
For health reasons, Chef Atanacio suggested a change. "We call rock salt industrial salt," she said. "There's nothing wrong with using it in your daily cooking, but the industry calls it industrial salt because you use it for other things other than cooking — like when you dye your shirts and you need salt."
Iodized salt, she said, is more proper for cooking.
"Salt has 14,000 uses, not only related to food," said Glenn Khonghun, general manager of Salinas Corporation, the makers of Aro-En Gourmet Salt. In their 500-hectare facility located in Pangasinan, they produce more than 15 million kilos of salt a year from salt water taken from the South China Sea.
The province of Pangasinan has always been a salt-producing region. The word "Pang-asinan," in fact, means "where salt is gathered."
According to Khonghun, "flavor is very important in the eating experience. What Chef Atanacio did by pairing salt with different types of food is a demonstration of what salt can do to food, and what particular kinds of salt will give an experience of a proper pairing."
Health issues
As for people's concerns about the excessive intake of salt causing hypertension and other related conditions, Khonghun explained that there is a type of salt whose chemical composition is pure sodium chloride or NaCl. "And that one is what we want to avoid," he said.
Mineral sea salt, meanwhile, is low in sodium because of the presence of other minerals such as iodine, potassium, magnesium, boron and trace elements of zinc. As a result, "it give us a more complex flavor, aside from the benefits like the minerals that play a role in organ function and the regulation of the release of needed hormones," said Khonghun.
So the next time you find yourself at the table, grab the salt shaker — make sure it's iodized or mineral sea salt — and use a little bit to "finish" your meal. – Rappler.com
Aro-En Gourmet Salt is available in all outlets of Cravings Restaurant and the Culinary Education Foundation.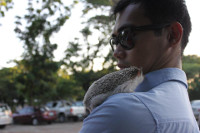 Peter Imbong is a full-time freelance writer, sometimes a stylist, and on some strange nights, a host. After starting his career in a business magazine, he now writes about lifestyle, entertainment, fashion, and profiles of different personalities. Check out his blog, Peter Tries to