Rappler recently revisited the restaurants at Mega Fashion Hall via the Mega Food Wok. Here are some of the dishes we sampled
MANILA, Philippines – In celebration of the Mid-Autumn Festival, SM Megamall recently held their first Megamall Food Wok highlighting six of their newest restaurant establishments that were hand picked by well-known food blogger Jin Perez of Jin Loves to Eat. (READ: New dining finds and rediscoveries at SM Megamall)
While the Autumn Moon Cake celebration is considered a holiday in Taiwan and China, Food Wok participants took advantage of this celebration, simply by exploring Jin's preferred dishes in the newly opened restaurants that offered more than your "typical" Chinese food.
Participants were encouraged to explore Mega Fashion Hall while being treated to the specialties of Tim Ho Wan, Chez Karine, Lugang Cafe, Linguini Fini, Mochicream Cafe, and Kool Kids.
1. Tim Ho Wan
Media were invited to try a set menu that was carefully planned with each establishment in mind. No queuing was required for excited participants who are familiar with the long lines of Tim Ho Wan.
Restaurateur David See enthusiastically shared Tim Ho Wan Trivia, as participants enjoyed menu favorites like Pork Buns, Steamed Spinach and Shrimp Dumplings, Steamed Egg Cake, Wasabi Salad Prawn Dressing, and Bean Curd Roll. (READ: Tim Ho Wan and the rise of the barbecue bun)
Did you know that you could order every single item (once) on the menu and your total would be less than P4,000?
(RELATED: Ippudo in Manila: 7 things to try) 
2. Chez Karine 
To cleanse the palate, Jin planned a visit to Chez Karine. Chef Karen is well known for her macarons and pots of pudding goodness.
She also dabbles in creating artisanal ice cream flavors that she can sandwich between her light and fluffy macarons.
Because this was a celebration of the Mid Autumn Moon Cake Festival, she prepared a special Black Sesame Ice Cream Macaron Sandwich. 
3. Lugang Cafe 
Lugang Cafe is a Taiwanese restaurant with sleek modern interiors, well known for new takes on old world favorites. Created especially for the Mega Food Wok which was the highlight of the tasting menu at Lugang, was the Kimchi Xiao Long Bao.
After slurping and sipping their soup dumplings, participants enjoyed the tasting sized trays with sweet and spicy flavors of Kung Pao Tofu, 3 Cup Chicken, and refreshing Chopped Shrimp in Lettuce Cups.  
Before moving on to the newest of the Megamall Fashion Hall family, diners enjoyed freshly brewed coffee from the Arabia Machine, which is also known as a Coffee Siphon.
4. Linguini Fini
Linguini Fini is the newest addition to the eateries that line the Megamall Fashion Hall corridors, having only opened their door to the public less than a week ago.
Concentrating on a menu that caters to local farmers and incorporating local flavors, Chef Vinny has solidified his take on American-Italian Food that is rooted deeply in New York culture while incorporating Filipino favorites.
5. Mochicream Cafe 
Mochicream Cafe has the type of Matcha flavors that Jin favors. Using a ceremonial grade tea powder in their desserts and drinks, they serve up the earthy, grassy notes that is a well known characteristic of the top selling Green Tea in Japan.
Served in a simple way that stays true to the double harvest of the organic tea leaves that are tested and organically certified.
(RELATED: New resto alert: Healthier, flavorful Korean fried chicken at Kyochon)
6. Kool Kids 
Opening his second branch of Kool Kids in Megamall Fashion Hall is child's play for owner Miguel Aranaz. Taking an understanding of science and ice cream he weaves the red bean flavor into a Mooncake Sorbet, topped with a salted egg foam as the last treat on the Mega Food Wok.
This place provides cool, fresh treats as well as entertainment for those who are willing to "wait and see" how their ice cream is prepared.
Have you tried any of these restaurants already? Will you be making a stop soon? Let us know in the comments below. – Rappler.com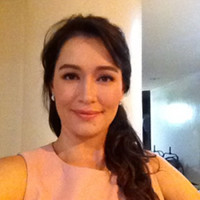 Michelle Ressa-Aventajado is a Filipina American who grew up in NY and now makes Manila her home. When she's not busy raising her four children, she enjoys teaching, reading and writing about her passions. Follow her blog Momma 'N Manila as she documents her adventures and growth in parenting.