1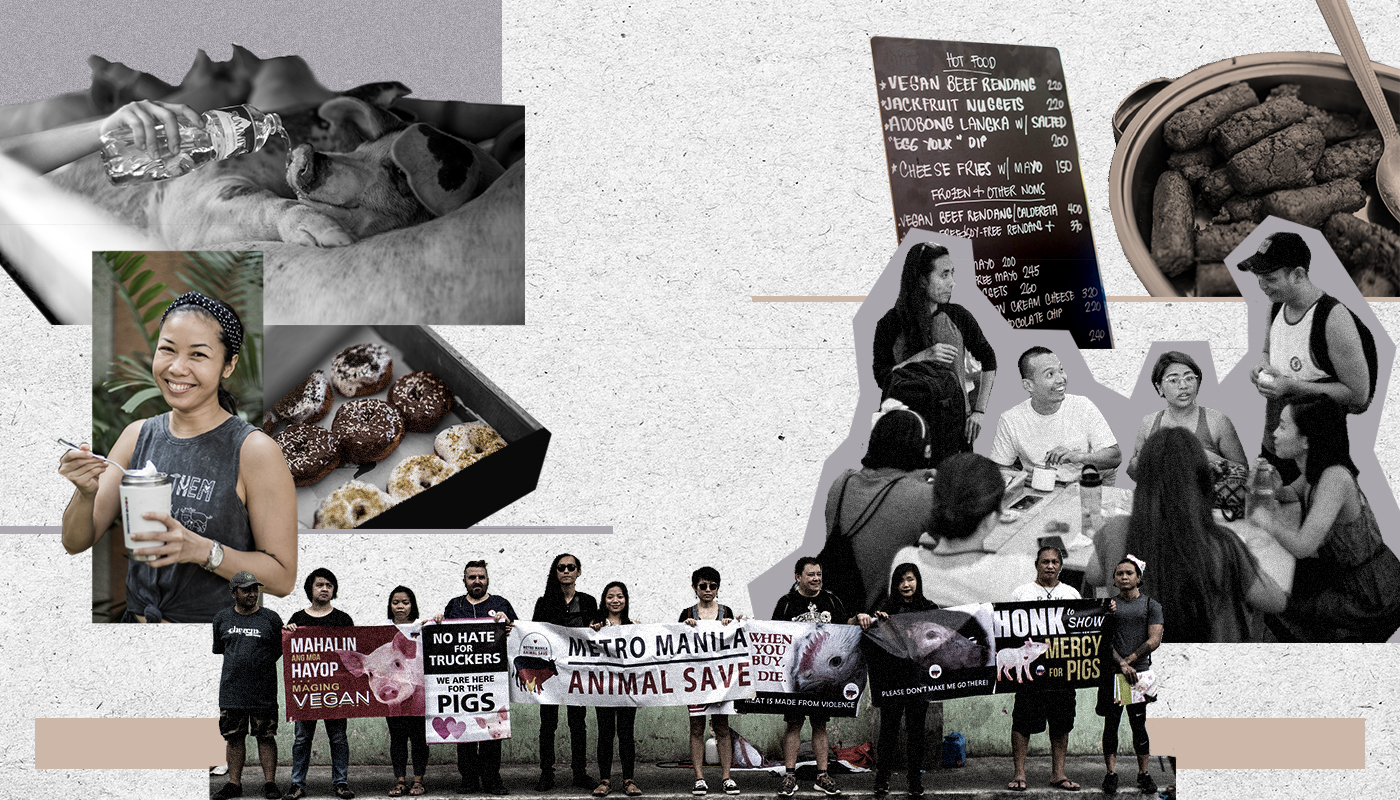 Friends not food: Inside the thriving community of vegans in the Philippines
desktop
For some, veganism may seem like a western concept. But for this growing community, saving animals knows no race or culture, it's a duty that everyone is called for.
---
I love animals.
Growing up, I've had dogs, cats, fish, hamsters, and chicks as pets. Everywhere I go, I would gravitate towards where there are animals – in my grandmother's backyard, in my cousin's front yard, a stranger walking her dog, every zoo in every country I would go to.
I love seeing animals. I love looking at them, touching them, even talking to them.
I eat them, too.

I was first exposed to veganism in high school when I picked up a magazine by the People's Ethical Treatment of Animals (PETA).
I wasn't prepared for the images I saw: piglets whose tails were casually being cut and teeth being pulled out while they were still alive; ducks with long, metal tubes being forced down their throats; and the most vivid image in my head of them all: chicks whose beaks were being cut off using what looks like a bottle opener mounted on a wall – all while they're conscious.
I never thought about how the chicken nuggets I ate became chicken nuggets or how my favorite hotdogs became hotdogs. In my mind, they have always been items my mom bought from the grocery. It never occurred to me to think of how it got there.
Making the connection
This is how the majority of Filipinos probably think. We were brought up with adobong manok, sinigang na baboy, kalderetang baka on rotation at our dining table.
But there are those who saw this blind spot between a pig and a lechon, and have decided for themselves to never eat animals whatever their culture says so. They became vegans.
"Being vegan is a big decision. It has to do with your convictions. It has to do with the way you see the world," said Nancy Siy, yoga instructor, and founder of the Manila Vegans.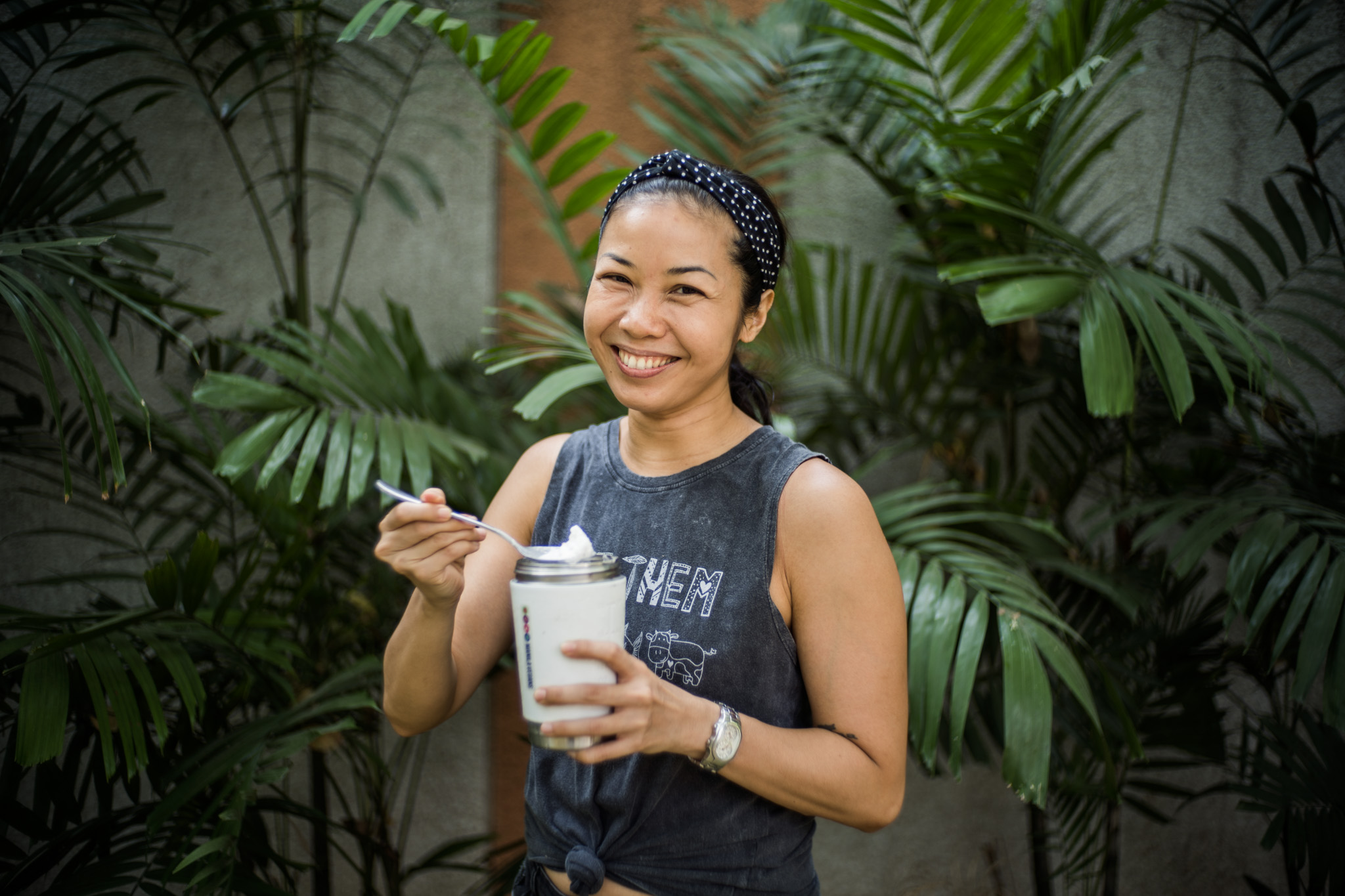 "Once you understand all the different aspects — what this decision means in terms of what happens to the animals and the environment and even people who work in slaughterhouses — then you make the connection and it becomes easy to stick to your decision."
Nancy has been vegan for 10 years. Her introduction to veganism was pretty much like mine, she came across a PETA pamphlet. But what happened after was what's instrumental to one of the biggest decisions she has made in her life.
"I went to [a restaurant] and I ordered chicken, which, at that time, was my favorite. I took a few bites and then it's no longer the same. It tasted the same but I couldn't enjoy it," said Nancy. " I just didn't see it the same way anymore because I had, at that point already, the images of the animals that are slaughtered."
The slaughterhouse is not a home
However pigs, cows, or chickens were raised – free-range, cage-free, or grazing in the grass – they all end up in slaughterhouses.
According to the Philippine Statistics Authority, more than 11 million pigs were slaughtered in the Philippines in 2016.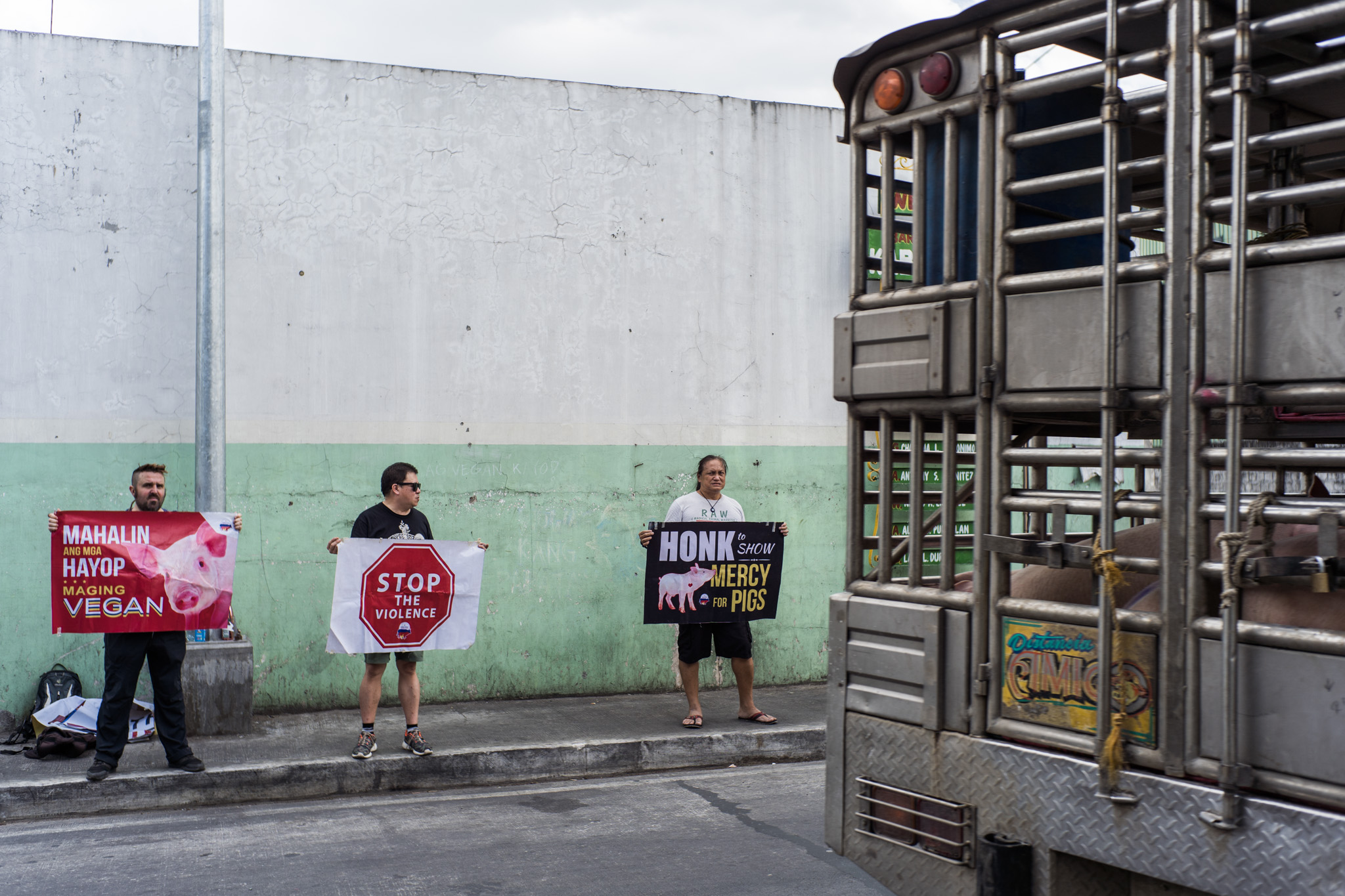 Every Sunday, in a corner street in San Juan, this is what the volunteers of Metro Manila Animals Save (MMAS) are trying to make people see.
They intercept trucks carrying pigs that are about to be slaughtered. They give them water, love, and affection. They hold "go vegan!" signs outside of the slaughterhouse. Then they take photos and videos of these exhausted and hopeless animals and post them on social media.
This kind of peaceful protest started by the Save Movement is also happening in different parts of the world.
"Importante na malaman ng mga tao kung saan nanggagaling yung kinakain nila. Kung ano talaga 'yung itsura, yung emotions nila [It's important for people to know where their food comes from. What the pigs that are about to be slaughtered look like, their emotions]," said Edison Yu, founder of MMAS.
LISTEN: This is the sound that pigs make while the workers force them to get out of the truck. They would stay close together in one corner, refusing to face what lies ahead, that the only way to send them to their deaths is by hurting them.
It's a thankless job. They get laughed at and mocked by the slaughterhouse workers.
"Usually, mababait naman 'yung workers pero meron talagang iba na kung anu-anong sasabihin sa amin. Sinasabihan kaming adik, sinasabihan kaming NPA [The workers are usually nice to us but there are just some who will hurl insults at us: we're drug addicts, we're members of the NPA]," said Edison.
But they would do it again and again. Every Sunday they would be there.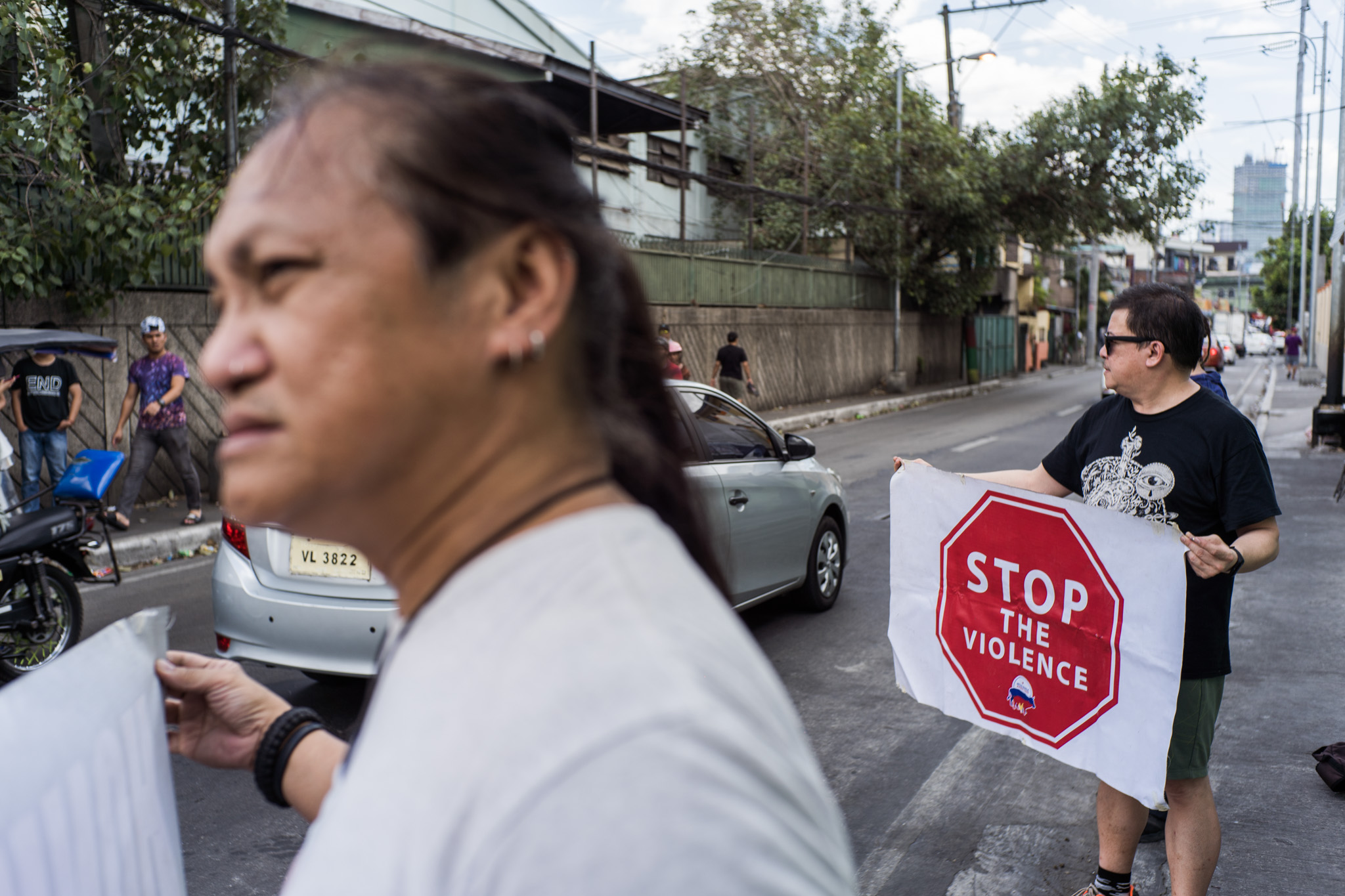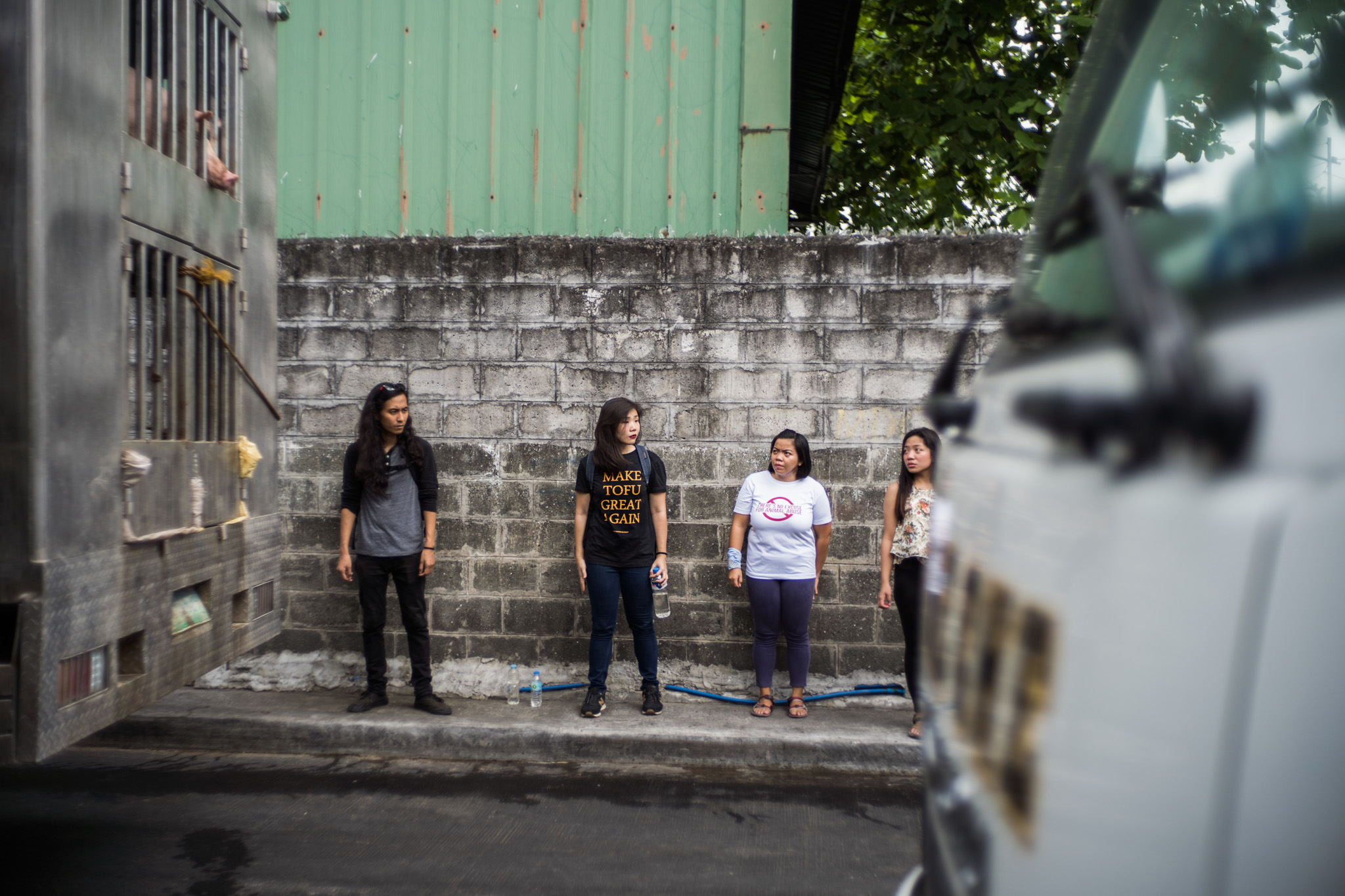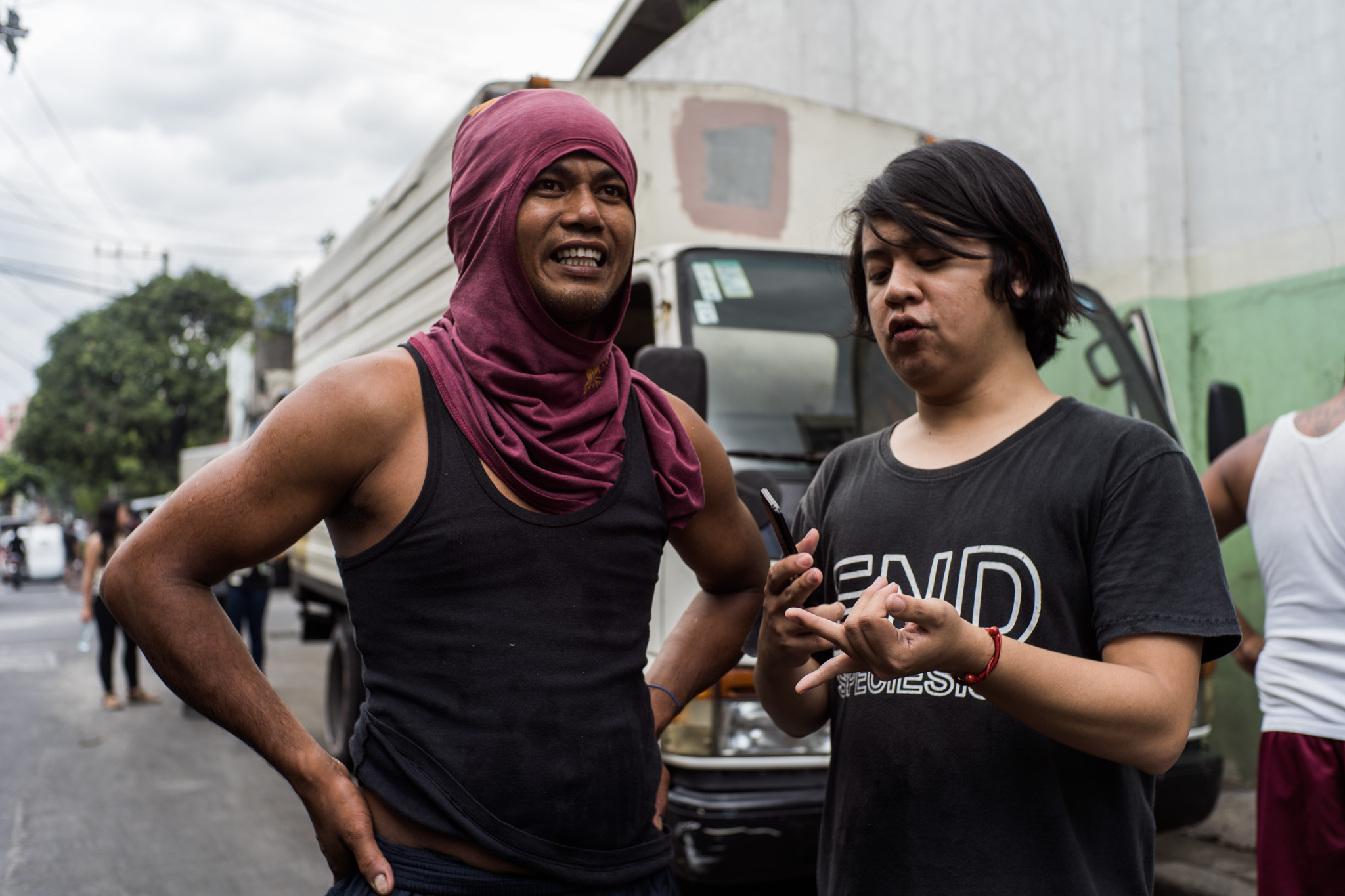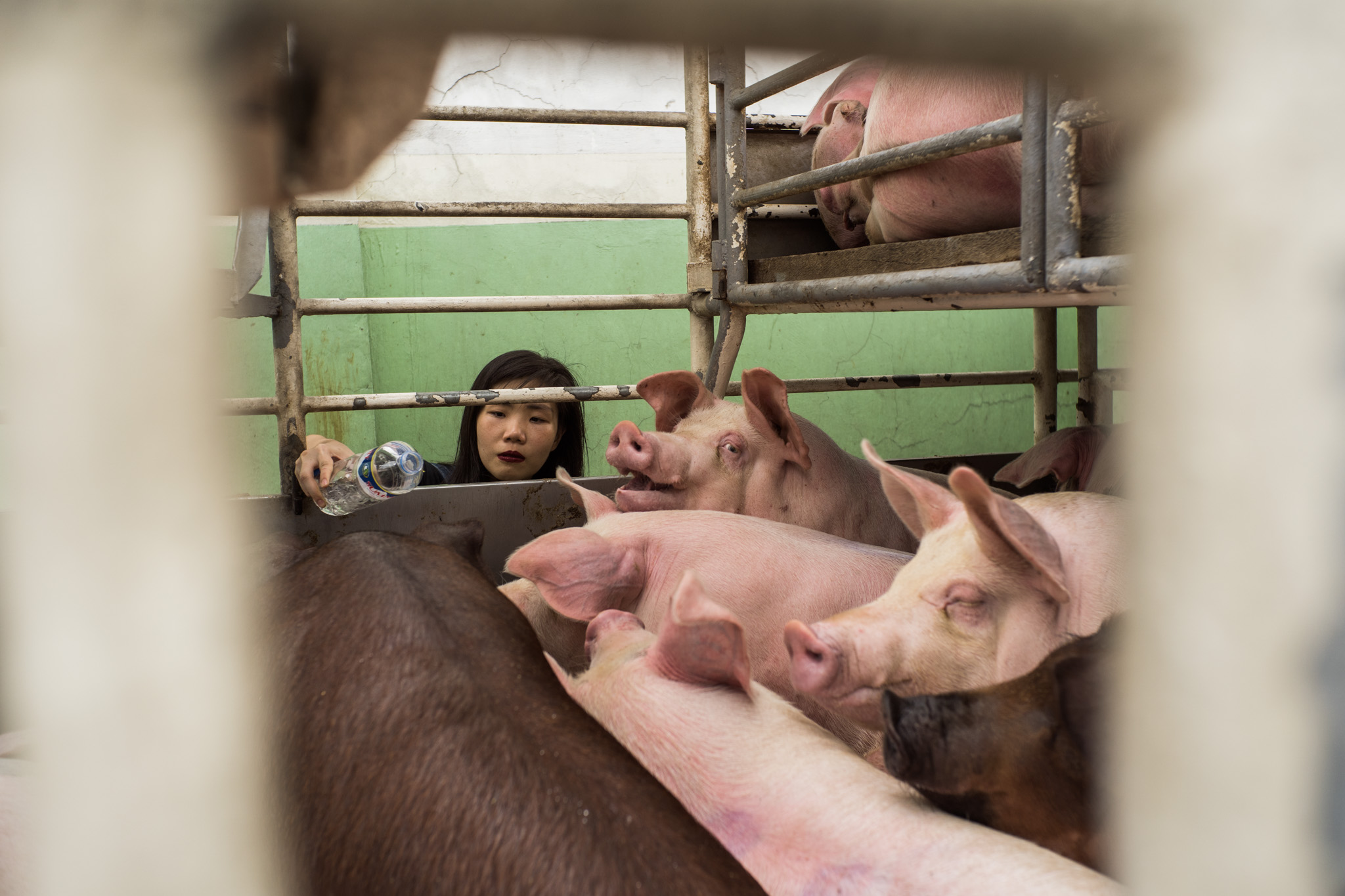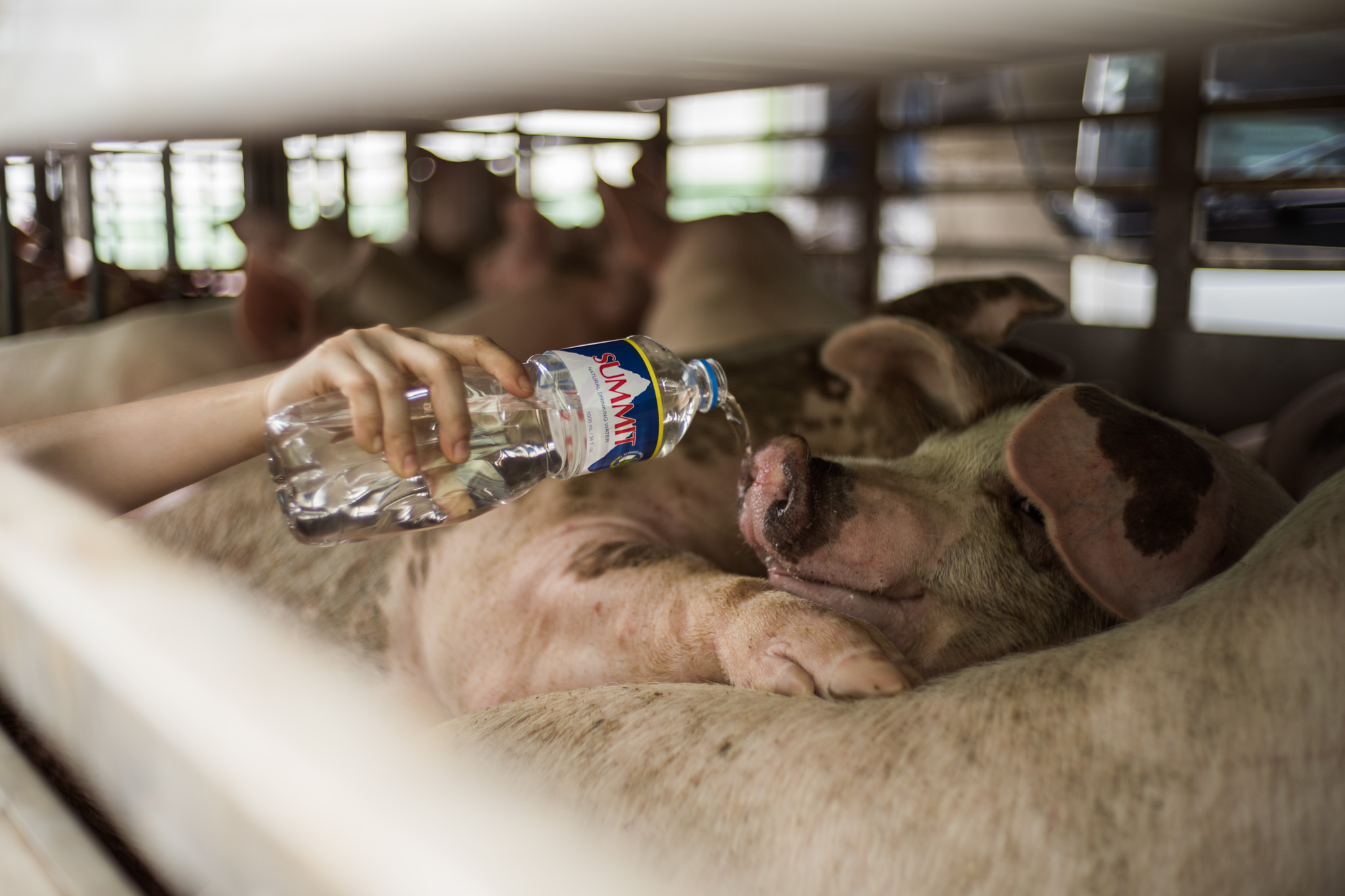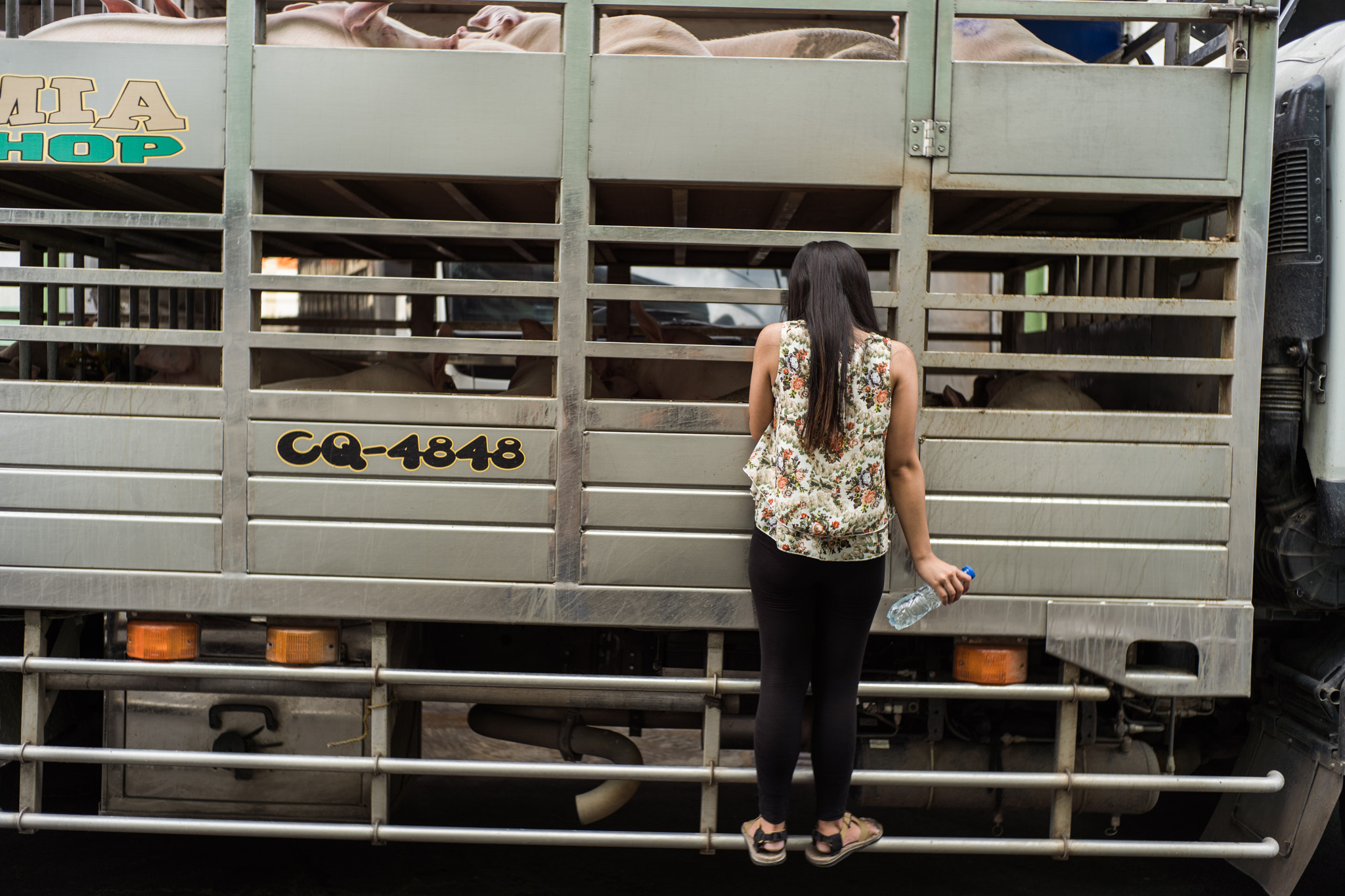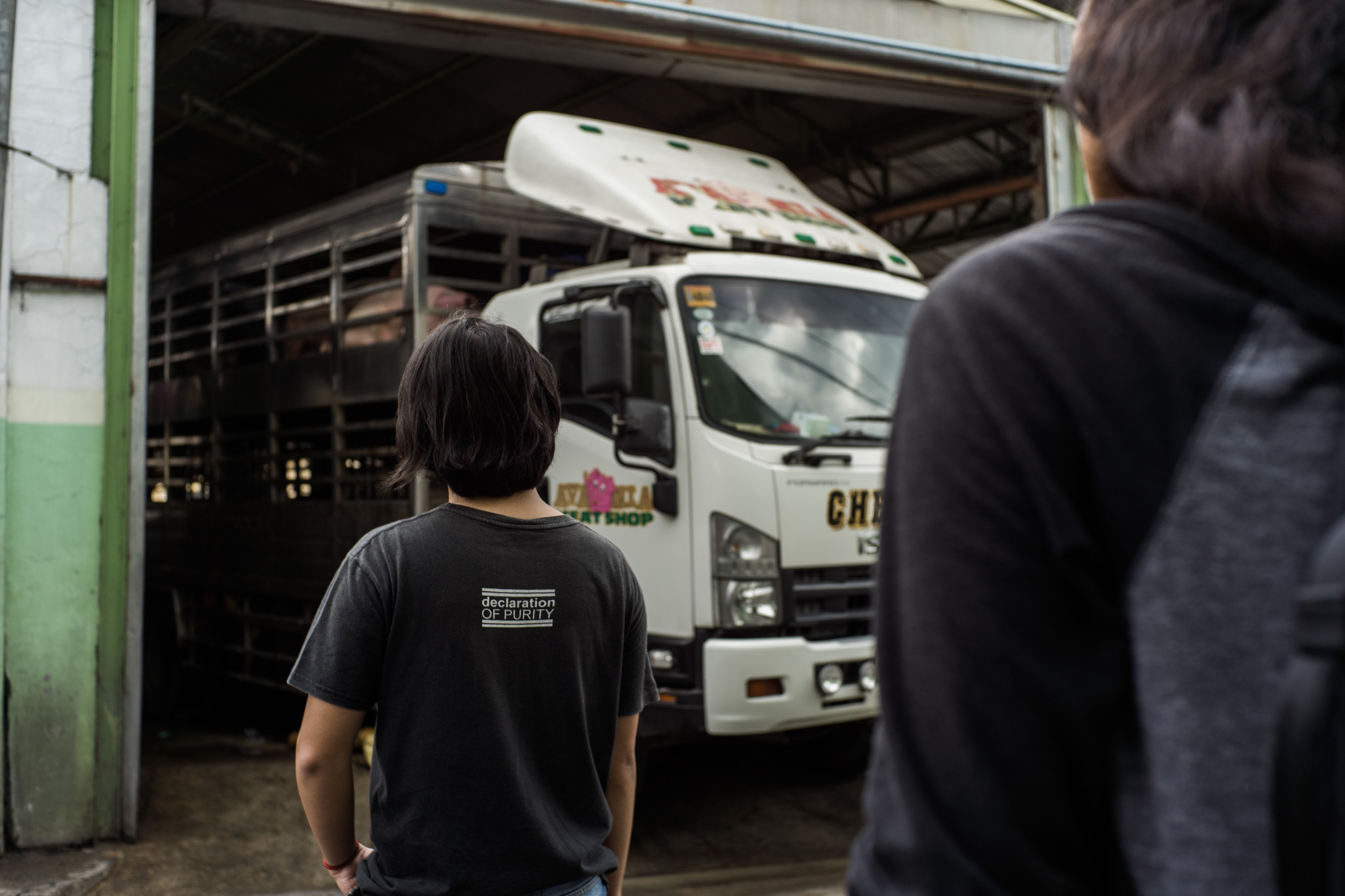 LISTEN: A worker insults the members of the MMAS as he kicked, punched, and poked the screeching pigs with a stick out of the truck and into their violent death.
"Ang approach namin is grassroots, love-based. So, if ever may ma-encounter kami dito sa slaughterhouse, 'yung mga worker dito, 'yung mga owner, kung ano man yung sabihin sa amin, hindi na namin sila ginagantihan. [Our approach is grassroots, love-based. If ever we encounter slaughterhouse workers or even the owners who would say painful things, we don't fight back]," said Edison.
"We're trying to change it through love and compassion. Pag nakipag-away kami, parang mawawala yung principle ng pinaglalaban namin [If we get into scuffles, it's like we're forgetting the principles of what we're fighting for in the first place]," said Edison. "We are not against the livelihood of the workers since they have no other choice. They are also victims of this system."
Veganism is not all blood and gore
After the slaughterhouse vigil, members of the MMAS and other vegan volunteers retreat to Mandala Park.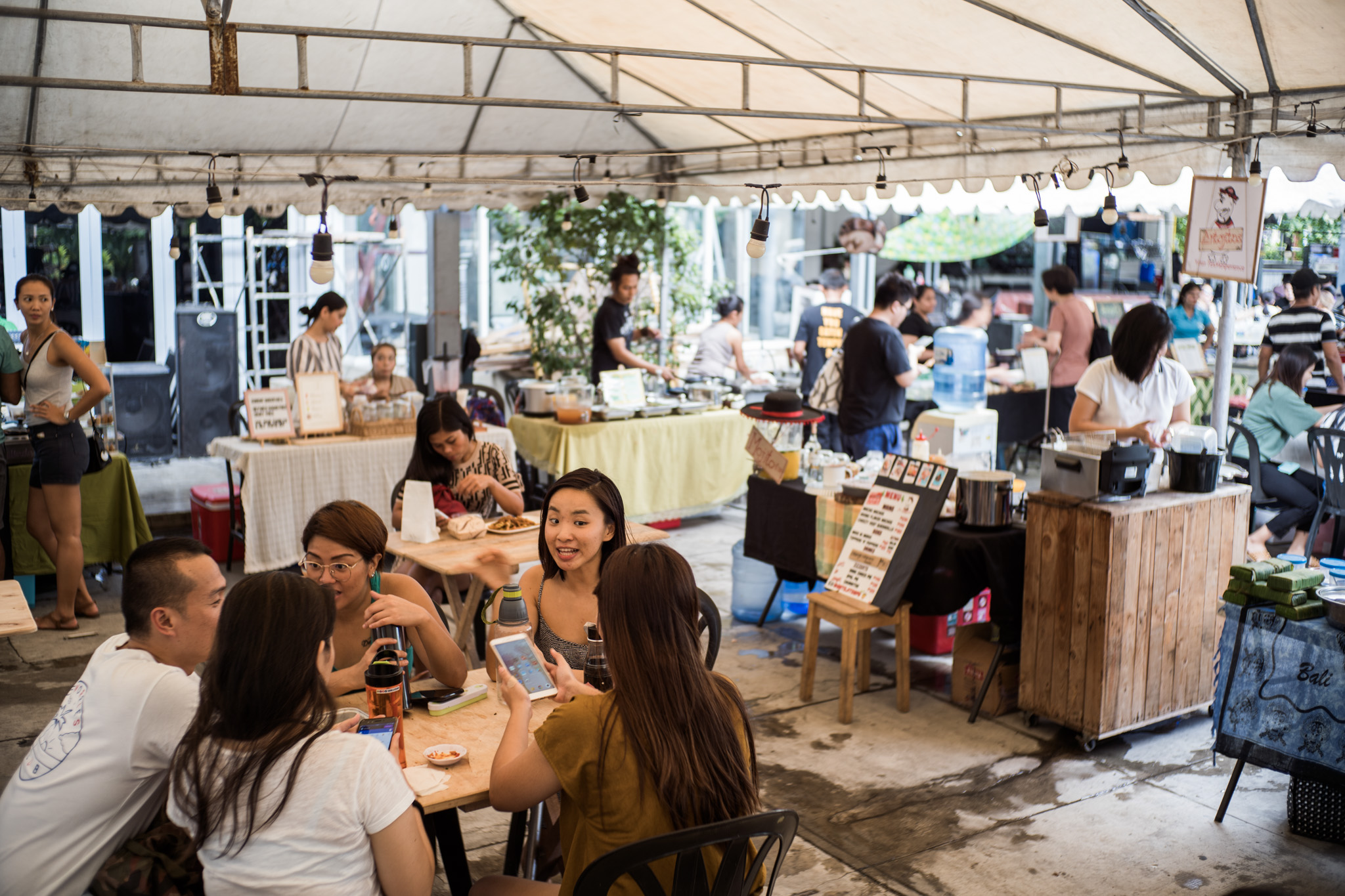 In this little corner of Shaw Boulevard is the Good Food Sundays market where you will find vegan versions of isaw, barbecue, lechon, asado, empanada, pinoy spaghetti, dinuguan, katsu, sushi, beef rendang, doughnuts, cookies, cakes, and what have you.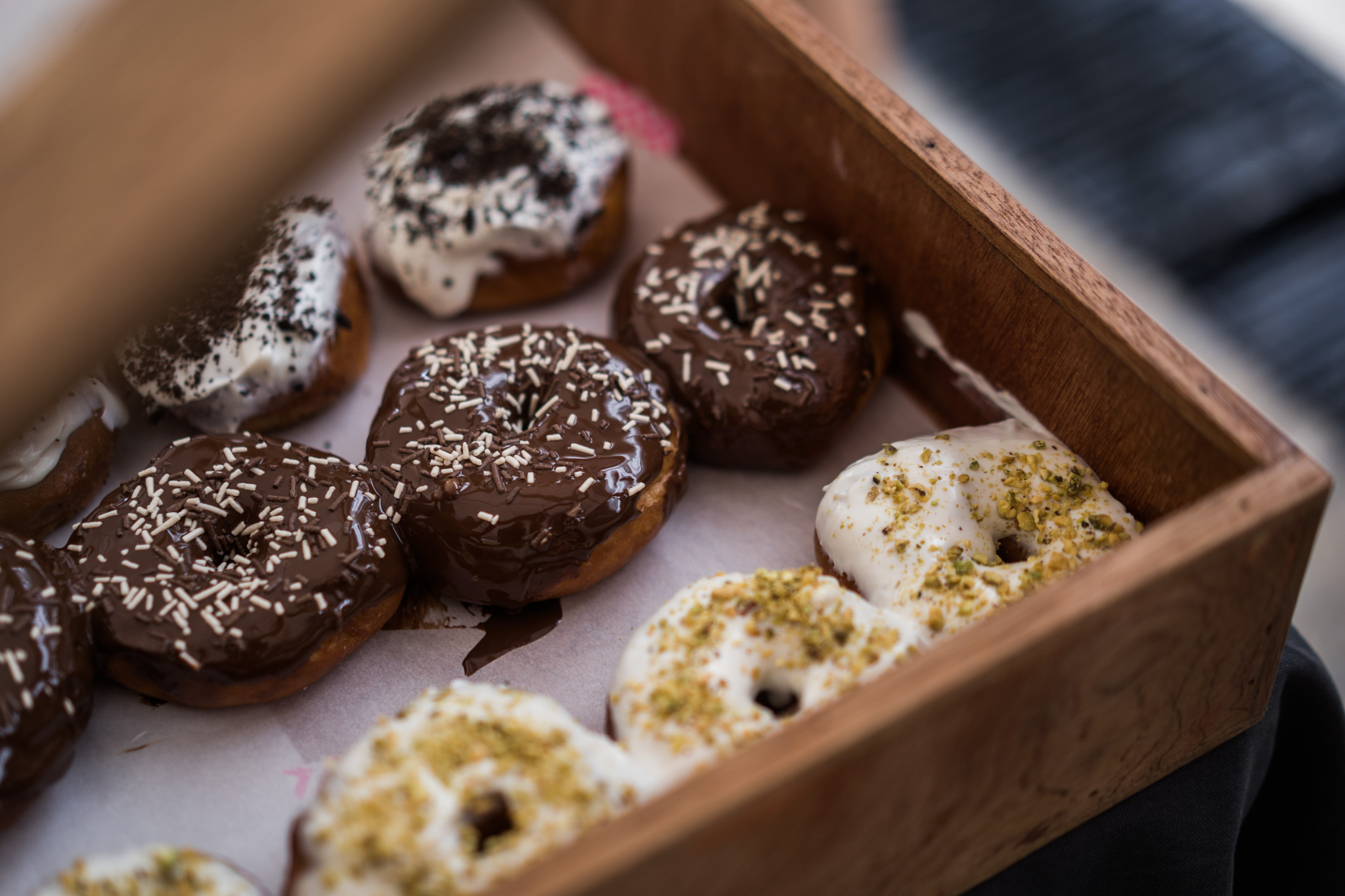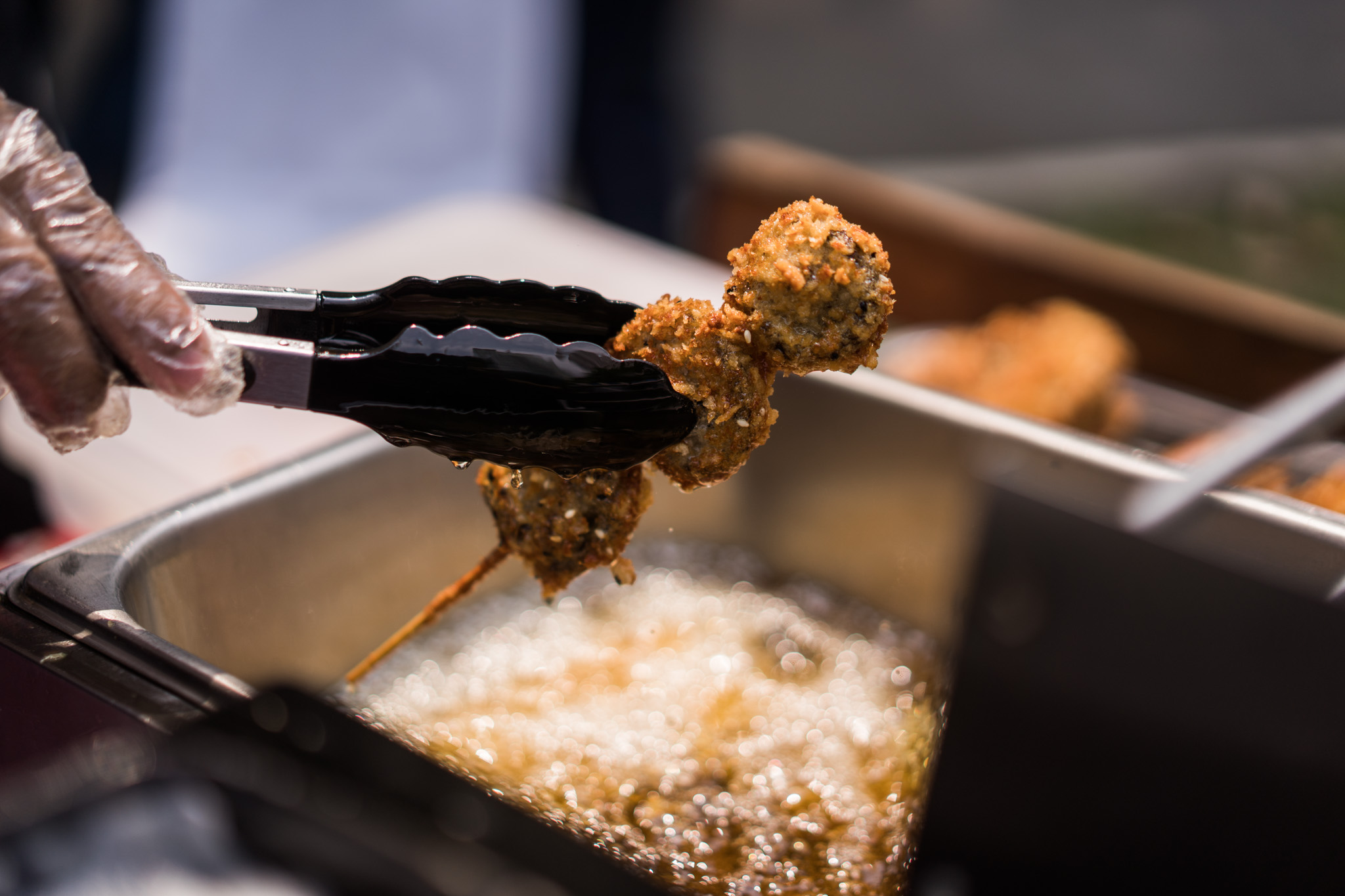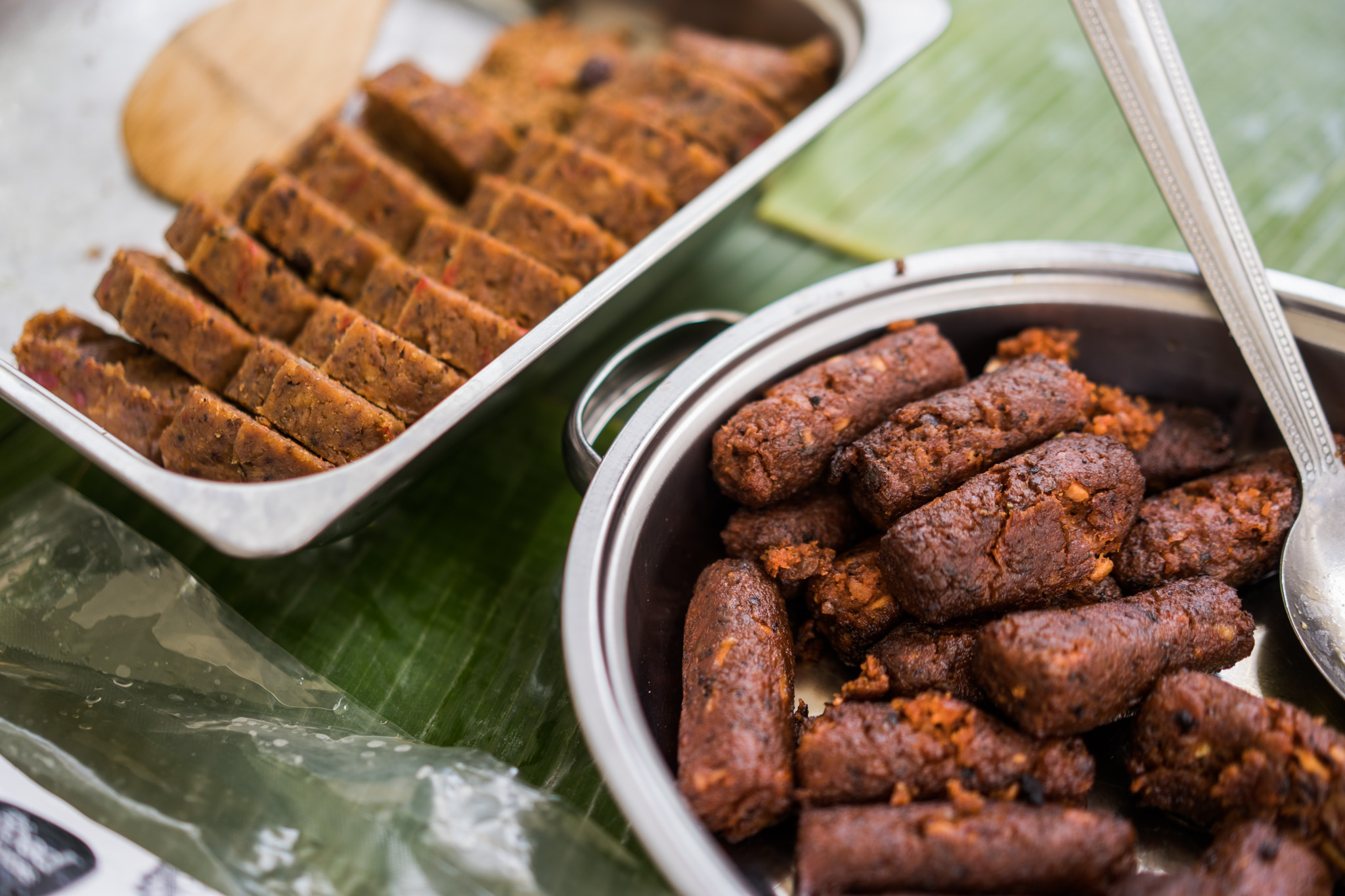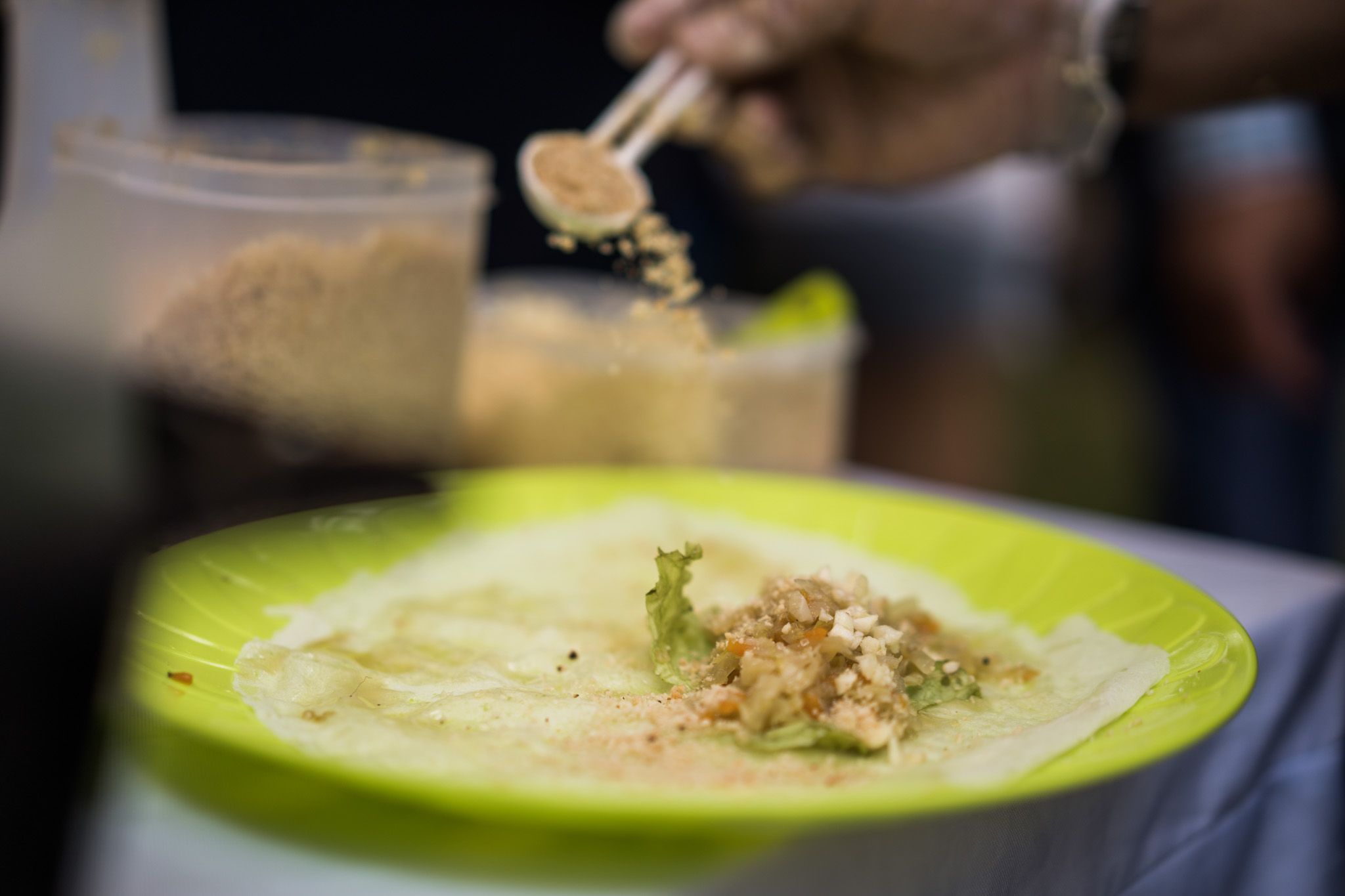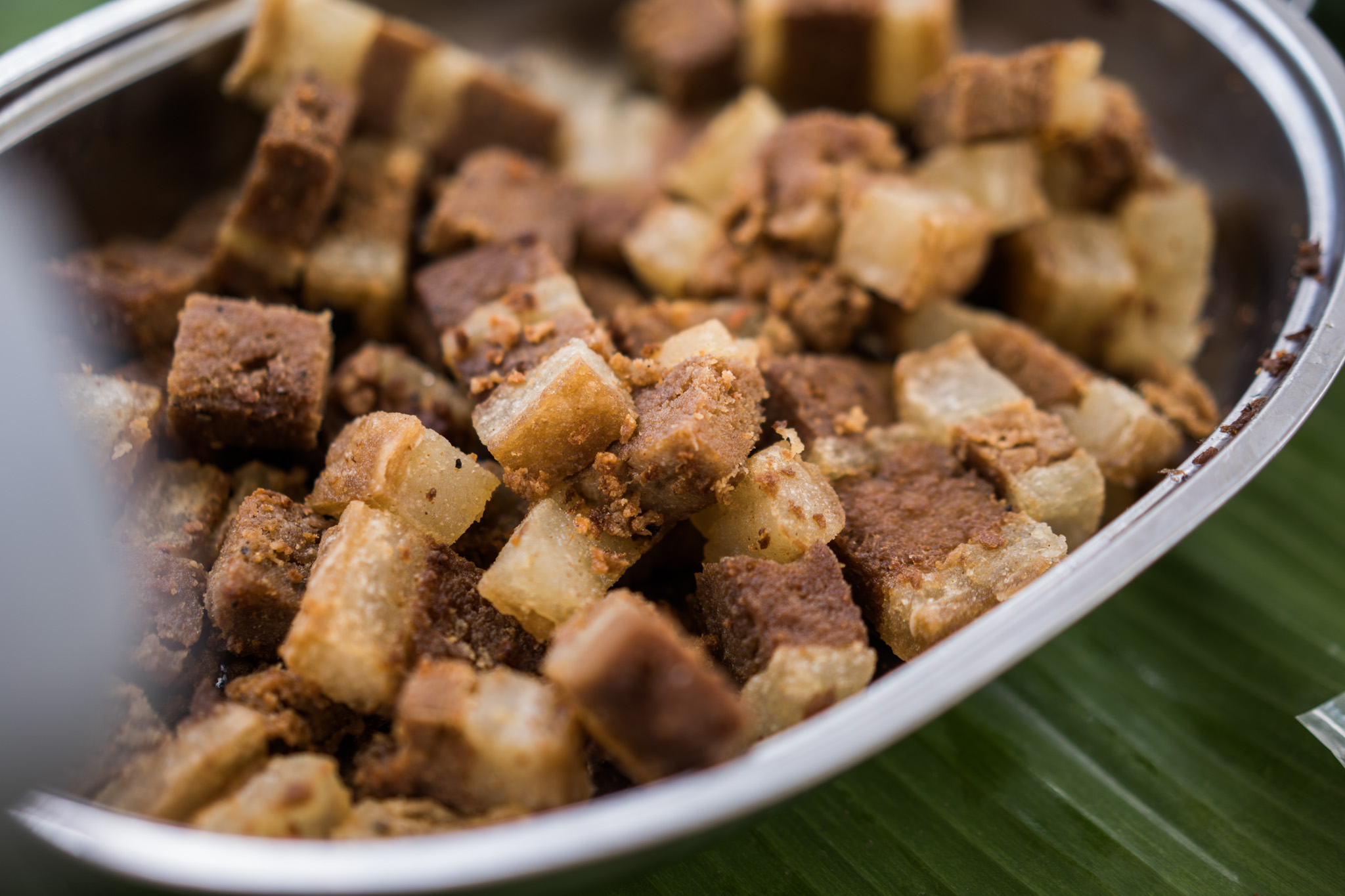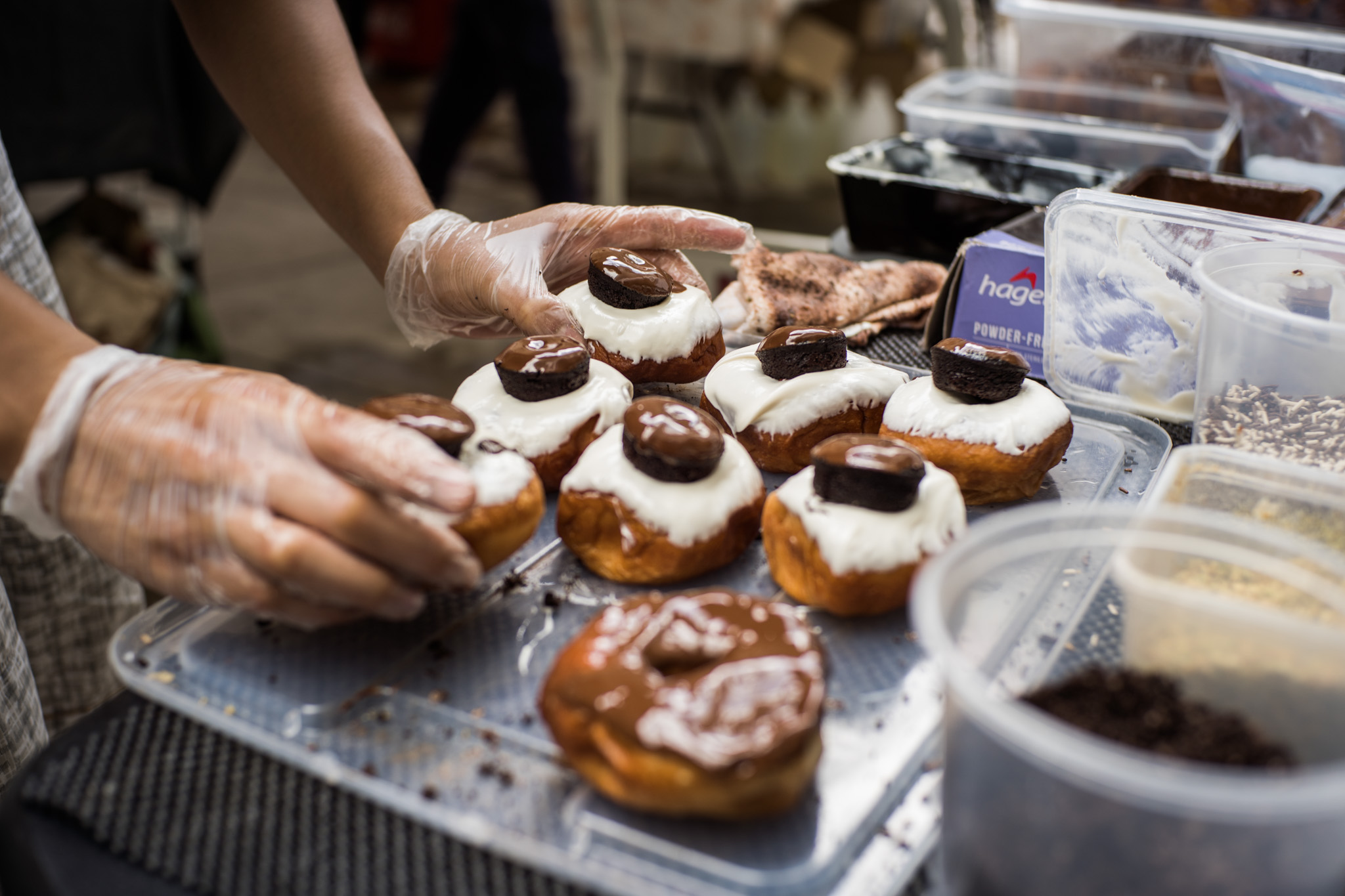 It's a safe space for vegans, the vegan-curious, or those who simply want to enjoy good food.
But vegan food is no longer just confined to Mandala Park. These vegan festivals are branching out.
Just last March, there were the Maxicare Veggie Fest in Legazpi Village and Yogi Fair in Poblacion. Earlier this April, the Grand Hyatt launched a special vegan menu of Beyond Meat burgers and sausages plus a green buffet every Monday. And in June, a vegan Mercato Centrale in Bonifacio Global City.
A thriving community
In all of the vegan events I've been to for this story, I would always see familiar faces. It's because they're glued together by a community that Nancy started on Facebook: the Manila Vegans.
What started as a group with 70 members in 2014 has grown into a community of more than 31,000.
Whenever there are new vegan menu items in famous restaurants (like that Starbucks sinless chocolate cake), new vegan restaurants, or vegan food festivals, the members of this group are the first to know. But more importantly, it's a place where vegans can find the support they need and for the vegan-curious to find the information and help they're looking for.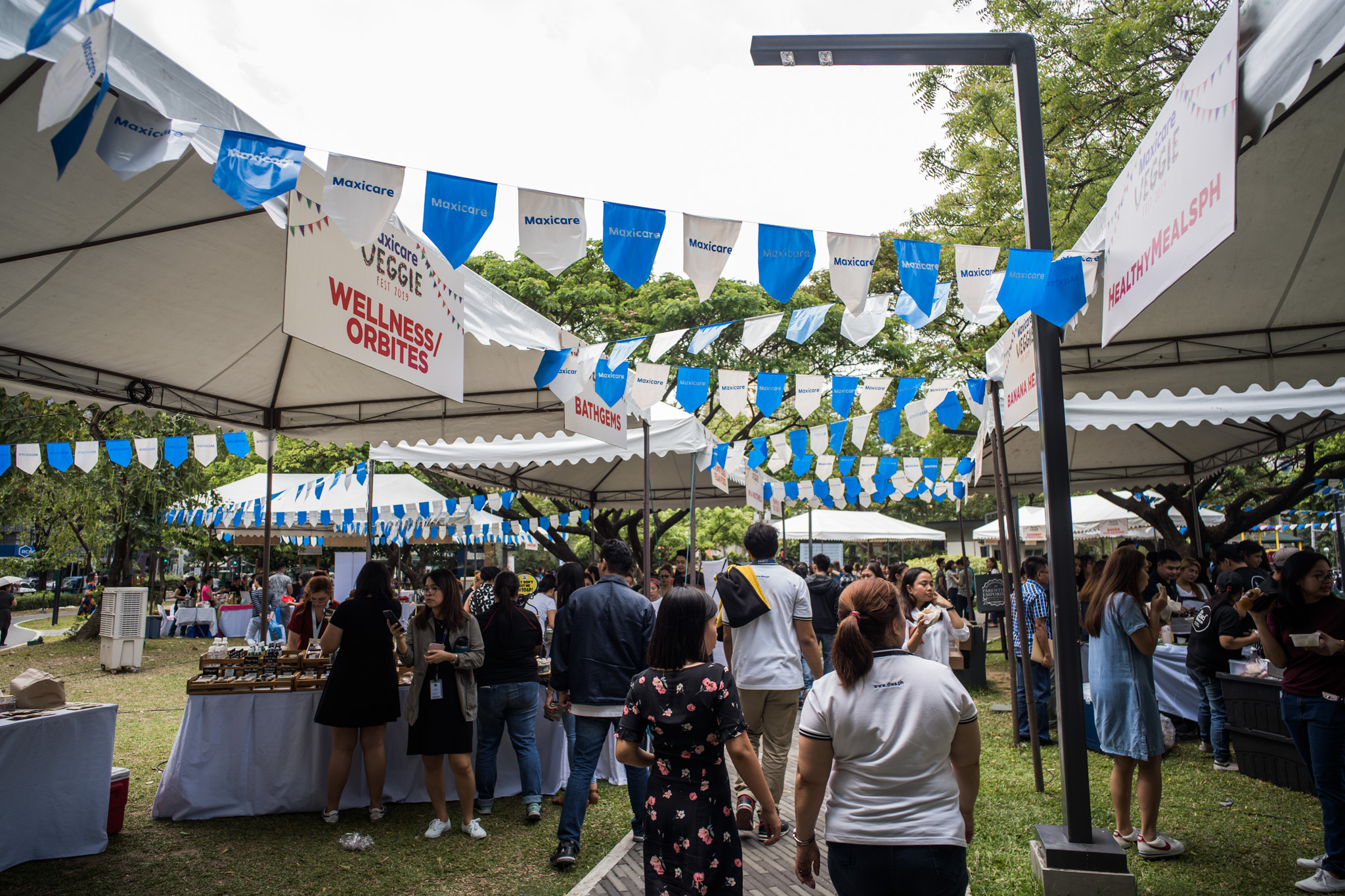 "It's a community where you will be supported in your journey in becoming vegan. We want you to get there as soon as possible that's why we have the one-month mentorship challenge," said Nancy.
During the one-month vegan challenge, a person will be assigned a vegan mentor who will teach them about veganism and other things like where to find vegan food, how do you maintain a vegan lifestyle depending on your situation (whether you're a college dormer or an expecting mom, etc.).
"I think the one-month vegan challenge makes it easy for those who are interested in veganism to commit to it because they're assigned one person to be their go-to person. And those who also don't take the challenge, they're lurking," said Nancy. "I hear a lot of people say it that they're just lurking but they read about what happens to the animals and then they decide on their own to be vegan. It makes them feel it's possible seeing so many people who are already vegan."
Getting there
I, myself, have tried going vegan several times but would fall off the wagon every time.
There are many people like me and then there are those who could just go vegan overnight and never look back.
The experience is different for every person but you'll be glad to know that wherever you may be in this journey, the vegan community in the Philippines is here to help and support anyone who wants to give saving animals a go.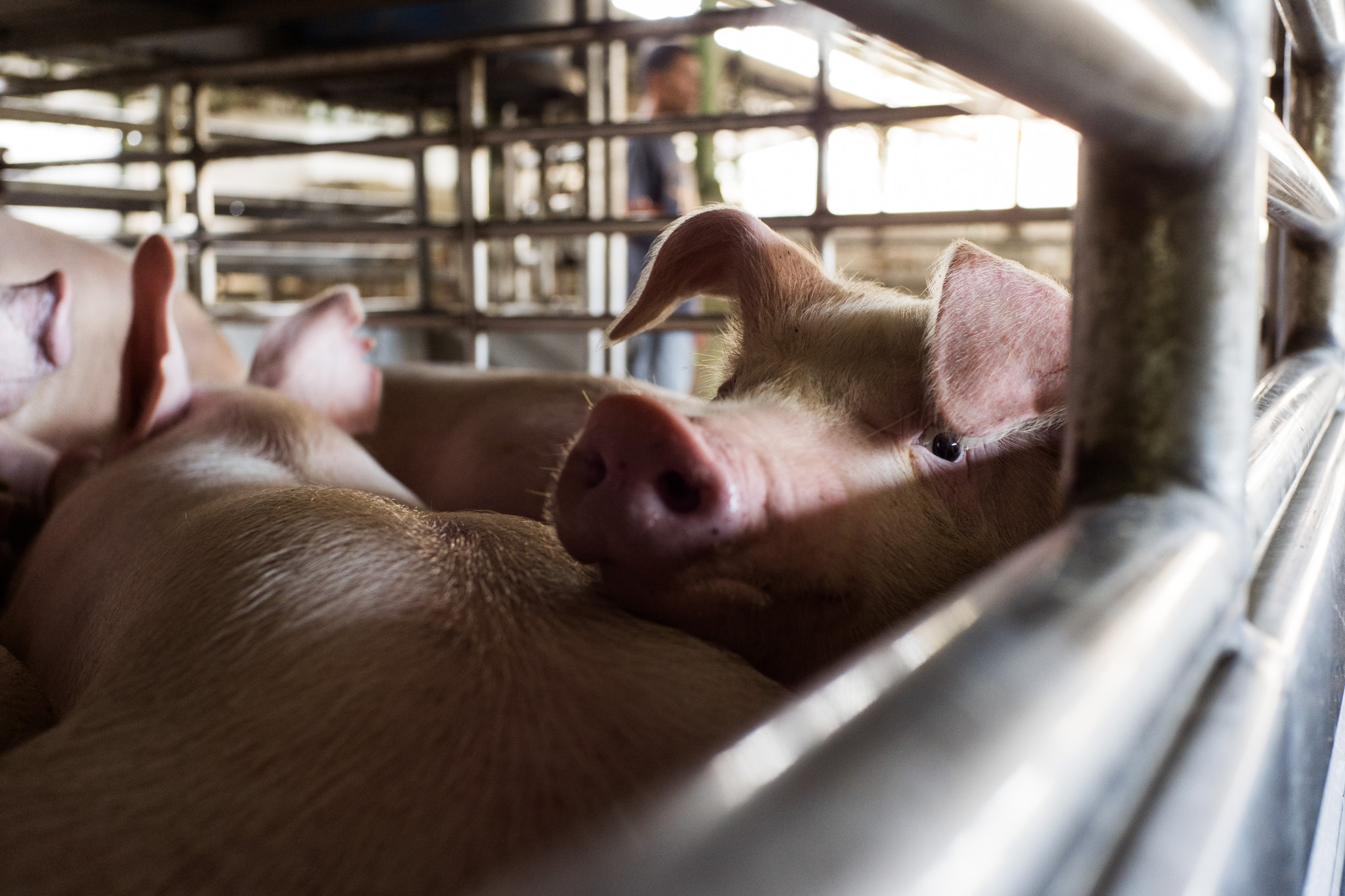 And for those who would like to start now and take part in the Manila Vegans challenge, you can either send Nancy a private message on Facebook or email her at nancysiy@gmail.com. Let her know where you're located, why you're interested to go vegan, and any specific challenges that you need to deal with so she can find a mentor that can most help you.
"Being vegan is actually easier than most people think. Any challenge, any barrier, that's only in the initial stages. Once you get past that, it's so easy. The best thing that I ever did. The best decision for me," said Nancy. "Many vegans feel that way. So give it a try and who knows? It might also be the best decision for you."
– Rappler.com
#Detours is a column that aims to give you an inside look into the under the radar communities, groups, individuals, and practices in the Philippines.