How would you send messages when communication lines are cut-off during a disaster? An instant messaging platform may be the answer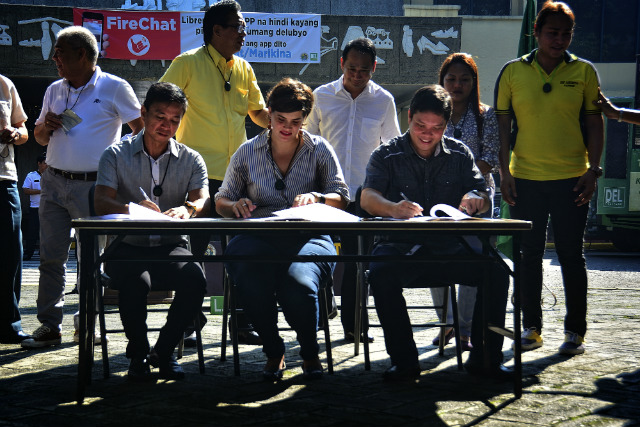 MANILA, Philippines – Ever thought about communications during the onslaught of a disaster? 
Here's a scenario: You woke up feeling a little cold, only to find out that flood waters have reached your home's second floor. You think of calling for help but your phone says "No Service." What are you going to do?
This scenario is what new disaster tools try to bridge – an alternative way of communication when local networks do not work anymore.
Aiming to provide a disaster-proof communication system, the Department of Science and Technology (DOST) launched "Project Agimat" in partnership with Open Garden and the city government of Marikina on Monday, October 12.
To be pilot-tested first in Marikina, Vice Mayor Jose Fabian Cadiz, Project NOAH Executive Director Mahar Lagmay and Open Garden Global Marketing Head Marina Azcarate signed the memorandum of agreement during the city's flag ceremony.
Disaster tool
Project Agimat introduced Open Garden's FireChat, an instant messaging app that works through Bluetooth and Wi-Fi without actually being connected to the Internet or to cellular networks.
All you have to do is download the app, leave your Bluetooth and Wi-Fi on and you send messages on FireChat. It works through peer-to-peer mesh network and supports both public and private messaging. It can be downloaded free on Google Play or the App Store. (READ: Firechat introduces offline private messaging)
"What the technology does is turn your smartphone into a router," Azcarate said. She explained that it transmits messages from phone to phone up to 70 m (229.66 ft) away until it reaches its intended destination.
Azcarate said that unlike cellular networks, it capitalizes on the density of the users. "The more, the merrier," she said.
Currently, only text and images can be sent on the messaging platform.
Users who want receive information on hazards and alerts from the Public Information Office of Marikina may go to firech.at/Marikina.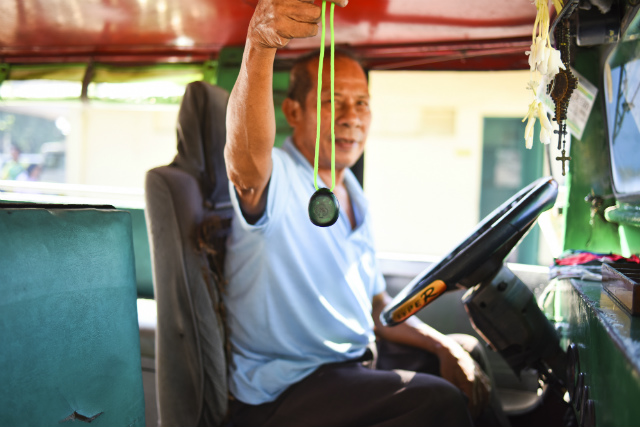 Power of Agimat
In Filipino Folklore, amulets are popularly known to give its owner special powers.
Along with FireChat, a small green stone-like gadget was also launched. Named after the Filipino term for amulet, Agimat works to increase the "power" of the offline messaging network.
Also developed by Open Garden, Agimat serves as a Bluetooth repeater to aid in transmitting messages.
Capitalizing on the idea of ownership, Project NOAH Executive Director Mahar Lagmay believes that owning these devices will increase the stake of the citizens to solve problems.
"It's a socio-cultural approach. Apart from them having this object with 'magical powers,' it gives them a sense of power as well, a sense of ownership that increases their stake to solve the problem themselves for disaster preparedness,'" Lagmay said.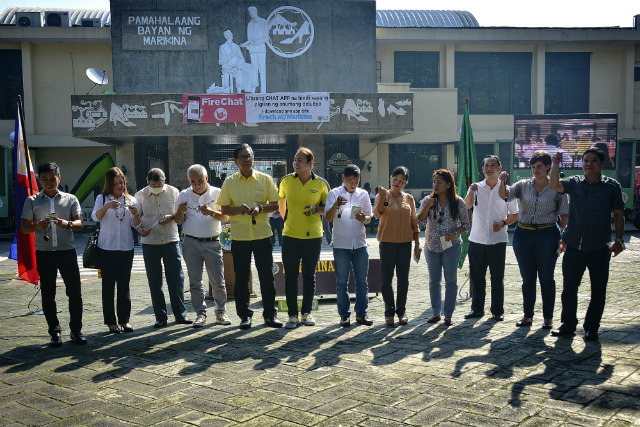 Each leader of the 16 barangays of Marikina was given a prototype of Agimat. This will help densify the network in their localities.
Lagmay said that what needs to be done is to understand the mindset of people, "it has to start from the individual."
In the future, some 1,600 greenstones will be given and installed in strategic areas in the city to effectively bridge messages that will be sent by FireChat users.
"Agimat does not only give power to the network, it empowers people," Azcarate said. – Rappler.com