This is AI generated summarization, which may have errors. For context, always refer to the full article.
President Benigno Aquino III rejects House Bill 5842, which would have increased the pension by P2000 ($41.85)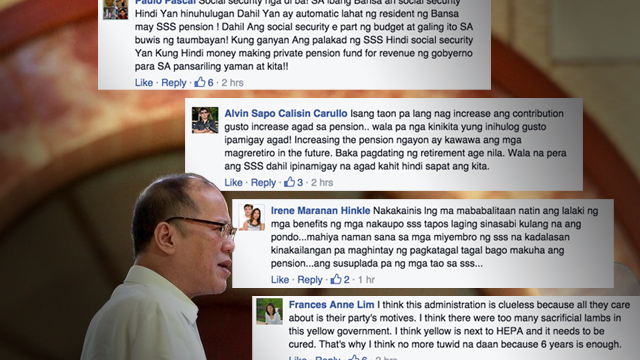 MANILA, Philippines – President Benigno Aquino's veto of the Social Security System's (SSS) pension hike received the ire of Filipino netizens.
House Bill 5842, which would have increased the pension by P2000 ($41.85), was rejected on January 12. Netizens quickly took to social media to express their displeasure.
INFOGRAPHIC • Ang SSS Additional Pension Benefits Bill, at ang mga dahilan sa pag-veto nito: https://t.co/Hz500wSTt7 pic.twitter.com/TvaKFYd4vt

— Official Gazette PH (@govph) January 14, 2016
In the statement sent to Senate President Franklin Drilon and Speaker Feliciano Belmonte Jr, President Aquino explained that there were "dire financial consequences" involved in the hike.
Many believed the veto was unfair considering the benefits of many SSS employees and accused the SSS of mismanagement. Irene Maranan Hinkle commented, "Nakakainis lang na mababalitaan natin ang lalaki ng mga benefits ng mga nakaupo SSS tapos laging sinasabi kulang na ang pondo."
(It is annoying to hear that those managing SSS have huge benefits, while they continue saying there aren't enough funds.) 
Now in case you're wondering, this is how much the SSS officials were paid in 2013. @momblogger @jcmaningat pic.twitter.com/QbjdA4SQRd

— Renato Reyes, Jr. (@natoreyes) January 14, 2016
Stan Onredor echoed Hinkle's sentiments, commenting, "Kulang na kasi sa funds pero namimigay pa ng bonus sa mga opisyal? Anong klaseng management yan?" (Funds are not enough but they have enough for bonuses for officials? What kind of management is that?)
Kasalan mo to Penoy my parents are really sad because of the news about SSS pension.

— Jezer Rodriguez (@imjezer) January 14, 2016
How can you be so heartless Pnoy! #SSSPension

— Rainesah Maruhom (@rainsanity31) January 14, 2016
SSS Pension Hike, vetoed. Ay talagang sukdulang wala nang puso ang presidenteng ito.

— Andrew Estacio (@andrewAestacio) January 14, 2016
Proponents of the bill hoped it would have supplemented the amount pensioners receive every month. The veto, then, caused outrage among them. One pensioner, Agnes Evidente Blanco, commented, "As a pensioner, I am so disappointed!" (READ: Advocates call for improved senior pension for Pinoys)
It was very much established in committee hearings that SSS could afford the hike in pension. Aquino veto is a big disappointment

— Rep. Luz Ilagan (@RepLuzIlagan) January 14, 2016
But others were pleased with the president's decision. 
Facebook user Mark Anthony Bolivar Andrade said he was happy about the veto. He argued that people paying their contributions would be on the losing end if the SSS goes under because of the pension hike. (READ: Higher SSS contributions starting Jan 2014)
A Rappler reader commented on the story saying the harm to the majority of employees who are still paying their contributions outweighs the benefits of the pensioners.
"I honestly think this was a difficult decision for the President to make, given that it's an election year, and his critics (as well as his presidential candidate's rivals) have been harping on the administration's 'lack of compassion' for Filipinos. But the mathematics are clear: 2 million pensioners vs  the welfare of 29 million other members (and future members)', Paz Concepcion commented.
Senate Ways and Means committee chairman Juan Edgardo Angara said a "compromise formula" may be developed. Until then, pensioners and premium payers can only hope for a better and mutually beneficial deal.
What do you think of the veto? Write about it on X! – Bea Orante/Rappler.com
US$1 = P47.78