Budget Secretary Butch Abad clarifies that the funds released to senators in 2012 are not bribes and were taken from the Disbursement Acceleration Program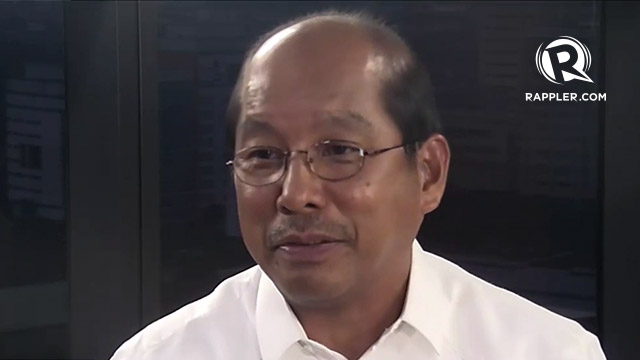 MANILA, Philippines – Budget Secretary Butch Abad clarified that the disbursements to senators on top of their 2012 pork barrel funds were not bribes and were necessary to "help accelerate economic expansion."
On Saturday, September 28, the Department of Budget and Management (DBM) issued a statement explaining the purpose of the fund releases to senators from the Disbursement Acceleration Program (DAP) in 2012 and early 2013.
The DAP was designed by DBM to ramp up government spending. This is after "sluggish disbursements" caused the country's Gross Domestic Product (GDP) growth to slow down to just 3.6% in 2011.
Abad said that any suggestion that these funds were used as bribes or incentive for the legislators is "inaccurate" and "irresponsible." 
Sen Jinggoy Estrada said in his privilege speech on Wednesday, September 25, that Sen Franklin Drilon who was Senate finance committee chairman in 2012, facilitated the release of P50 million to each senator in exchange for the conviction of former Chief Justice Renato Corona then.
READ: Jinggoy: P50M for each convict-Corona vote
"After the conviction of the former Chief Justice in May 2012, those who voted to convict were allotted an additional P50 million as provided in a private and confidential letter memorandum of the then chair of the Senate finance committee," Estrada said. He was among those who voted for conviction.
After his speech, however, upon questioning by Sen Juan Ponce Enrile and Drilon, Estrada said he was not making bribery or reward accusations. "It was simply an appeal," he said, to vote for Corona's conviction.
Abad, however, said the releases were "based entirely on letters of request" submitted by the senators themselves.
Touting the program as "a valuable fiscal tool" for the delivery of public goods and services to the people, Abad said the DAP is not an instrument for political coercion.
"DAP's efficiency in moving public funds toward high-impact projects has in fact been expressed in our remarkable GDP growth," Abad explained.
Below are the names of senators and the amount of funds they received in 2012:
| Senator | Date of disbursement | Amount received |
| --- | --- | --- |
| Antonio Trillanes | October 2012 | P50M |
| Manuel Villar | October 2012 | P50M |
| Ramon Revilla | October 2012 | P50M |
| Edgardo Angara | October 2012 | P50M |
| Alan Cayetano | October 2012 | P50M |
| Frank Drilon | December 2012 | P100M |
| Juan Ponce Enrile | December 2012 | P92M |
| Francis Escudero | August 2012 | P99M |
| Jinggoy Estrada | October 2012 | P50M |
| Teofisto Guingona | October 2012 / December 2012 | P35M / P9M |
| Greg Honasan | August 2012 | P50M |
| Loren Legarda | October 2012 | P50M |
| Lito Lapid | October 2012 | P50M |
| Serge Osmena | December 2012 | P50M |
| Francis Pangilinan | October 2012 | P30M |
| Koko Pimentel | October 2012 / November 2012 / December 2012 | P25.5M / P5M / P15M |
| Ralph Recto | October 2012 / December 2012 | P23M / P27M |
| Tito Sotto | October 2012 / November 2012 | P11M / P39M |
Senators Ping Lacson, Joker Arroyo, Pia Cayetano, Bongbong Marcos, and Miriam Defensor-Santiago did not receive any disbursement from the DAP in 2012.
Arroyo and Cayetano, however, received P47 million and P50 million respectively, from the DAP in early 2013. 
Releases from the DAP to legislators for the remainder of year 2013 were suspended by President Aquino, following the special audit report by the Commission on Audit that revealed misappropriations from the pork barrel funds of legislators.
READ: P6-B PDAF misused; 192 solons tagged
"To this day, no subsequent DAP releases have since been made to support lawmaker-endorsed projects, in much the same way as we suspended PDAF releases," Abad said.
The DBM cited the DAP's role in the years 2011 and 2012 in supporting projects such as the relocation by the National Housing Authority of families living along danger zones, the construction of roads for greater tourism, the rehabilitation of regional health units, and the compensation of landowners under the Department of Agrarian Reform, among others.
"While it is unfortunate that DAP releases are now being maligned to serve some very questionable political interests, we hope that these fund releases are seen exactly for what they are," Abad added. – Rappler.com