The death toll has gone higher than the estimates of President Benigno Aquino III, who told CNN they're looking at 2,000 to 2,500 fatalities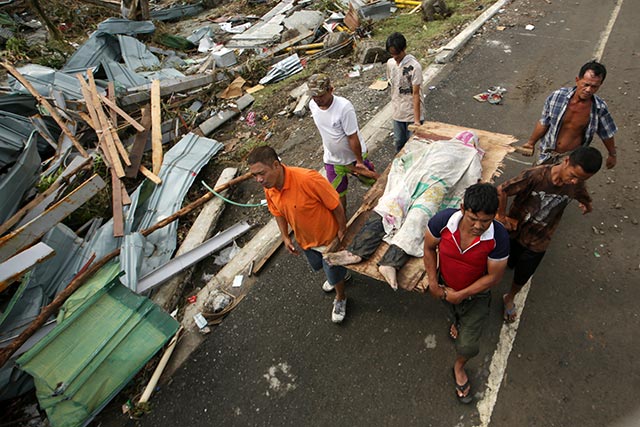 MANILA, Philippines (3rd UPDATE) — A week after Super Typhoon Yolanda (Haiyan) devastated parts of the Philippines, The death toll from the devastation has reached 3,621, with 1,140 recorded missing, according to the latest report from the National Disaster Risk Reduction and Management Council (NDRRMC).
A total of 12,165 typhoon victims also suffered injuries.
The death toll is now higher than the estimates of President Benigno Aquino III, who told CNN on November 13 about  2,000 to 2,500 were probably killed in the aftermath of the typhoon.
The bulk of the death toll was recorded in Eastern Visayas, where 3,422 were reported dead and 11,906 were reported injured. There are 1,124 residents who remain missing. 
Eastern Visayas is composed of the two main islands of Leyte and Samar.
The breakdown as shown by NDRRMC spokesperson Major Reynaldo Balido to reporters is as follows:
Dead: 3,621
2 — Calabarzon
5 — Mimaropa
5 — Bicol
113 — Western Visayas
72 — Central Visayas
3,422 — Eastern Visayas
1 — Zamboanga Peninsula
1 — Caraga region
Injured: 12,165
2 — Calabarzon
21 — Bicol
134 — Western Visayas
102 — Central Visayas
11,906 — Eastern Visayas
1 — Zamboanga Peninsula
Missing: 1,140
11 — Western Visayas
5 — Central Visayas
1,124 — Eastern Visayas
Earlier Friday, confusion deepened when the government disputed UN death toll figures, and officials said a police general who claimed 10,000 people might have been killed was removed from his position.
Conflicting data
Citing regional authorities, the UN said Friday the latest figure for the number of dead in last week's storm – one of the most powerful ever recorded – was at least 4,460.
The national disaster council maintained a much lower figure of 2,360, with Balido saying "not true" when asked about the UN's toll, before raising it later.
The differing counts came as officials said regional police chief Elmer Soria had been removed from his post, adding another twist to a tale which has seen President Benigno Aquino accused of downplaying the scale of the disaster.
"Superintendent Soria and many of our police officers from Region 8 have been through a lot over the past days and they may be experiencing what you might call 'acute stress reaction'," national police spokesman Reuben Sindac said.
"As such, it was deemed by higher headquarters that might need to go through some 'stress debriefing,' hence, his recall.
The death toll from Super Typhoon Haiyan has been a source of contention and confusion between the UN and the Philippine government for much of the past week.
After Soria made his claim, John Ging, operations director for the UN's Office for the Coordination of Humanitarian Affairs (OCHA) on Monday said it was estimated that over 10,000 people had died.
The next day Aquino told CNN that number was "too much," estimating that the final toll would be around 2,500.
The OCHA said their number was acquired from the regional taskforce of the NDRRMC  on Wednesday.
"As of 13 November, the government reported that 4,460 people have died," an OCHA statement said.
Asked for the source of the figures, Manila-based OCHA spokeswoman Orla Fagan said: "We are getting it from the operations centre of the regional taskforce set up by the NDRRMC."
On Thursday UN humanitarian chief Valerie Amos said: "The figure of 10,000 is not a UN figure," adding that it was put together by local officials.
"We have no way of verifying. I think it will take a long time before we have an accurate assessment of the number of people who have died."
On the other hand, initial damage to agriculture, fisheries and irrigation infrastructure in the Philippines after Typhoon Yolanda (Haiyan) has reached more than P7 billion, according to Agriculture Secretary Proceso Alcala.
The sugar industry lost P1,210,969,409 to Yolanda, according to a report from the Sugar Regulatory Administration (SRA). — Rappler.com