About 1,400 corpses lay on a muddy open field in San Isidro. Local officials say the place has become a 'fly factory'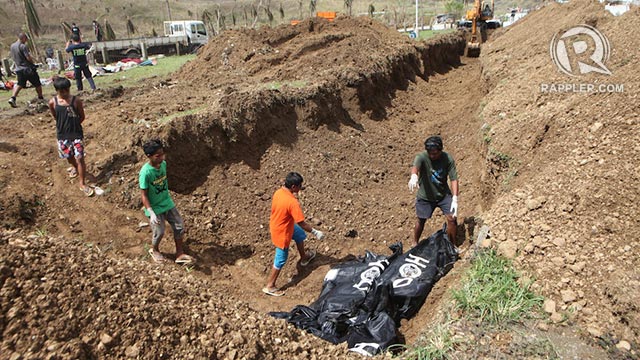 TACLOBAN CITY, Philippines – More than a thousand dead victims of Super Typhoon Yolanda (international codename: Haiyan) lay unburied Saturday, December 28, 7 weeks after the region was battered by the Philippines' deadliest storm, residents living alongside the stench said.
About 1,400 corpses, in sealed black body bags swarming with flies, lay on a muddy open field in San Isidro, a farming village on the outskirts of the destroyed central city of Tacloban City, an Agence France-Presse (AFP) reporter saw.
"The stench has taken away our appetite. Even in our sleep, we have to wear face masks," said local housewife Maritess Pedrosa, who lives in a house about 20 meters (66 feet) from the roadside city government property.
Yolanda killed 6,111 people and left 1,779 others missing on November 8, according to the National Disaster Risk Reduction and Management Council.
This made the storm, which also left 4.4 million people homeless, one of the deadliest natural disasters in Philippine history.
Tacloban and nearby towns were devastated by tsunami-like giant waves unleashed by Haiyan which accounted for a majority of the dead. (READ: All Dante prays for is a body to bury)
The council's spokesman, Reynaldo Balido, said he was unsure if the official death toll already included the cadavers in San Isidro.
Eutiquio Balunan, the local village chief, said government workers assigned to collect the typhoon dead began trucking them to San Isidro on November 10, where they have been exposed to the tropical heat and heavy seasonal rainshowers.
There, state forensics experts try to identify the corpses, he told AFP.
The processed corpses are then turned over to relatives, while those that are unclaimed are tagged and taken to a mass grave at the city cemetery about three kilometers (1.86 miles) away.
"Our tally comprises those already tagged and processed by the local governments," Balido, the disaster council spokesman, told AFP.
Balunan, the village chief, said the processing of the cadavers had been suspended over the Christmas weekend as the forensics experts went on holiday. (READ: How to handle corpses during disasters)
"We are requesting the city government to please bury the cadavers because our children and elderly residents are getting sick," he said.
"This place has become a fly factory."
The cadavers are guarded by eight policemen. One officer who asked not to be named said they are under orders to prevent the cadavers from being eaten by stray dogs. – Rappler.com