'It has been 6 months since their passing, and everyday I still think of them and of how moving on with our lives would have been easier if no one died'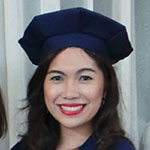 Typhoon Yolanda took away three mothers from our family: Lola Catalina "Lily" Colinares (dad's mom); Tita Aurea "Au" Nicolas-Tan (mom's sister); and Tita Novelita "Letlet" Reglo (dad's sister-in-law). 
They were amazing mothers in their own special way and to honor them, allow me to share a bit of their lives to you all. 
Lola Lily
Lola, who raised 6 moral and beautiful children, was a strong woman in all aspects of her life. As a baker, she was physically strong. As my dad would say, if surviving Yolanda entailed strength in swimming, she would have definitely conquered the water.
But Yolanda was no swimming pool, it was no beach, it was salt water, trash, oil, debris, snakes, and horrendously more. 


With her ever-ready smile and her big, comfy hugs, Lola was emotionally strong. Her heart had unlimited love to give as our family grew bigger over the years.
That very same heart was devoted to the Lord with no reservations, and it showed in her everyday words and deeds.
Yes, she was spiritually strong. Right before the house collapsed due to the waves, Lolo Paking said that Lola was singing songs of worship to the Lord, to quote, she sang, "When the ocean rise and thunders roar, I will soar with you above the storm, Father You are King over the flood, I will be still and know You are God."
And with this we find solace that although we never found her body, she is with the Lord, singing, dancing, and baking to her hearts content. 
Tita Au
Tita Au Nicolas-Tan, who raised three successful and intelligent children, was the epitome of joy and kindness. She was so cool she understood teenage infatuation, teenage rebellion, and showed it by giving me her huge collection of Sweet Valley High and University books.
She was more than an aunt to me, and I'm sure this applies to all my cousins, nieces, and nephews in the Nicolas family. 
She was more of a friend, a sister, a confidante, and a second mother. As Mommy's closest sister, she was a constant person in my life, always ready to listen and to impart words of wisdom, support, and love. My teenage years were a lot easier because of her. 
Tita Au lived a great life. A life full of laughter, like when she got stuck midway while zip-lining, or like every single time Mom sings La Isla Bonita.
Christmas will never be the same without the music and games she would prepare for us because Tita Au was our Santa Claus, with her signature laugh and all.

Tita Letlet
Tita Letlet had one son, Mayo, who also died during Yolanda. She was a silent person who always offered a helping hand. Unique in her own way, Tita Letlet's focus was on Mayo, who grew up to be a respectful and handsome teenager.
She was a shy lady who had a hearty laugh and a sense of humor. I will never forget the bloopers she had as she learned to use the computer and the internet.
Mayo, or Baby Mayo as I used to call him, loved her dearly as they were a team, inseparable mother and son. Although we never found Mayo's body, we are sure he is with her in heaven, happy as they were here on Earth.
6 months after
It has been 6 months since their passing, and everyday I still think of them and of how moving on with our lives would have been easier if no one died. But of course, accepting things happen for a reason and believing that the Lord has greater plans for us is a step towards healing. 

Of the thousands gone, a lot were mothers, among them were mothers of my classmates, friends, and neighbors. Women I have never met but I'm sure were worth meeting and sharing a cup of coffee with.

I am blessed that my own was spared. Not knowing if Mommy An was dead or alive was like being inside a black hole of nothingness but despair and fear.
Daddy Bong felt the same so he flew to Tacloban via C130 on November 9. People told me recently that daddy was heard shouting mom's name all the way from San Jose to Magallanes. They were unable to contact us until November 11 so, as we waited for news from home, my friends who know my Mom gave me words of encouragement, saying that of course my mom is alive, "Girl scout kaya si Tita!"
And, "Your mom is a survivor! A fighter!" These words comforted me immensely, but of course, facts are facts, I knew how close the water is to our house along Magallanes street, I knew how stubborn she can be, how she stayed put and did not evacuate to anywhere else. 

Our house is low so the risk was high. But miracles do happen and she, together with my older brother, survived. 

To Mommy, I love you—and your superhuman strength and ability to stop crying and go on with life with unwavering determination. I wish to be more like you. I'm working on it. 

This Mother's Day, I thank the Lord for all the mothers in my big family, who, in their own right, are amazing women, capable of overcoming any disaster, capable of laughing – and looking good – through the pain, and capable of praising Him despite everything. 

To the three mothers we lost, we miss you all. Nothing can really describe the pain of losing you but we believe that you are all in the happiest place anyone could ever be in.
So, Happy Mother's Day to you three! And thank you. Thank you for showing me the path to take when it's my turn to become a mother. – Rappler.com