The report comes as the country joins the world in observing the 32nd International AIDS Candlelight Memorial on Friday, May 15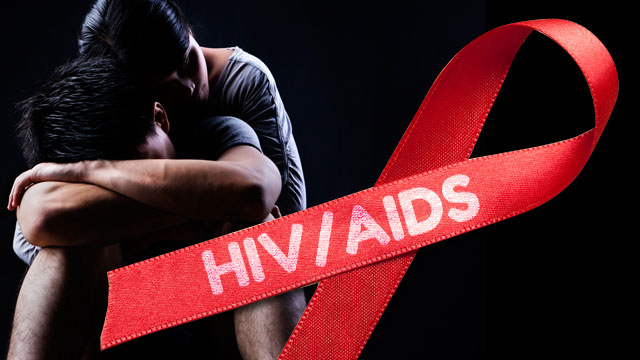 MANILA, Philippines – At least 667 new human immunodeficiency virus (HIV) cases have been documented in March, the Department of Health (DOH) said, noting that the number is expected to rise in May.
The report came as the country joined the world in observing the 32nd International AIDS Candlelight Memorial on Friday, May 15, at the Quezon City Memorial Circle.
It is the highest number of HIV cases since the Philippines' first case in 1984, according to the health department.
DOH identified the regions with the highest number of reported cases for March 2015  as the following:
National Capital Region (NCR) – 293 

Region 4A – 92 

Region 7 – 68 

Region 3 – 57

Rest of the country – 157
In February, DOH reported a total of 646 cases of HIV infections. This translates to 21 new infections every day, according to Dr Jose Gerard Belimac, program manager of DOH's National HIV/STI Prevention Program. (READ: New HIV cases in PH hit all-time high – DOH)
The health department identified the 6 cities and their corresponding prevalence rate among males who have sex with males (MSM) as the following:
Quezon City – 6.6%
Manila – 6.7%
Caloocan – 5.3%
Cebu – 7.7%
Davao – 5.0%
Cagayan de Oro – 4.7%
"According to the World Health Organization, if the prevalence rate exceeds 5%, in a matter of two years' time, the HIV in these areas will really be uncontrollable already so lessons learned, let us not allow the HIV prevalence in any of the cities to reach 5%," Belimac said.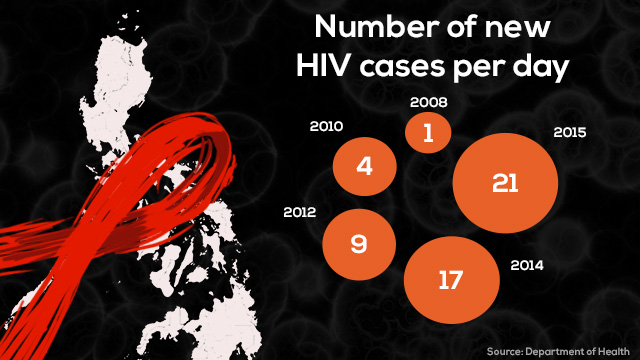 'AIDS epedemic'
In a 2014 report, the United Nations Aids Organization sounded the alarm on the HIV/AIDS epidemic concentrated in 3 highly urbanized areas: Greater Metro Manila Area, Metro Cebu, and Davao City. These areas, including Angeles City, are the "highest priority areas for HIV intervention," the report said.
"Unlike in other parts of the world, the AIDS epidemic in the Philippines has been growing rapidly," the report noted.
These are the highlights of the report:
In 2000, only 1 new case every 3 days was diagnosed. By the end of 2013, there was already one new case every two hours. 

There is a concentrated epidemic among males who have sex with males (MSM) and people who inject drugs (PWID).

Since 2008, cases among males who have sex with males (homosexual and bisexual) started to shift the tide from transmission through heterosexual intercourse. 

Since 1984, the primary mode of HIV transmission in the country has been through sexual contact, accounting for 93% of reported cases since 1984

The total number of reported cases among Overseas Filipino Workers (OFW) is continuously increasing – from 164 cases in 2009, 271 in 2011, and 509 cases in 2013. The mode of HIV transmission among OFW is similar to transmission in the Philippines.
The Joint United Nations Programme on HIV/AIDS (UNAIDS) said the Philippines will not meet the HIV/AIDS targets in the 2015 Millennium Development Goals. – Rappler.com
HIV/AIDS image from Shutterstock