After more than 2 decades away from 'Highway 54,' the Highway Patrol Group returns to hopefully help solve the debacle of EDSA traffic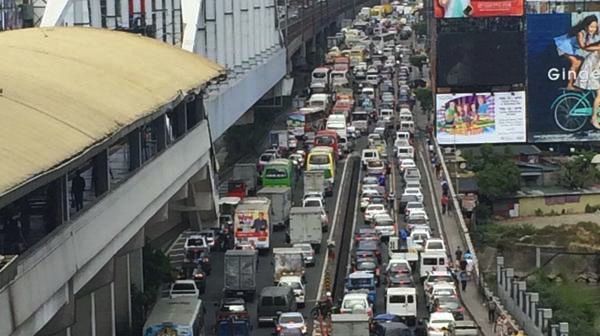 MANILA, Philippines – It's a scene Metro Manila motorists haven't seen since the early 90s: highway police personnel manning the bustling Philippine capital's main thoroughfare, apprehending errant drivers and commuters.
But on Monday, September 7, the Philippine National Police (PNP)'s Highway Patrol Group (HPG) will be deployed on "Highway 54" or EDSA, as part of the government's plan to improve the perennially heavy traffic in the Metro that may cost the country P6 billion daily if left unsolved.
Some 150 HPG personnel – from the National Capital Region, the PNP headquarters, and nearby regional offices – are now tasked to be the front-liners at 6 identified "choke points," or areas with especially heavy traffic.
EDSA 'choke points'
Balintawak

Cubao

Ortigas

Shaw Boulevard

Guadalupe

Taft Avenue
It's been a while since HPG personnel, in their distinctive uniforms and big motorcycles plied EDSA to enforce traffic rules. The last time was in 1994, HPG director Chief Superintendent Arnold Gunnacao told Rappler.
Police tasked to now take watch over EDSA recently took refresher courses for traffic rules and regulations in the lead-up to their "new" task. (READ: Palace: No need for traffic czar)
But it doesn't mean only the PNP will lord over EDSA. The Metropolitan Manila Development Authority (MMDA)'s traffic constables and traffic teams under the various Local Government Units (LGUs) will still be in charge of the rest of EDSA, other major highways, and city roads.
A matter of discipline
Most of these areas, Gunnacao pointed out, are transportation hubs where commuter buses and the occasional jeepney tend to drop of and pick up passengers with disregard for existing traffic rules and regulations.
"Yung mga kababayan natin, kung nakikita nila na yung tao sa harap nila walang power, walang semblance of authority, parang binabalewala. Yung mga constable ng MMDA, ang tingin ng mga driver, with due respect, tingin nila ay pwedeng takbuhan. Unlike yung Highway Patrol, naka hagad yan, naka mobile yan [so] pwede sila habulin, pwede sila arrestuhin because they are violating laws," Gunnacao said.
(When our motorists see that the person before them has no power, no semblance of authority, they tend to disregard them. When they see the Metropolitan Manila Development Authority (MMDA) constables – with due respect to them – they think they can get away. Unlike when they see someone from the HPG, he or she has a motorcycle, a mobile patrol car, so they can chase after or arrest people because they are violating laws.)
That was how things worked in the 80s, before the PNP came to be. Under the Philippine Constabulary (PC), a unit under the Armed Forces of the Philippines, traffic rules and regulations – particularly along "Highway 54" – were implemented by the Constabulary Highway Patrol Group.
"'Pag nakatayo ang highway patrol diyan, yung mga drivers disiplinado talaga. No ifs, no buts, hinuhuli talaga sila (When the highway patrol was there,  drivers were really disciplined. No ifs or buts, errant drivers are apprehended)," recalled Gunnacao.
Unlike the MMDA, the HPG has the authority to literally chase after and arrest violators on-the-spot. Fines for violators can also be higher, particular when it comes to violations by public utility vehicles and buses. Traffic violation tickets from the Land Transportation Office, explained Gunnacao, carry higher fines.
"There are a lot of complaints about the penalties but the things is, if you only follow the rules and regulations it doesn't matter – even if the penalty is a million, it shouldn't matter," he added.
The Constabulary Highway Patrol Groups transformed into the Traffic Management Group in 1991, when the PC and Integrated National Police (INP) were merged into the PNP. A few years later, enforcement of traffic laws were removed from the PNP's tasks and given to the MMDA and LGUs.
Still, Gunnacao said, traffic accident investigation and management courses are still part of HPG personnel's education.
Today, the 1,216-strong HPG is tasked mainly for anti-carnapping, anti-highway robbery, and anti-carjacking operations. Teams assigned for those operations are unaffected by the EDSA deployment.

Around 20 cops a shift – half from the HPG and the rest from the local police districts – will be deployed at the so-called choke points. The MMDA will continue to man other parts of EDSA and the rest of Metro Manila's national highways.
Not just vehicles
The typical Metro Manila commuter knows this all too much – leave for work or school a few minutes later than planned and you're sure to encounter the infamous gridlock of Manila traffic.
The decongestion of the Philippine capital's roads is the priority, with emphasis on the "stricter enforcement of the bus lanes along EDSA, clearing of obstructions on EDSA and alternate routes, and the continuing consultations with bus and public utility operators, truckers and port users, and other stakeholders," according to Palace spokesman Secretary Herminio Coloma, Jr.
One rule the HPG will be enforcing, said Gunnacao, is the length of time public busses are allowed to drop off and pick up passengers. "The MMDA has a rule that you're only allowed 30 seconds. If one bus takes 1 minute to load and unload, the rest of the buses will need to line up behind it," he said.
"We'll make sure they stay where they're supposed to say," he added.
Commuters won't be spared as well – those who occupy vehicle lanes in hopes of catching a bus ahead of others will be "educated as well."
Gunnacao is also aware of many commuter and motorists' concerns – that deploying cops on EDSA also opens up avenues of corruption. It's why negotiations between erring motorists and police will be frowned upon.
"Strict enforcement talaga. Kapag violator, huli. Sabi nga nila, less exposure, less prone to corruption," he said. 
(It's about strict enforcement of the law. If you violate the law, you'll be arrested. Like what they say, less exposure, less prone to corruption)
Teams will also be rotated regularly to "avoid familiarity with the sector." Aside from the teams assigned to man the choke points, there will be a team of supervisors going around to monitor personnel. The supervisors will also be rotated to avoid familiarity.
Will deploying the HPG be enough to fix horrendous EDSA traffic?
For the Palace, the solution lies with the cooperation of different stakeholders.
"Mas mahalaga na tingnan natin kung paano nag-uugnayan, kung paano pinagtutulungan ng iba't ibang ahensya, kaagapay 'yung ating mga stakeholders sa hanay ng civil society, business community, port users, road users, mamamayan. Lahat po tayo ay sangkot at may lahok po tayo diyan sa pagresolba ng problema," said Coloma.
(We should look at how the different agencies, including stakeholders from civil society, the business community, port users, road users, regular citizens work together. All of us have a role in solving this problem.)
More HPG personnel are set to be deployed to man EDSA, when more than 100 HPG-NCR personnel return from their APEC assignments in Cebu City. – Rappler.com