The APEC disaster management forum aims to endorse a new framework on disaster risk reduction to leaders of the 21 APEC member-countries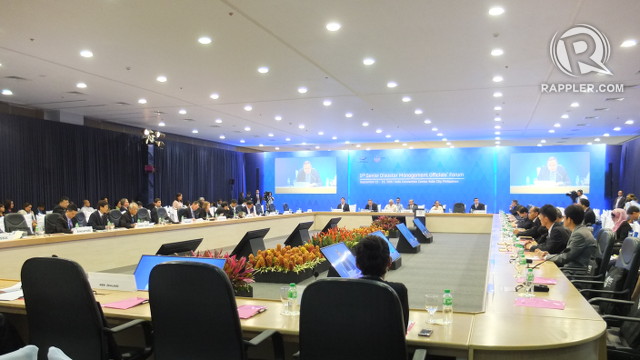 ILOILO CITY, Philippines – Disaster risk reduction officials and experts from all over Asia-Pacific are in Iloilo City to forge better cooperation in disaster risk reduction and management.
Officials from 21 Asia-Pacific countries were present at the opening of a high-level forum on disaster preparedness hosted by APEC (Asia-Pacific Economy Cooperation) on Monday, September 22.
The 9th Senior Disaster Management Officials' Forum is being held from September 22 to 23 at the Iloilo Convention Center in Iloilo City.
It is among many APEC meetings being held in different parts of the Philippines, this year's venue of APEC events. 
The summit gathers senior emergency and disaster management officials from the 21 APEC member countries. Officials will listen to resource persons on how to make APEC economies more resilient to natural calamities and other disasters.
'New paradigm'
At the forum's opening session, Philippine Defense Secretary Voltaire Gazmin said the primary goal of the forum was the endorsement to economic leaders of the proposed APEC Framework on Disaster Risk Reduction.
"The APEC framework is primarily aimed to promote APEC-wide cooperation on disaster risk reduction by providing direction in order for the economies to be more responsive to the new realities of the serious threats and challenges posed by stronger and more frequent disasters," he told delegates. 
The framework would serve as a "new paradigm" for mainstreaming disaster risk reduction in the Asia-Pacific region.  
One of the recommendations the framework can make is the elevation of disaster risk reduction to the ministerial level, he added.
By doing so, APEC member-economies give prominence to disaster reduction policies in their respective governments, allowing higher-level action and allotment of more resources. 
It would also allow APEC to provide direction, set benchmarks and influence future plans for the entire region. 
Disaster-impacted region
Disasters have taken a front seat among APEC priorities given the huge impacts of calamities to economies in the region.
World Bank estimates that APEC economies have incurred disaster-related losses of over $100 billion every year for the past 10 years.
Member-economies like Chile and Japan are at the mercy of earthquakes. Storms and floods frequently besiege Thailand, Chinese Taipei and the Philippines. Large-scale droughts threaten the United States and New Zealand.
Without decisive action, disasters threaten to unravel the progress made by APEC in streamlining economic policies among countries and creating healthy environments for businesses and investments.
Economies, calamities
Senator Loren Legarda, whose message was read to the delegates by Climate Change Commissioner Emmanuel de Guzman, urged the ministers to finalize the APEC framework.
"If there are free trade agreements, trade facilitation agreements, why cannot there be more agreements on disaster resilience? Let this be the challenge I bring upon you today," she said.
APEC countries, she said, can support one another through strengthened collaborative research, technology transfer, capacity building and sharing of best practices.
For the past years, APEC leaders have committed to strengthen disaster risk reduction mechanisms. 
They have organized the Emergency Preparedness Working Group which met last September 20 in Vietnam.
The working group had discussed community-based disaster risk management approaches, as inspired by member-country Chile's resilience after it was hit by an earthquake last September 16. – Rappler.com