The economic zone in Casiguran, Aurora, sits on indigenous people's ancestral land, and has yet to benefit the community 7 years after it was created by law, residents say
MANILA, Philippines – Residents of Aurora who are against the economic zone in their province gathered outside the Senate on Tuesday, September 29, to ask lawmakers not to allocate funds to the Aurora Pacific Economic Zone and Freeport Authority (APECO).
As the Senate deliberated on the proposed APECO budget for 2016, members of Task Force Anti-APECO (TFAA) also called for the Commission on Audit to look into how APECO supposedly utilized its funds illegally.
The Aurora Pacific Economic and Freeport Zone (APEFZ) is a 12,923-hectare development in the town of Casiguran, Aurora. It was envisioned to become a freeport because of its proximity to the Pacific Ocean. Plans for the economic zone also included building hotels, ecotourism, an airport, and agri-aquaculture facilities.
However, 7 years after the passage of Republic Act 9490 or the APECO Law, the community has yet to benefit from said plans. (READ: A 'small-time' Angara faces the skeletons of APECO)
For its 2015 budget, APECO received only P40 million for maintenance and other operating expenses. Prior to that, APECO had been receiving hundreds of millions. (READ: Senate recommends 'caretaker' budget for APECO, again)
| | |
| --- | --- |
| YEAR | BUDGET |
| 2008 | P 309,800,000.00 |
| 2009 | P 400,000,000.00 |
| 2010 | P 800,000,000.00 |
| 2011 | P 145,000,000.00 |
| 2012 | P 332,500,000.00 |
| 2013 | P 353,500,000.00 |
| 2014 | P 48,500,000.00 |
| 2015 | P 40,000,000.00 |
| 2016 (Proposed according to NEP) | P 58,581,000.00 |
TFAA said during their rally at the Senate that APECO had mismanaged its funding. Citing several COA reports, the TFAA believes that APECO is using the its funds illegally. 
They are asking for a special, comprehensive audit of the agency.
According to the latest COA report, APECO has suspensions amounting to P69.38 million from 2012,and disallowances amounting P335.97 million from 2013 and P80.83 million from 2014. In total, APECO has P416.80 million in audit disallowances as of the end of 2014.
The report also showed that APECO has consistently failed to comply with documentation requirements, and has granted questionable cash advances without undergoing the regular disbursement process. 
Human rights
The development project has been marred by controversy, particularly on its impact on the lives of the locals of Casiguran. (READ: APECO in Aurora: Chaos and Paradise)
It has been under fire for premature conversion of land. TFAA says that APECO has been converting agricultural, irrigated, or irrigable land into other uses without the approval of the Department of Agrarian Reform.
There was also allegedly no consultation with local government units and indigenous peoples – a violation of the Indigenous People's Rights Act.
Some 11,500 hectares of APECO land are being claimed by Casiguran indigenous peoples as part of their ancestral domain. (READ: APECO issue divides Dumagats)
From November 24 to December 13 of 2012, 120 farmers, fisherfolk, and Agtas from Casiguran marched 370 km from Casiguran to Malacañan to ask President Benigno Aquino III to stop the development project. (READ: Casiguran locals march for their land)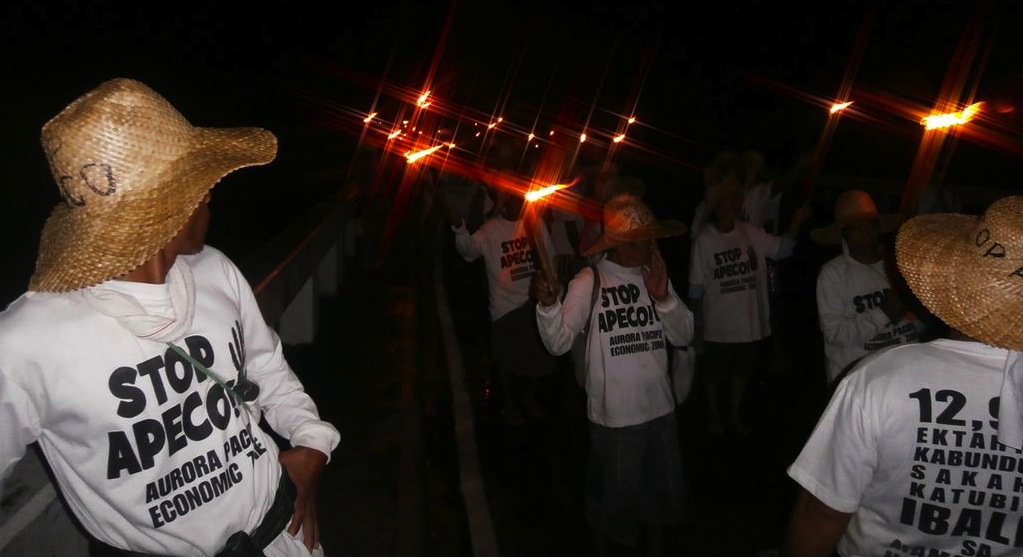 In response, the President tasked the National Economic and Development Authority (NEDA) to conduct an assessment of the project while saying he is obligated to execute the APECO Law.
Sunk cost
NEDA published a study on the project in 2013 and called for more investments in the project. NEDA also recommended that APECO be converted into an agri-aquaculture zone. 
TFAA said in a press release that while the study was critical of the project, it still supported its continuation. TFAA also cited a wide range of issues with the study, such as unsubstantiated economic projections, incompatibility of projects relative to the area's susceptibility to typhoons, and the socio-cultural costs to the projects such as loss of local livelihood.
TFAA said NEDA should conduct a more thorough assessment of the economic zone. This is why TFAA is also demanding for APECO to present its feasibility studies and master plan before it receives any more funding. 
TFAA is sure to have at least one ally in the Senate. Senator Sergio Osmeña III earlier criticized APECO for being a waste of taxpayer's money. Osmeña also happens to be chairman of the Senate finance subcommittee that handles the budget hearing of APECO.
At present, there are petitions in the Supreme Court for the revocation of the APECO Law. – Rappler.com