(2nd UPDATE) Arroyo was a Makati representative for 9 years, and a senator for 12 years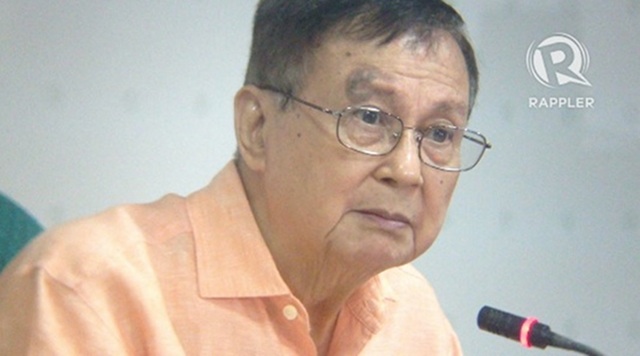 MANILA, Philippines (2nd UPDATE) – Former senator Joker Arroyo died on Monday, October 5, a senator close to him confirmed on Wednesday, October 7.
The cause of the 88-year-old Arroyo's death is not immediately clear.
The Arroyo family left for the United States last week, and was to stay there from 3 weeks to a month, said the senator, who asked not be named.
Arroyo, a human rights lawyer under the Marcos dictatorship, was a Makati representative for 9 years, and a senator for 12 years. He served as Executive Secretary of President Corazon Aquino from 1986 to 1987.
He is survived by wife Felicitas Aquino, with whom he has a daughter, his namesake Joker; and two daughters with first wife Odelia Gregorio – Ma Antonia Odelia "Maoi" Gregorio Arroyo and Ma Zef Francisca "Baba" Arroyo.
Vice President Jejomar Binay, a close friend of Arroyo, said in interview with reporters on Wednesday that he received the news about his close friend's death around lunchtime on Tuesday, but was told to keep it a "secret" for the meantime.
"Gusto ng pamilya yata na huwag kumalat kaya lang naglabasan na (I think the family didn't want it to be reported first, but it leaked anyway)," Binay said.
While Arroyo's death has been reported, his family has yet to release an official statement on it. This has put Senate leaders in a bind, as without an official confirmation for the family, they could not prepare a tribute for the late senator.
On plans in the Senate to honor the late senator, Senate President Franklin Drilon said in an interview with reporters: "You know, I find it very awkward because there is no official confirmation from the family. I do not know what is the best thing to do."
Responding to questions, he said that as discussed with Senate Vicente Sotto III, the session would push through on Wednesday. "That was our consensus, because we are in a very awkward position, as there has been no official confirmation from the family."
When reporters pressed him on Senate preparations in honor of Arroyo, including hoisting the Philippine flag in front of the Senate building at half mast, Drilon said, " I wish I could answer that question, because if suppose I ask you, if you were in my position what should I do? I'm willing to do anything to honor him."
'Great loss'
In a statement, the Vice President expressed sadness over the former senator's death. "The death of Joker leaves me with a deep sense of personal loss. The nation has lost a patriot and a true Filipino. I have lost a dear friend, a mentor and a brother," Binay said in a statement.
He said he and Arroyo had "gone through a lot together" starting with their defense of the late senator Benigno "Ninoy" Aquino Jr before the military tribunal during martial rule.
They were both human rights lawyers under the Free Legal Assistance Group (FLAG) and the Movement of Attorneys for Brotherhood, Integrity and Nationalism Inc. (MABINI).
"Joker played a big role in rebuilding the nation from the ashes of the dictatorship. And he also helped rebuild Makati from a debt-ridden municipality to a model of public service and pro-poor governance," said Binay, who was Makati mayor for 21 years.
"The people of Makati will always be grateful to Joker. The Filipino people will always remember his battles to defend democracy and human rights. I will always keep his memories close to my heart," the Vice President added.
The City of Makati also mourned the death of Arroyo.
"The city government and the people of Makati will forever be grateful to former Senator Joker Arroyo, who was among the pillars of the city's transformation into the thriving financial center that it is today," Acting Mayor Romulo "Kid" Peña said in statement.
He cited Arroyo's key role in Makati's attainment of its cityhood in 1995, and the  creation of its second district.
"We salute him for having generously shared his brilliant mind, matched only by his brave yet compassionate heart, in bringing about sustainable and inclusive progress for the benefit of all Filipinos today and in the future," Peña said. – with reports from Ayee Macaraig/Rappler.com