When I asked Duterte what type of leader the Philippines needs now, he pointed to Ferdinand Marcos
Part 2 of 3
Part 1: Duterte, his 6 contradictions and planned dictatorship
Editor's Note: On Nov. 21, 2015, Duterte announced he would run for president.
DAVAO CITY, Philippines – Davao Mayor Rodrigo Duterte is not afraid to say what he thinks. He didn't avoid any question. He just parsed the release of his responses, seemingly coy on the record, explaining explicitly off-the-record. For him, it seemed to be all about timing.
In the 45-minute interview we did for the camera, the only real leader Davao City has known since the late 80s was brutally and refreshingly honest, at times bombastic, witty, dismissive and completely unapologetic. He was authentic, a much coveted description in the age of social media.
In the 3 decades I've interviewed public officials, I can count on the fingers of one hand the leaders who have had his confidence and who avoid scripted, studied responses.
Some of this he learned because he hosts his own weekly television program, removing a media intermediary and speaking directly to the people. He makes announcements, asks questions, and gets immediate feedback.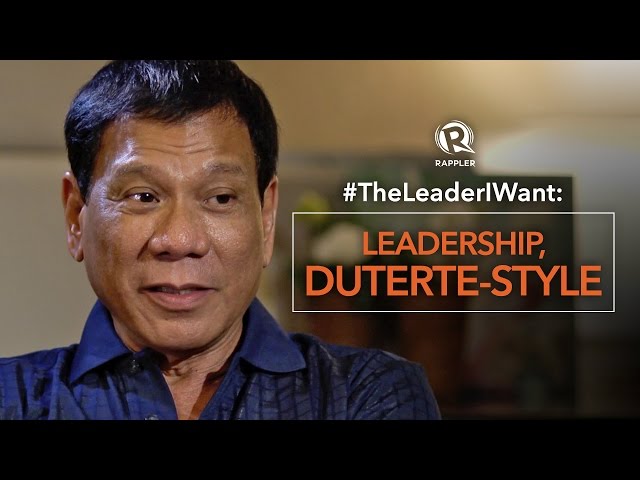 Authenticity and social media
This positions the 70-year-old mayor for what may be the first social media elections in the Philippines.
In the 2013 senatorial and local races, citizens on social media could take a candidate down a few notches in rankings and performance, like the nurses' issue did with now Senator Cynthia Villar.
In the 2016 presidential elections, two factors converge: a large number of youth voters estimated by Comelec at 39 million; and more than 45% of the Philippines' 100 million people on social media (46 million Filipino accounts are on Facebook alone).
Interestingly enough, the not-so-underground movement pushing a reluctant Duterte to run for president hit its peak on social media. The positive hashtag #Du30 and mixed #duterteserye have gained significant followings.
Like the gunslingers and vigilantes he was often compared to, Duterte shot from the hip during our interview. There was nothing controlled about our time together. He denied nothing; he regretted nothing; he parried and thrust on sensitive topics, often bringing them up himself.
True to his word, when the camera shut off, he answered in great detail, explaining exactly why he came to his conclusions and why he is acting the way he is.
There's a true personal ambivalence within him about the presidency. He knows exactly what it will demand, and he doesn't seem certain he wants to work that hard. He even predicted he could be assassinated.
Part of him wants to retire, but can a man who's never lost an election resist the challenge of running the country?
Like the Age of Industrialization
In terms of development, the Philippines today mirrors the United States in the 1920s and early '30s, where gangsters, robber barons, labor sweatshops and corruption (symbolized by Tammany Hall) ran rampant. The solution then was to establish the rule of law.
Duterte is brazen in what he plans to do if he wins: establish a dictatorship that would discipline Filipinos, establish law and order, eradicate corruption, and bring growth and development.
In short, he would turn the existing political system upside down, capturing the zeitgeist to build transparent systems and institutions that reward doing the right thing.
Filipinos are frustrated by the perennial problems that never seem to find a solution. Does the Philippines need democracy or discipline? Ironically, most Filipinos agree that the country needs both. Are they mutually exclusive?
It's a question Filipinos would need to confront if a Duterte candidacy materializes. He and his aides say he has until December 10, 2015 to decide.
Yesterday, PDP-Laban said it would choose Duterte as a substitute candidate if the man who filed for president for their party, Martin Dino, drops out – setting the stage for a Duterte run.
The United States & China
Duterte said he is aware of the complexity of our world today.
He veered away from a meandering neither-here-nor-there policy analysis. He went for the jugular, reflecting a street-savvy, micro-macro perspective seen through the lenses of his own experiences. He is an executive making a decision based on available data, a process that has made Davao City the first "smart" city in the Philippines.
In terms of foreign policy, he said he would throw the Philippines' lot in with China after a long around-the-world diatribe triggered by a question on the United States and China. He is lukewarm at best about the United States, which has long pressured him on his alleged abuses of human rights and his implicit, sometimes explicit, support of extrajudicial killings.
"America has a wounded soul," said Duterte. "America is afraid to go to war. Because when you start a war now, when you have both ends of Russia and China, talagang mapupudpud itong planet na ito … And there are many problems in Europe. There is Greece, and there's a growing hegemony in the Chinese. The Chinese are trying to buy the utang (debt) – yung utang nila sa IMF kasi yung pinahiram sa kanila pambayad lang ng interest. Yun ang masakit sa kanila." (That's what's hurting them.)
"With Russia offering everything, including oil, there's going to be a new hegemony there somewhere. Ang America ay nakatali siya because ito naman sa Middle East. The Middle East is a product of the exploitation of the Western powers …" (America is tied down because of the Middle East.)
"Putin is also suicidal. Diyan sila takot (That's what they're afraid of) because Putin is aching for trouble."
Duterte then jumped into the racial problems of the United States.
"The ugly head of bigotry is rearing its … They do not want to talk about it publicly," he continued. "Parang they try to belittle it, but you have been there. They hate each other's guts. Talagang puputok iyan balang araw. It will come to a head."
"So the way you see foreign policy in the Philippines?" I reminded him. He looked at me and answered directly.
"We're better off making friends with China," he said. "America is also the best friend of China. We will adopt a neutral policy there."
"You're leaning towards China?" I asked again.
"Yes!" he explained. "Because I do not see any – I mean, the United States is not threatening us. It has never intruded in our waters."
Will Duterte run?
Aides say Duterte will run and will declare by December 10, but critics say this is yet another – perhaps the last – chapter in #duterteserye, the back and forth that has characterized Duterte's actions for national office this year.
PDP-Laban's declaration this week is again a step forward, formalizing what many had suspected – that Dino is just a placeholder. Comelec says a technicality in Dino's filing allows that possibility. Duterte's own reaction when I told him about the error in filing is telling.
"Well, it's the problem of the Comelec for giving him the wrong form," he said. "Hindi naman talaga kandidato iyan ng Manila. Pero the word president is there? Dino should not lose sleep [over it]. Kasi kasalanan ng Comelec." (Dino is not really a candidate in Manila. It's Comelec's fault.)
In typical Duterte fashion showing his strength and weakness, he didn't stop and say he needed to get more information. He made an assessment and responded.
Strongman leaders
Duterte seems the latest reincarnation of the yearning of Filipinos for a strong leader who often takes the law into his own hands: there was former Manila Mayor Alfredo Lim known as "Dirty Harry"; macho action star and former President Joseph Estrada, whose on-screen persona robbed the rich to help the poor.
Supporters compare him to Singapore's architect, Lee Kuan Yew, who turned the city-state into a first-world nation in about three decades. Critics say he's Russia's Vladimir Putin, who instills a sense of nationalism and pride among his countrymen. Interestingly, Duterte called Putin "suicidal."
When I asked Duterte what type of leader the Philippines needs now, he pointed to Ferdinand Marcos.
"It's a catch-22 actually," he said. "Because if you begin to talk about Marcos, they would say that you favor the dictatorship and the abuses during martial law. But at the same time, if you want to also compare everyone else, parang wala eh. So I would just say that – minus the desire to be a dictator, minus the plunder of the country."
Yet he did say "it's going to be a dictatorship" once he wins. One difference may be in his focus to "stop corruption." In his years in power, he's maintained a simple lifestyle, evidence, supporters say, that he is not corrupt.
Single-minded in his pursuit of law & order, he has no qualms challenging the status quo. He expects pushback, threatening to shut down Congress, and if that still isn't enough, he's willing to do more.
"If Congress would threaten me with impeachment, sasarhan ko," said Duterte. "I will close Congress …"
He looked at me. Then he threatened to kill future corrupt lawmakers – using a phrase that obliquely refers to extrajudicial killings and dumping dead bodies in the ocean.
"Maluwag naman 'yung Manila Bay." (Manila Bay is wide.) – Rappler.com
Part 3 of 3: #TheLeaderIWant: Leadership, Duterte-style