Authorities at NAIA have apprehended at least 5 people for allegedly carrying bullets inside their bags. A similar incident was also reported at Davao airport.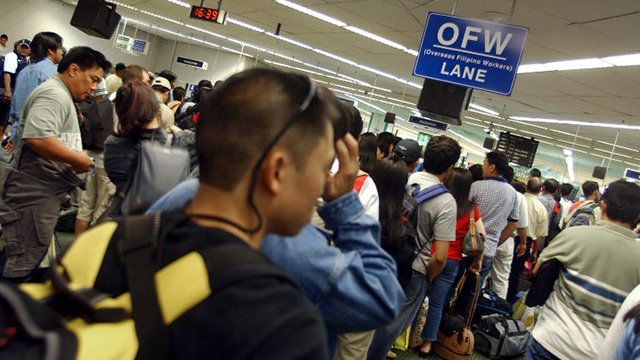 MANILA, Philippines – The Ninoy Aquino International Airport (NAIA) may no longer hold the title of "world's worst airport," but airport authorities are now under fire for the recent cases of alleged bullet-planting incidents targeting passengers.
In recent weeks, several passengers have complained about airport personnel allegedly planting bullets inside their luggage in an attempt to frame them and extort money. (READ: How to curb 'laglag-bala' modus and airport extortion)
Here are the publicized cases so far, although the Aviation Security Group says 30 cases have already been recorded from January to early November this year:
September 17: Twenty-year-old American missionary Lane Michael White accused NAIA personnel of attempting to extort P30,000 from him and allegedly planting a bullet in his luggage.
White, who was supposed to be on a flight to Palawan, spent 6 days at the NAIA terminal 1 police aviation facility, and was only able to go free after posting P40,000 bail.
September 18: Filipino balikbayan Rhed Austria de Guzman said she was forced to hand over P500 to two personnel of NAIA Terminal 2 after security claimed to have discovered two bullets in her baggage as she was on her way to board her flight to Los Angeles.
De Guzman denied the bullets were hers, but decided to pay the security personnel after they allegedly threatened to put the incident on her travel records. 
NAIA officials later said the two personnel have been relieved and are under investigation.
October 14: A teenage student bound for South Korea to join a singing competition missed her flight after a bullet was allegedly found in her bag. She was forced to rebook her flight to join her choir at the competition.
According to the choir manager, the student was allowed to go free after a smaller, unfired bullet was substituted for the one supposedly found in her bag.
October 25: 56-year-old overseas Filipino worker (OFW) Gloria Ortinez was prevented from leaving the country for Hong Kong after authorities allegedly found a bullet wrapped in red cloth inside her bag.
Ortinez, a longtime migrant worker, denied that the bullet was hers, saying she would never bring it with her as she was well aware of Hong Kong's security laws.
OFW advocate Susan Ople slammed the accusations against Ortinez, saying it was clear that the migrant worker was innocent and should not face charges of illegal possession of ammunition.
On the same day of Ortinez's arrest, a Japanese national was also detained for allegedly concealing two 9mm bullets inside a long-sleeved shirt in his luggage.
Kazunobu Sakamoto, 33, was stopped at the screening checkpoint in NAIA on his way back to Japan. He was charged with illegal possession of ammunition, but posted P80,000 bail. 
October 29: 68-year-old Revelina Combis failed to board her flight to Boracay after she was arrested for allegedly carrying a bullet of a .45 caliber gun in her bag.
Members of the police Aviation Security Group arrested Combis, a resident of Aurora province, at NAIA 3.
October 30: Bullets were also found in the luggage of a 60-year-old passenger flying from the Francisco Bangoy International Airport in Davao City. Manila-bound passenger Augusto Dagan, 60, was arrested on October 30 after two live bullets were found in his luggage. 
November 1: The latest case in NAIA was reported Sunday morning, involving a 65-year-old woman who was stopped from boarding her flight to Singapore after an X-ray monitor showed the image of a bullet inside her bag.
Nimfa Fontamillas of Cavite City refused to have her bag examined until her lawyer arrived. The bag had been sealed with a lock and the outer pocket sewn shut, but a bullet was later found in the side pocket. Fontamillas, however, denied that she owned the bullet. 
Amid the mounting criticism over the incidents, airport authorities have vowed to investigate their security personnel.
The transportation department also said it will study the structure of aviation security, set up additional closed circuit television cameras, and change handling procedures. (READ: Gov't won't tolerate 'laglag bala' – Abaya)
Meanwhile, several lawmakers have called for a probe into the matter.
Senate Majority Leader Alan Peter Cayetano is also set to file a complaint against airport officials before the Ombudsman on Tuesday, November 3. – Rappler.com