The quake occurred at 2:21 am off the coast of Zamboanga del Norte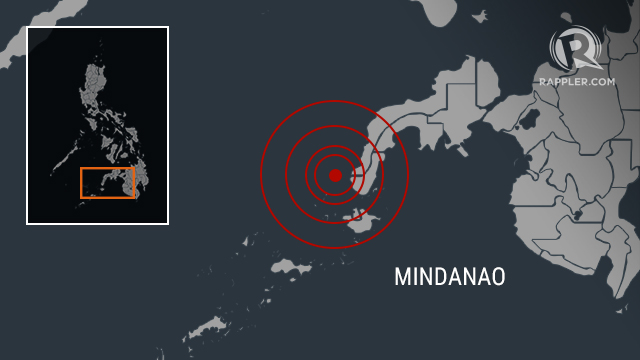 MANILA, Philippines – A 5.7-magnitude earthquake hit off the coast of Mindanao early Thursday, April 14, seismologists said, with no damage or casualties immediately reported and no tsunami warning issued.
The quake occurred at 2:21 am (1821 GMT Wednesday) off the coast of Zamboanga del Norte, with its epicenter at a depth of 15 kilometers, the Philippine Institute of Volcanology and Seismology (Phivolcs) said.
The US Geological Survey, meanwhile, located the quake's epicenter about 28 kilometers (17 miles) northwest of Siocon, Zamboanga del Norte, at a depth of about 12 kilometers.
A USGS map recorded moderate-strong shaking on coastal areas near the quake's epicenter, but said the risk of damage was not high. 
Local authorities said there was no tsunami risk and that they had not received reports of casualties or damage, but warned that some buildings could be affected. 
"Quakes of this magnitude can cause damage on poorly built structures," state seismologist Dante Soneja of Phivolcs told Agence France-Presse.
The Philippines is regularly hit by quakes due to its location along the so-called chain of fire of islands of the Pacific Ocean that were created by volcanic activity. – Agence France-Presse / Rappler.com