This is AI generated summarization, which may have errors. For context, always refer to the full article.
Rappler looks back on the presidency of Benigno Simeon Aquino III – its successes, its failures, and its legacy
This compilation was migrated from our archives
Visit the archived version to read the full article.
A
t the stroke of noon on June 30, 2016, Benigno Simeon Cojuangco Aquino III will once again become a private citizen.
For the past 6 years, he was the Philippines' most powerful man, leader of more than 100 million Filipinos – the person responsible for determining the fate of an entire nation.
He was elected into office in 2010, riding on a wave of goodwill after the death of his mother, democracy icon Cory Aquino, and on the promise of leading the nation to prosperity treading a straight path.
With a focus on fighting corruption, the economy grew. Soon, the country became one of the best-performing economies anywhere. The archipelago at the Pacific's western edge, once a mere footnote in the global conversation, became one of the main talking points – a success story in a landscape dotted with struggling and failing economies.

But it has not been an easy ride all throughout. The journey along the much-vaunted "Daang Matuwid" had its share of bumps and potholes. Luneta. Yolanda. Mamasapano. Corruption, though scaled down, persisted. The West Philippine Sea. Poverty. Climate change. A rocky peace process. Even traffic, urban blight, and dysfunctional trains.
But the country – and Aquino – carried on. As the country's 15th president ends his term, Rappler looks back on his presidency – its successes, its failures, and more importantly, its legacy.
This page will be updated as the stories in the series are published. (Updated as of June 30, 2016)
---
Aquino as leader
The President as captain of the nation
The Aquino promise | "Aquino was the anti-thesis to what the then outgoing Arroyo administration had stood for: excess in how power was wielded and abuse in how state resources were used." | Read >>
Traffic, urban woes, and the Aquino administration's image problem | "…the public outrage over the administration's failure to ease these urban woes is not only an attack on the lack of solutions that produce quick, tangible results, but an attack on the perception that the government is not taking these problems seriously." | Read >>
Aquino: 80 bills rejected in 6 years | "While most of the vetoed measures were local bills seeking to change names of roads and to convert local to national roads, others were also crucial and controversial that his decision to reject them sparked public uproar." | Read >>
The President's men, 6 years after | Whom did President Benigno Aquino III listen to when he had to grapple with policy issues? How was he like to members of the Cabinet? Did he play favorites? How has he evolved in the past 6 years? | Read >>
Aquino: Crucible of leadership | "It was clear he felt he did the best he could – and that should be enough, but of course, it never is." | Read >>

Aquino and the PH military: Toys for the big boys | Up to P60 billion have been released for military modernization since President Aquino assumed office in 2010 | Read >>
Aquino: The friends he kept, the crises he (mis)managed | "In problematic situations, this is the side of the President not apparent in the public eye… It takes time for him to absorb contrary views, to entertain ideas that don't sit well with him." | Read >>
Aquino: The president who brought China to court | President Aquino admits that he initially had some concerns about suing China. "Going against China, how will China treat us if we dare?" | Read >>
---
Aquino and his social contract
Campaign promises kept, broken
What happened to FOI under Aquino? | "The passage of the Freedom of Information bill is like a missing puzzle piece in the Aquino administration's fight against corruption." | Read >>
K to 12 and beyond: A look back at Aquino's 10-point education agenda | In 2010, President Benigno Aquino III proposed 10 ways to fix basic education in the country. Did he fulfill his campaign promise? | Read >>
It's a wrap: Dinky Soliman's report card at DSWD | 'If there is one good thing that we can turn over to the new administration, it is evidence-based policy making, planning and evaluation,' says DSWD Secretary Corazon 'Dinky' Soliman | Read >>
---
Aquino and the economy
Steering an emerging economy through rough global seas
Beyond the numbers: How Aquino fueled the economy | "To better appreciate the economic impact of the Aquino's reforms and programs, one should view the last 6 years in the context of the past few decades." | Read >>
Snapshot of industries: Good, poor performers under Aquino | Rappler talked to economists to assess the businesses that thrived and those that performed poorly under the Aquino administration, based on their gross domestic product (GDP) contribution from 2011 to 2015. | Read >> 
Manny V. Pangilinan, JAZA, and a 'hands-off' Aquino | The businesses of Manuel V. Pangilinan and Jaime Augusto Zobel de Ayala performed generally well these last 6 years, thanks to a Chief Executive who is a bit 'hands off,' an analyst says | Read >>
---
Aquino and his bosses
His relationship with the public
Aquino and the continuing plight of OFWs | What were the Aquino government's major efforts to help overseas Filipino workers in the past 6 years? Were these enough payback for the sacrifices of OFWs? | Read >> 
TIMELINE: Aquino's love-hate relationship with OFWs | The outgoing president has had a love-hate relationship with Filipinos abroad throughout his term. | Read >>
10 of Aquino's biggest hits and misses, as seen through social media | Aquino's term coincided with the rise of social media in the Philippines – how did his government fare under the social media spotlight? | Read >>
Are you still alive? The rhetoric of Benigno Aquino III | "The question of empathy has long been asked of outgoing President Aquino. It is a question that inevitably puts him on the defensive." | Read >>
Aquino's satisfaction ratings decline: Not the worst | In a span of 6 years, Filipinos, in general, have looked kindly upon Aquino's presidency, going by his trust and satisfaction ratings | Read >>
---
Aquino up close
Behind the scenes
Aquino's firsts | "While [President-elect] Duterte has already made a mark for himself insofar as presidential firsts are concerned, Aquino has set records of his own." | Read >>
The many faces of President Aquino | Gil Nartea, the official photographer of President Benigno Aquino III, shares with Rappler photos that capture the leader and commander-in-chief in key moments throughout his 6-year term. | Read >> 
The Noynoy Aquino administration soundtrack | "If outgoing president Benigno "Noynoy" Aquino III were to come up with a soundtrack summing up his 6-year term, it would be a mix of old and new songs, from the upbeat to the melancholy." | Read and listen >>

The bachelor president: Aquino and the women he met | "..his status as a single man also turned his love life into a hot topic and the subject of much speculation." | Read >>
8 times Kris Aquino made headlines during PNoy's term | "Whether people agreed with her or not, Kris' words and actions with regard to PNoy's presidency were always points of much discussion." | Read >> 
The emotional journey of Benigno Aquino III | Throughout his interview with Rappler, President Benigno Aquino III is relaxed, confident, and in good spirits – the picture of a retiring public servant satisfied with a job well done. | Read >>
Aquino: Life at the top for bachelor president | The Philippines' first bachelor president survives the loneliest job in the country without losing his sense of humor | Read >>
---
Aquino, in his own words
Stories from the Rappler interview with President Aquino on June 7, 2016
Rappler Talk: President Aquino's legacy and reflections on leadership | Less than a month before he steps down, Aquino spoke to Rappler's Maria Ressa on his legacy, his greatest challenges, and his hopes for the next leadership. | Watch >>
Aquino: 'I hope I showed best face of PH to the world' | "I think I've grown as a person. I hope I've presented the best face of the Philippines" | Read >>
Aquino: Duterte a 'patriot,' likely to keep PH stand on China row | "I think he's a no-nonsense guy. Once he gets all the facts, then I think he will come to the same conclusion." | Read >>
Aquino to Roxas: No shame in being 2nd in presidential race | "From number 4 in the surveys to number 2 is nothing to be ashamed of." | Read >>
Aquino on Duterte's win: 'Very masterful way of campaigning' | "They really mounted that better campaigning – that was the right tone, right messaging, right time." | Read >>
My 'friendship stops when PH's interest is at stake' – Aquino | In one of his last interviews before he steps down on June 30, Aquino again defended Department of Transportation and Communications Secretary Joseph Emilio Abaya. | Read >>
Political comeback after Palace? Only when I'm needed – Aquino | "So at the end of the day, I'm sure if there is a need that has to be fulfilled, and I think I can fulfill it, I will still adopt what my parents said: that if there's something that can be done and I chose not to do it, I wouldn't be able to live with myself." | Read >>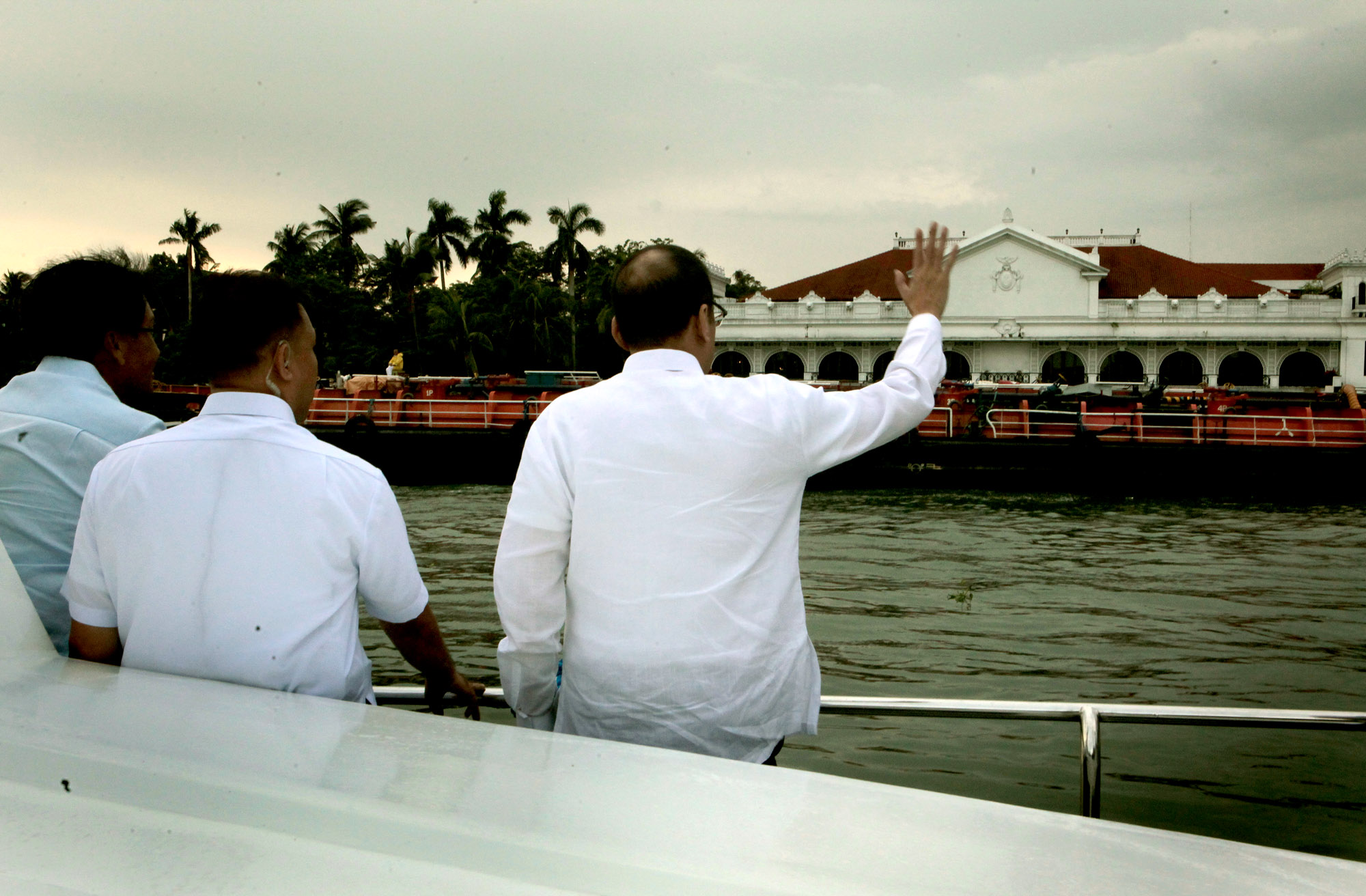 ---
---