(UPDATED) The anti-mining advocate, who is with the President-elect when the announcement is made, says she 'will seriously, seriously consider' the offer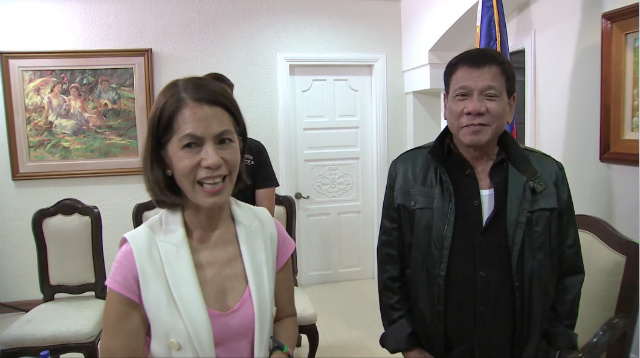 DAVAO CITY, Philippines (UPDATED) – President-elect Rodrigo Duterte has offered the post of secretary of the Department of Environment and Natural Resources (DENR) to ABS-CBN Lingkod Kapamilya Foundation chairperson and anti-mining advocate Gina Lopez.

"I offered the position of the DENR to Ms Gina Lopez," said Duterte in a video released by state-run broadcasting station Radio TV Malacañang (RTVM).

The video was released to media on the evening of Monday, June 20. According to RTVM, the video was taken earlier that day.

Lopez was with Duterte when he made the announcement.

"I am honored with the trust given, this proposal, and I will seriously, seriously consider it," said Lopez.

Lopez is the daughter of the late ABS-CBN chairman emeritus Eugenio Lopez Jr.
The television channel is widely perceived by Duterte supporters to be anti-Duterte, especially after it broadcast an unflattering political advertisement paid for by Senator Antonio Trillanes IV.
She is known to vehemently oppose mining activities and coal-fired powerplants and has campaigned against coal mining in Semirara Island, Antique. She also spearheaded her foundation's efforts to clean up the Pasig River and has supported eco-tourism efforts in various parts of the country.
Duterte previously promised the Leftist movement that he would choose his Environment Secretary from their list of nominees.
Aside from the DENR, the Department of Social Welfare and Development, Department of Agrarian Reform, and Department of Labor and Employment were opened to the Left.
There was talk that Bayan Muna Representative Carlos Isagani Zarate was the Left's choice for the post. – Rappler.com 
Meet other members of the Duterte Cabinet: LIST: Who's who in the incoming Duterte Cabinet