'Constitutionally, biblically, that is allowed,' the senator and evangelical pastor says of the death penalty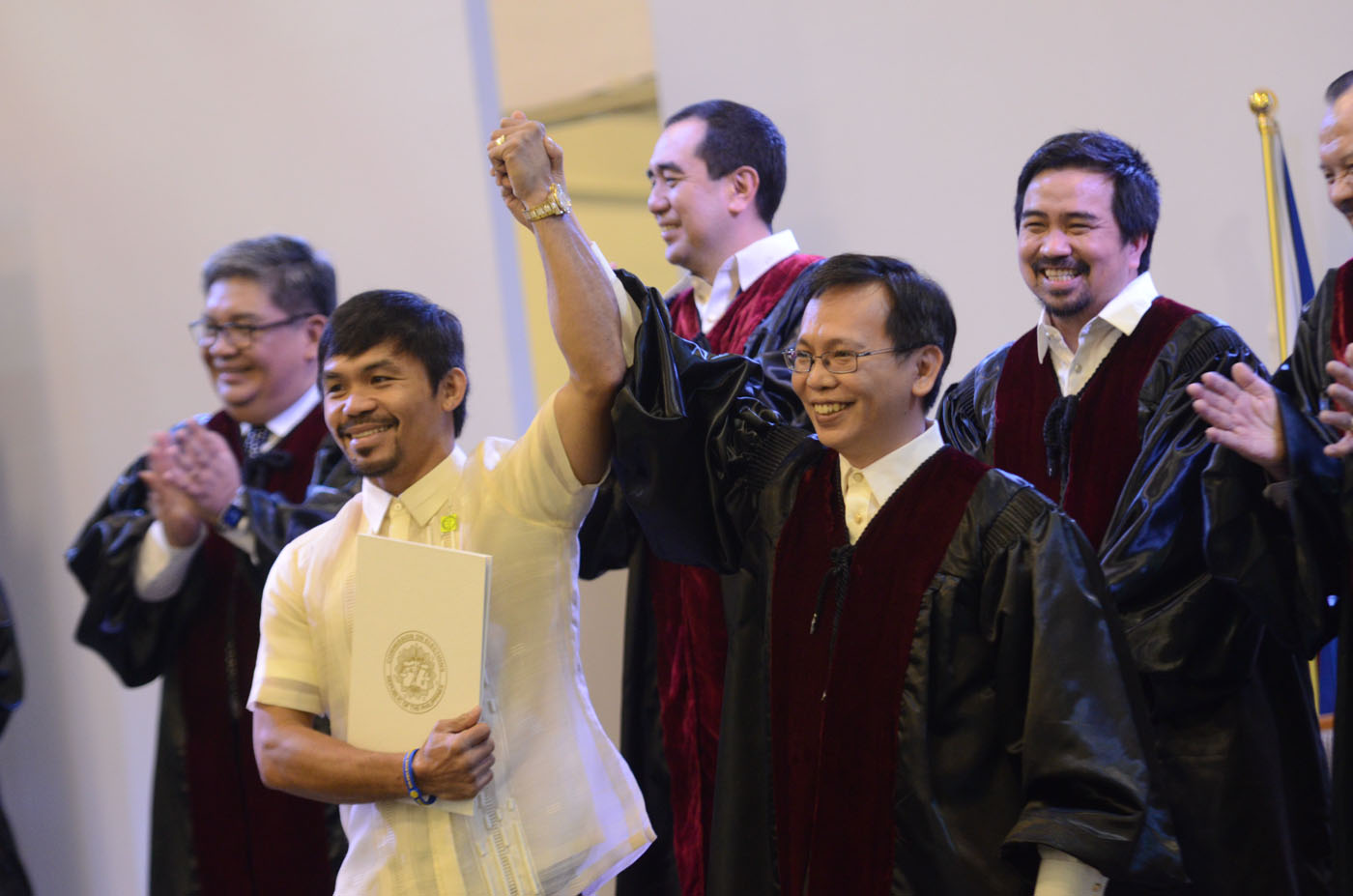 MANILA, Philippines – A law reimposing the death penalty would get a yes vote from newly-elected Senator Manny Pacquiao.
Pacquiao said he is in favor of the death penalty but only for heinous crimes. In fact, he said, he already filed a bill for that. Given a choice, he said he would also add his preferred mode – death by hanging.
In explaining his stance, Pacquiao said the Constitution allows death penalty "for compelling reasons involving heinous crimes."
"So may exemptions, 'yung heinous crimes. Ang nilagay natin' yung rape with murder, of course nandiyan na rin drugs, drug trafficking, kidnap for ransom, robbery with murder, 'yan 'yung mga heinous crimes," Pacquiao said in an interview with Senate reporters on Monday, July 4.
(So there are exemptions, the heinous crimes. In our bill, we put rape with murder, of course drugs, drug trafficking, kidnap for ransom, robbery with murder, those are heinous crimes.)
Pacquiao said he prefers hanging to lethal injection, as doctors are not allowed to kill anyone.
"Para sa akin, 'yung bitay, mas ano pa. Kasi yung lethal injection, ano naman may rules din ba, or may batas din ang mga doctors na bawal din silang pumatay ng tao," he said."
(For me, hanging is [better]. Because with lethal injection, there are also rules or laws that prohibit doctors from killing people.)
Bible allows death penalty
Pacquiao, an evangelical pastor known for his conservative views, was earlier embroiled in a controversy over his view on gays. (READ: Pacquiao: Couples in same-sex unions 'worse than animals')
Now, when asked how the issue goes against his religious beliefs, Pacquiao said: "No, constitutionally and biblically, 'di against ang death penalty (the Bible is not against the death penalty). I can explain that properly pagdating sa (when it comes to the) Bible."
In his previous interviews, the senator cited the Book of Romans as proof of divine permission for punishment by death.
Asked if he does not find it cruel to kill someone by hanging, Pacquiao said it is indeed pitiful but "laws are laws."
"Alam mo, pag ico-cover mo naman kasi yan, nakakaawa talaga. Pero alam naman natin na ang batas natin is batas, di naman individual 'yan. Kahit kaming mga nasa katungkulan eh, nasa serbisyo, kahit na presidente, kapag gumawa naman ng masama, eh kasama din 'yan parusahan sa batas natin," he said.
(If you'll cover it, you'll really find it pitiful. But we know that our law is the law, it does not just apply to certain individuals. Even we who are in power, in service, even the President, if we do something bad, we are also covered by the punishment as stated in our laws.)
"So walang pinipili ang batas natin. Batas ay batas. So ganun naman yan eh. So constitutionally, biblically, allowed naman 'yan," he maintained.
(So no one is exempt from our laws. The law is the law. That's how it is. Constitutionally and biblically, that is allowed.)
The 1987 Constitution abolished the death penalty but allowed Congress to provide for it for compelling reasons involving heinous crimes." It was imposed in 1993, but was again abolished in 2006. – Rappler.com